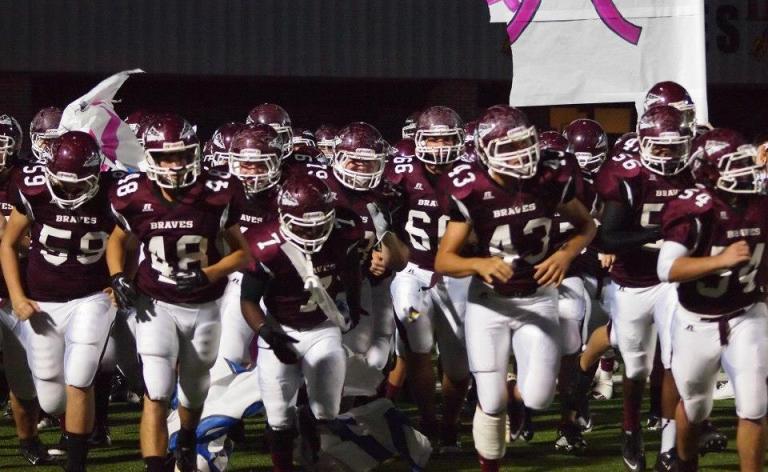 Photo by Heard County Football
R1 T2 Brooks County at R5 T2 Heard County
Brooks County makes its third straight quarterfinal appearance after a tight 21-14 victory over Washington Wilkes. The Trojans currently ride a four-game winning streak that has seen the defense hold opponents to an average of 14 points per game during that span. For Heard County, it comes off of a huge win last Friday against top-seeded Screven County that saw the Braves hold the holding a strong Gamecocks offense to a season-low six points.
R6 T2 Lovett at R2 T2 Benedictine
Benedictine received a tremendous performance from sophomore John Kennedy as he ran over Rabun County for 234 yards and two touchdowns in its 42-9 victory last Friday. The Cadets have outscored opponents in the playoffs by a margin of 77-9. No. 3 Lovett advanced to the quarterfinals following a convincing 42-7 win over No. 7 Macon County. The Lions have Jay Harris and Lee Candler lead a rushing attack that averages 218 yards per game.
R2 T1 Vidalia at R6 T1 GAC
It is the battle of the unbeatens as No. 2 Vidalia visits No. 1 Greater Atlanta Christian in a matchup that sees both offenses average over 44 points per contest through each of its first two playoff games. The Spartans fought back from 20-14 deficit to force four turnovers and score 34 unanswered points to win its school-record 12th game of the season. Nate McBride led the charge in Vidalia's dominant win over Coosa, rushing for 123 yards and two scores.
 R6 T4 Pace Academy at R1 T1 Fitzgerald
Pace Academy is looking to be the first No. 4 seed to make it to the Final Four in the AA state championship since Lovett accomplished the feat in 2010. The Knights are making their first quarterfinal appearance following a thrilling 57-50 victory over Jefferson County during the second round. Gerald Morgan rushed for a game-high 204 yards and a touchdown while J.D. King ran 166 yards and four scores in Fitzgerald's 48-14 win over Model.