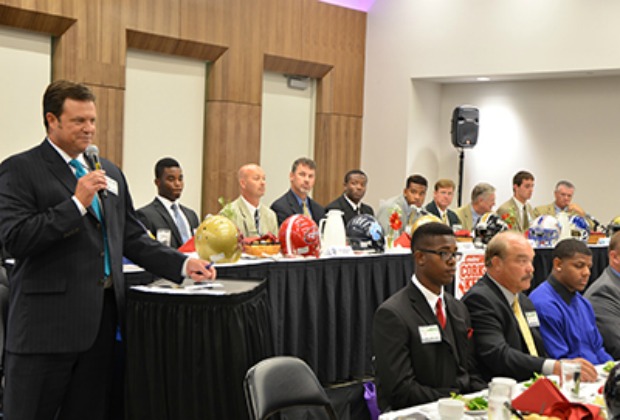 Zulma Luna
Some coaches like to pad their teams' schedules with easy wins in non-region games. But none of the coaches that will play in Saturday's 2012 Metro PCS Corky Kell Classic believe in that philosophy.
For a variety of reasons, each of the ultra-successful coaches involved in the event believe in scheduling tough, early-season games for their programs. Some do it for motivation, others do it for the experience. All of them choose to participate because of the challenge and prestige of the event.
Coach Jeff Herron of Camden County led his program to the Kell Classic six straight years from 2004-2009. The Wildcats will return to the Dome Saturday to play Gwinnett County-power Peachtree Ridge. Herron believes early-season games against big-name opponents help motivate his team in the offseason.
"Playing somebody in the first game you know is a quality opponent and playing in a venue like the Dome excites your kids," said Herron. "It carries you through spring practice, preseason practice and the summer. We've always tried to play somebody good at the beginning of the year for those reasons and we always will no matter what region we're in."
Another reason for coming back to the Kell Classic was starting the season in the Dome, which has been beneficial to the Wildcats in the past.
"We've had a lot of good memories of coming up there (to Atlanta) and playing in the Kell Classic," said Herron. "We've missed it the last two years quite honestly."
"In 2008 and 2009, we were fortunate enough to start the season there and finish the season there so we're hoping we can have a similar path this year."
North Gwinnett's Bob Sphire also thinks the motivation of playing a quality program in the season-opener helps his players get ready for the grind of a season in one of the state's toughest football regions.
"It should raise everyone's game and if you're going to try to compete for a region title in the region we're in, this can do nothing but help you get ready for that," said Sphire.
Sphire also stated that an opponent from South Georgia's vaunted Region 1-AAAAAA adds a little something extra to the Kell Classic date, due to the region's tradition and reputation.
"I think it probably adds a little spice to it with our kids," said Sphire. "There's no question that that area is really kind of what Georgia high school football is identified with nationally."
"You kind of get that Gwinnett-South Georgia thing, you get that North-South thing, so there's obviously some elements there that spice it up for the fans, and I'm sure the kids get caught up in that."
Sphire's Bulldogs have even more motivation in this year's matchup, as North Gwinnett lost in last year's Kell Classic to McEachern, then to Colquitt County – this year's Kell Classic opponent – in the playoffs. It is safe to say the Bulldogs have plenty to play for.
"It's kind of a double whammy," said Sphire when told of the potential revenge factor in this year's game versus Colquitt County. "That's two bad memories. But it's a new season, it's a new year, I'm just focused on trying to get these guys better and get them into the whole process that we're working to improve every day. This game can do nothing but help you get better."
The motivation of playing a program like Colquitt County in the opener brings to mind an analogy for Sphire.
"I've always been a big proponent of (tough season-openers) wherever I've coached," said Sphire. "And I've always felt like you can dangle that carrot out in front of your players and your community. If you get in these settings and don't do well, you get embarrassed. And nobody ever wants to get embarrassed."
A LOT AT STAKE …
From Herron's perspective, playing Peachtree Ridge in the opener will help his team prepare for what will be a gauntlet of a region schedule this year, as the Wildcats move to Region 1 from a perennially-unbalanced region.
"If I'd have known what was coming I probably wouldn't have chosen to do (the Kell Classic)," joked Herron. "We feel like Boise State. We've been sitting there in the Mountain West all these years and all the sudden somebody's dropped us in the SEC West. (Region 1) is definitely going to be different for us."
Now in Region 1, Herron realizes he and his team have an obligation to represent their new region and their part of the state.
"We're isolated down here, there's no question," said Herron. "Any time our state, especially in the large classification, there are some undertones there of metro Atlanta versus our one South Georgia region. We're going to do a good job representing our region, Region 1, in this classic and representing the six or seven of us deemed to be South Georgia schools. It's kind of us against the world.
Saturday in the Dome, it is clear that there is a lot more at stake than just non-region wins and losses.