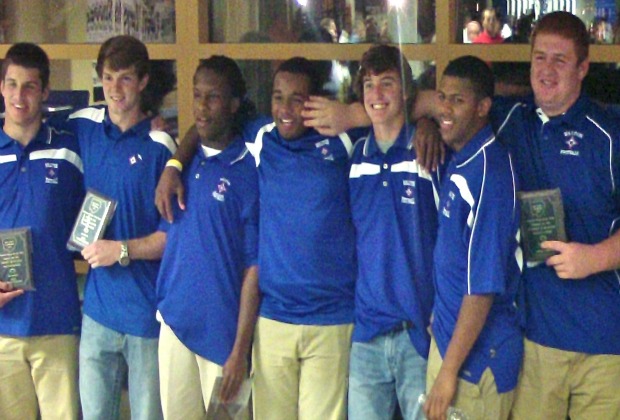 Craig Sager II
Cobb County has hosted its share of big moments and key plays in the first half of the 2012 season, and Tuesday night those responsible were recognized. Each of the 20 Cobb County schools in attendance brought an offensive and defensive MVP from each week of the season, with some of the players being recognized for multiple weeks. This event was informal compared the more ceremonial Cobb County Touchdown Club banquet after the season, but this brief dinner was not short applause and some of the state's top talents.
The Cobb County Touchdown Club is in its 10th year and more than 400 guests gathered into the Marietta High School cafeteria to celebrate the halfway mark. Coach Gary Varner of Allatoona was the first coach to take the podium and recognize the nine players he brought from his 6-0 Buccaneers squad. Quarterback Jeremy Uzee and running backs T.J. Herron and Josh Bautista were among the player honored, and this impressive group of talent has impressed its Cobb County counterparts so far this season.
Marietta quarterback Anthony Jennings was one of the many big names who were among the recipients, and the LSU commit enjoyed spending time mingling with the neighboring talent.
"There are a lot of great teams and players here tonight," said Jennings. "It's cool seeing the undefeated teams like Lassiter, Allatoona, and South Cobb here tonight and hanging out and meeting the guys that have been leading these teams."
Each player received a plaque engraved with his name on it, and with so many of the states' top players residing in Cobb County, additional significance is given to all of the players involved.
After the banquet, coaches and players were quick to make their departures to get back to work, but not before some last minute congratulations and some mild smack talk. Many of these teams will be matched up in the upcoming weeks, and Cobb is aiming to be competitive in the postseason. Cobb County has certainly become a hotspot for talent recently, and each of the 20 schools is hoping to have a state champion present at the end of the year banquet.
Allatoona, Campbell, Harrison, Hillgrove, Kell, Kennesaw Mountain, Lassiter, Marietta, McEachern, Mt. Paran, North Cobb, Osborne, Pebblebrook, Pope, South Cobb, Sprayberry, Walker, Walton, Wheeler and Whitefield Academy were all in attendance.