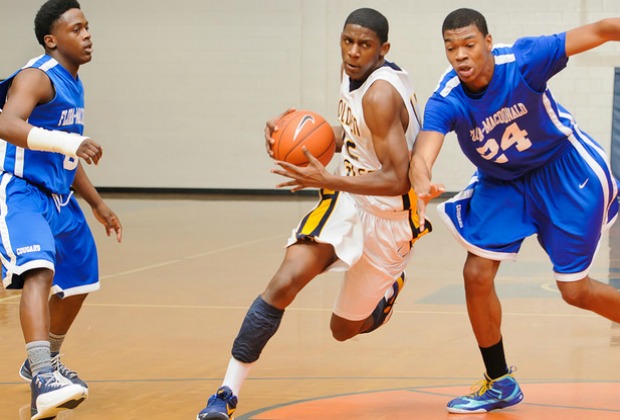 Ty Freeman
Class AAAAAA
Coach Jesse McMillan's team is back. His Norcross Blue Devils won the 2011 state title with an upset of Milton and won three straight state titles from 2006-2008. This year's edition has not lost since a Jan. 15 defeat by Mill Creek. Seniors Brandon Goodwin and Terrance O'Donohue lead a deep Blue Devils squad. Fresh off a trip to Tifton, the North Cobb Warriors enter the semis on a high. An upset of No. 1 Tift County shocked many around the state, especially after the Warriors trailed by seven entering the final period. Senior trio Lee Moore, Jordan Neff and Jon Beausejour combined for 61 points in the quarterfinal win. On the other side of the bracket, Hillgrove enters the semifinals for the first time in program history. The Hawks have quietly advanced to this weekend after having a sensational season in which coach Ed Morris' team won 27 games. In the quarterfinals, juniors Kyle Castline (18) and B.J. Brown (16) led the Hawks. A third Cobb County team, Wheeler, completes the final four. Like Norcross, the Wildcats are a perennial-power having won state titles in 2002, 2003, 2005 and 2009 and appearing in nine semifinals appearances in coach Doug Lipscomb's tenure.
Class AAAAA
Coach Sharman White's Miller Grove program is no stranger to the semifinals. The Wolverines have won four straight state titles and are favored to do it again. Seniors Kyre' Hamer and Earl Bryant team up with freshman point guard Alterique Gibson and junior Keith Pinckney to make up most of Miller Grove's production. Opposing the Wolverines in the nightcap is Northside-Columbus, which advanced to the semis after a buzzer-beating three-pointer by senior Jeremy Floyd. The Region 1-champions edged Jenkins Wednesday and Richmond Hill in another tight one last weekend. Region 3-champion Effingham County plays Gainesville, the Region 8 champ, in the first semifinal in AAAAA. Effingham County has dominated opponents thus far in the tournament, winning three games by an average of just under 29 points. Junior power forward JaKeenan Gant leads the Rebels in scoring at 18 points per game. Gainesville has won two state titles in school history, in 1983 and 1984. Senior Shaquan Cantrell is the Red Elephants' star, averaging just under 20 points, while football sensation Deshaun Watson scores 12 per game. However, it was Jikeese Ruff who knocked down two free throws to beat New Manchester in the quarterfinal.
Class AAAA
Region 3-AAAA-champion Statesboro and red-hot Columbia face off in the the opening semifinal. Columbia is led by point guard Tahj Shamsid-Deen who can distribute the basketball and erupt at any moment. The Auburn signee comes into the Final Four averaging 26 points per game. Kyle Wallace, Maurice Rivers and Kiair Crouch all consistently score double figures. In Statesboro's 60-58 win over Rutland in the quarterfinals, junior Zaquazian Smith sunk the game-winning layup as time expired. Smith averages right around 15 points per game. Region 4-AAAA-champion Eagle's Landing plays Region 6-AAAA-champion South Atlanta in the second semifinal. Eagle's Landing has won 17 games in a row and is headlined by Trevin Joseph and Desmond Ringer. In the quarterfinals, Joseph had 25 points and the 6-foot-10 Ringer had 17 points. South Atlanta has plenty of size as well and will line up 6-foot-7 Kertiss Baisden and 6-foot-8 Sylvester Bacon down low and have talented guards that can keep pace with the explosive Golden Eagles' offense. In the Hornets' 78-68 quarterfinals win over Alexander, junior guard Costa Anderson had 21 and senior guard Naquavious King had 20 points.
Class AAA
North Hall is back in the semifinals for the first time since 2010. Ebo Smith leads a talented senior class that includes Adam Kelly, Zach Tibbs, Griffin Olson and Taylor Ryder. Smith scored 26 in the quarterfinals against St. Pius X after notching 24 against Morgan County. The Johnson Atom Smashers are led by senior Tim Quarterman, an LSU signee who can score at will against any competition. He led all scorers with 28 points against Carver-Columbus in the second round and added 20 against Tattnall County. After making the state finals one year ago, Savannah is thirsty for its second straight finals appearance and its first title in 15 years. After defeating Washington County, Savannah has now won 11 straight games thanks to junior Jamal Norman (41 points over the past two games), but will have to try for 12 straight possibly without star Chris Cokley, who left the quarterfinal game after being knocked unconscious. Allen Whitehart's Buford Wolves are trying to get back to the state finals for the first time since a berth in the Class AA finals in 2011. Three seniors pace the Wolves as Isaiah Williams, A.J. Davis (32 points against Gordon Central) and Kyle Doyle (46 points in three playoff games) are at the front of the attack.
Class AA
Bleckley County arrives in the semis off two consecutive emotional wins, including a 62-61 win over Westside in the second round, and a 69-67 win over Vidalia in the quarterfinals. Bleckley County's Rydealous Taylor scored 18 of his 27 points in the second half of the quarterfinals win over Vidalia. Senior teammates Damario Beck (18) and Ken Hughes (15) also helped the Royals erase a 12-point Vidalia lead. Region 5-champion Jordan has been unstoppable in the postseason, winning by an average of 25.6 points per game. Jamar Sheppard had 18 points in the 84-63 quarterfinals win over Model. Jordan is a small, but talented team that will play the 6-foot-1 Sheppard and 6-foot-2 Cyrus Smith down low. Defending AA state champion Laney will face region 6-AA-champ Greater Atlanta Christian in the backend of the double header. In the quarterfinals, Laney sophomores Jervon Walker had 18 points and Jashawn Brooks had 15, while freshmen guard Zephaniah Jasper added 14. GAC has won 16 in a row and its closest contest in the state tournament was a 77-52 win over Manchester in the quarterfinals. Junior Isaiah Wilkins scored 21 points in the quarterfinals with teammates Collin Swinton scoring 19 and Troy Morrison 15.
Class A-Public
Aquinas boasts a pair of talented junior playmakers in junior Ahmed Hill (54 points in two playoff games) and Michael Scott (17 points against Excel Christian in the second round). St. Francis does a nice job spreading the ball around on offense as four players scored in double figures in the Round 1 win against Pace Academy. Kaiser Gates and Kobi Simmons lead the team, but Jordan Jones is a double-double candidate as is Malik Beasley. North Cobb Christian averages nearly 70 points per game while surrendering 46 points per game. Greenforest Christian is led by UAB-commit Tosin Mehinti, who scored 14 points, grabbed 14 rebounds and blocked six shots in a quarterfinal victory over Calvary Day. Senior Ugo Celestine has averaged 13 points in two playoff games this season. After losing in the finals to Whitefield Academy last season, Athens Christian is back looking to finish off a state title run. Athens Christian starts five sophomores, led by Turtle Jackson (25 points and seven assists per game) and Demetrius McWhorter (20 points and 12 rebounds per game). Jackson scored 41 points in the quarterfinal victory over North Cobb Christian, including 22 in the fourth quarter to help Athens Christian rally back from 21.
Class A-Private
Jenkins County will enter the semifinals on a roll, having held Seminole County scoreless over the final four minutes of an exciting quarterfinal game that saw Justin Ellis notch 20 points. Jenkins County starts four seniors in its lineup. Trentin Drayton, the lone non-senior starter, is playing with a torn ACL. This is Jenkins County's first trip to the semifinals. Wilkinson County, meanwhile, is looking for another state title after capturing the 2011 Class A title. Torrico Simmons scored 24 points in Wilkinson County's quarterfinal victory over Randolph-Clay. Portal is paced by Stacey Morgan, who is filling up the basket at more than 23 points per game. Cory Reese and Robert Lee also offer double digits each game as Portal is averaging more than 64 points per game. The defense has been stellar this season as the team takes away roughly nine steals per game with Lee and Shawn Hagins leading the attack. Wilcox County is led by a pair super athletes that stood out for the football team prior to transitioning to the hardwood. Makail Grace and Johnathan Howard each average double-digit points with Howard putting up nearly 20 points per game. Junior Calvin Rawls averages a little more than 10 points per game this year.
Stephen Black, Fletcher Proctor and Craig Sager II contributed to this report.