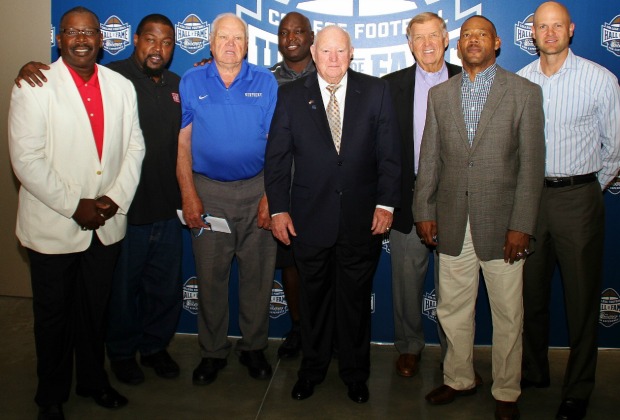 Rob Saye
Great names lined up at the College Football Hall of Fame as the media gathered Tuesday morning for a press conference in downtown Atlanta. Florida quarterback Danny Wuerffel, two-time National Champion, and Nebraska Cornhusker, Tommie Frazier, and legendary Navy and Temple coach Wayne Hardin were among eight honorees that were present. Speakers reflected on their great college careers.
The 14-member class boasts seven unanimous All-Americans, four national championship team members and three Heisman Trophy winners. The group of inductees span five decades of college football ranging from former Kentucky Wildcat Steve Meilinger (1951-53) to all-time NCAA leading rusher and Wisconsin great Ron Dayne in the late 90s. The Class of 2013 was originally selected back in May of last year, but enshrinement was held off until the completion and opening of the new College Football Hall of Fame facility in August.
For Meilinger, at the age of 84, it was a moment that he felt was long overdue, but is special nonetheless.
"It's a great feeling and it's great to be here because just a little over 1,000 (players) who are selected for this Hall of Fame and I'm just glad to finally be one of them," spoke the two-time All-American.
Meilinger was considered 'Mr. Everything' for the versatility he displayed while playing both sides of the ball for Kentucky under Hall-of-Fame coach Paul 'Bear' Bryant.
It was a bittersweet moment for the family of newly-inducted member Rod Shoate, who passed away by complications of AIDS back in 1999. His brother and former college teammate, Myron represented the now-Hall-of-Famer and reminisced on what brought Rod success on the football field. "His work ethic was just outstanding," said Myron, "He always wanted to better himself in every way, and these awards are just a reward for all of his hard work."
The Class of 2013 is set to become part of a group of 930 players and 202 coaches to be enshrined into the College Football Hall of Fame.
2013 COLLEGE FOOTBALL HALL OF FAME CLASS
Players
· TED BROWN – TB, North Carolina State (1975-78)
· TEDY BRUSCHI – DE, Arizona (1992-95)
· RON DAYNE – RB, Wisconsin (1996-99)
· TOMMIE FRAZIER – QB, Nebraska (1992-95)
· JERRY GRAY – DB, Texas (1981-84)
· STEVE MEILINGER* – E, Kentucky (1951-53)
· ORLANDO PACE – OT, Ohio State (1994-96)
· ROD SHOATE (deceased) – LB, Oklahoma (1972-74)
· PERCY SNOW – LB, Michigan State (1986-89)
· VINNY TESTAVERDE – QB, Miami, Fla. (1982, 1984-86)
· DON TRULL – QB, Baylor (1961-63)
· DANNY WUERFFEL – QB, Florida (1993-96)
* Selection from the FBS Veterans Committee
Coaches
· WAYNE HARDIN – 118-74-5 (61.2%); Navy (1959-64) and Temple (1970-82)
· BILL McCARTNEY – 93-55-5 (62.4%); Colorado (1982-94)