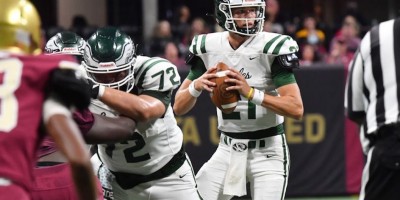 The ninth televised game featured in the 'Drive for the GHSA State Title' series is a blockbuster matchup between 8-7A rivals No. 2 Mill Creek (8-0) and No. 1 Collins Hill (9-0) that will be broadcast on PeachtreeTV/CBS46 at 8 p.m. this Friday.
Since 2006, the programs have met 15 times and Mill Creek narrowly leads the series 8-7. Last season, Collins Hill defeated Mill Creek 28-17 which ended a streak of six-straight victories for the Hawks. Last year's win over the Hawks marked head coach Lenny Gregory's first victory against Mill Creek.
Top-ranked Collins Hill enters the game sans its star athlete Travis Hunter, who was injured in the sixth game of the season. The Eagles have not lost and have victories over Brookwood (36-10), Sprayberry (forfeit victory), Greenville Christian MS (37-22), Rome (34-0), Alpharetta (42-0), East Coweta (34-0), Peachtree Ridge (63-0), North Gwinnet (35-7) and Mountain View (28-0) on Oct. 22.
Mill Creek is flawless with victories over Parkview (43-10), Norcross (41-13), Dacula (35-7), West Forsyth (38-10), Grayson (28-14), North Gwinnett (36-17), Mountain View (56-0), and Newton (17-14) on Oct. 22.
Collins Hill quarterback Sam Horn is 182-of-260 for 2,144 yards and 21 touchdowns with five interceptions and leads an Eagles offense which averages 246 passing yards and 128 rushing yards per game.
Aside from Hunter, who had 46 receptions for 691 yards and five touchdowns when he was injured, Horn's favorite targets are Cam Pedro (40 receptions, 536 yards, 5 TDs), Ethan Davis (34, 419, 3 TDs), Cedric Nash (33, 218, 3TDs), Spenser Anderson (26, 256, 3 TDs). Richard Ransom, Dion Crawford and Jaylon Harris each have one touchdown reception.
Mill Creek's offense averages 168 passing yards and 151 rushing yards per game led by quarterback Hayden Clark who is 103-of-200 passing for 1,270 yards and 12 touchdowns. Brendan Jenkins (3 TDs) leads receivers alongside Donovan Journey (1 TD), Makhail Wood (2 TDs), Trajen Greco (2 TDs),Tye Green (1 TD), Thurman Harris (1 TD) and Caleb Downs (1 TD).
Journey leads the running backs stall with 109 carries for 665 yards and 12 touchdowns. Joseph Robinson has 40 carries for 162 yards and three touchdowns. Downs has 15 carries for 79 yards and three touchdowns. Zekai Wimby has rushed for one touchdown.