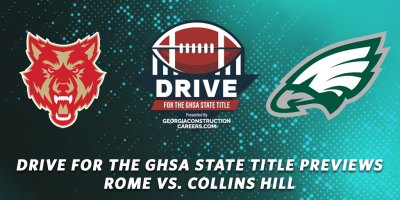 The second televised game featured in the 'Drive for the GHSA State Title' series pits hosting Class 6A No. 5 Rome (2-0) against Class 7A No. 1 Collins Hill (3-0) in a blockbuster matchup to be broadcast on PeachtreeTV at 8 p.m. Friday
This is the second-ever meeting between the two programs and Collins Hill has the edge after a 28-14 victory last season.
The Eagles are ranked No. 1 for the first time in program history and feature two of the best players in the nation alongside a supporting cast which creates a formidable offensive and defensive threat for the opposition.
On the offensive side, the nation's No. 1 player – five-star FSU-commit Travis Hunter – and four-star quarterback Sam Horn have been special. Hunter has been recruited as a cornerback but the 6-foot, 165-pound athlete can play any position. In the season-opening 36-10 victory against Brookwood in the Corky Kell Classic, Hunter made two tackles, one interception, caught 13 passes for 232 yards and two touchdowns while throwing one 28-yard touchdown pass. Horn – a Missouri-commit — is 40-of-65 passing for 456 yards and three touchdowns.
However, with all the focus on the offensive stars, head coach Lenny Gregory is quick to note that it takes a village.
"We have a lot of great players," he said. "Obviously (Hunter and Horn) are special but we have a great group of seniors. They are a great class and have been that way since ninth grade. They are a fun group to coach all around. It's not just those two guys. I mean, those are the two that everyone talks about but when you look at the whole senior class they are just really great kids."
The Eagle receivers corps – led by Hunter – is explosive according to Gregory and anchored by Spenser Anderson, Cam Pedro and Ethan Davis alongside Hunter.
The defensive secondary is troubling for opposing offenses with players like corner Christian Harris, ATH Hunter and safeties Jayden Davis and Mente Bridge. The linebacker corps is led by the state's leading tackler in 2020 – Rich Dorsey – and outside linebacker Dion Crawford.
Collins Hill was scheduled to play Sprayberry on Aug. 27 but the Eagles took the forfeit victory after a COVID-19 issue at Sprayberry. Against Greenville Christian (MS) in the Freedom Bowl at Milton on Sept. 3, the Eagles won 37-22.
The Eagles enter the Rome game prepared for the challenge.
"(Rome) is well coached," Gregory said. "They are physical and fundamentally sound. They are a very proud program and have a couple of state championships. They are a very established program and so we have a big challenge Friday."
Rome opened the 2021 season strong and carries a 2-0 record into kickoff and is ranked No. 4 in the latest Class 6A poll. The Wolves defeated Rockmart 23-7 in their opener and then added a 27-7 win over Cherokee this past Friday night. The impressive showings by this year's Rome team has put the state on notice and Collins Hill head coach Lenny Gregory said on Thursday that Rome is "the best team they have played since Grayson" in last year's state championship.
The Wolves faced Collins Hill for the first time in program history last season and fell short 28-14. That Rome team was extremely young and now they are more experienced and better equipped to give top-ranked Collins Hill a tremendous challenge.
Quarterback Reece Fountain has done his part thus far and has racked up 339 passing yards, three touchdowns and one interception through Rome's first two games. Fountain can make plays in the passing game, but Rome is especially tough running the football and head coach John Reid and his staff will look to take on Collins Hill's experienced defense with heavy doses in the ground game.
Rome is averaging 208 rushing yards per game, and they have had seven different players take carries so far this year. Darius Smith has racked up two rushing scores and has 67 yards off 17 carries. Shaun Nelson has 67 yards off 21 carries and Camron Fleminster has 16 carries for 80 yards and a touchdown. In the passing game, Dekaylon Daniel and Martel Hight are top targets and four-star Martavious Collins is a physical and athletic tight end with a 6-foot-3, 241-pound playmaker.
Defensively, Grand Bullard (3), Tyson Brown (3) and Stephalin Green (4) have combined for 10 tackles for loss through the first two games and the Rome defense is giving up just 7 ppg heading into kickoff. Rome won back-to-back state titles in 2016-17 and have won 60 of its last 70 games.