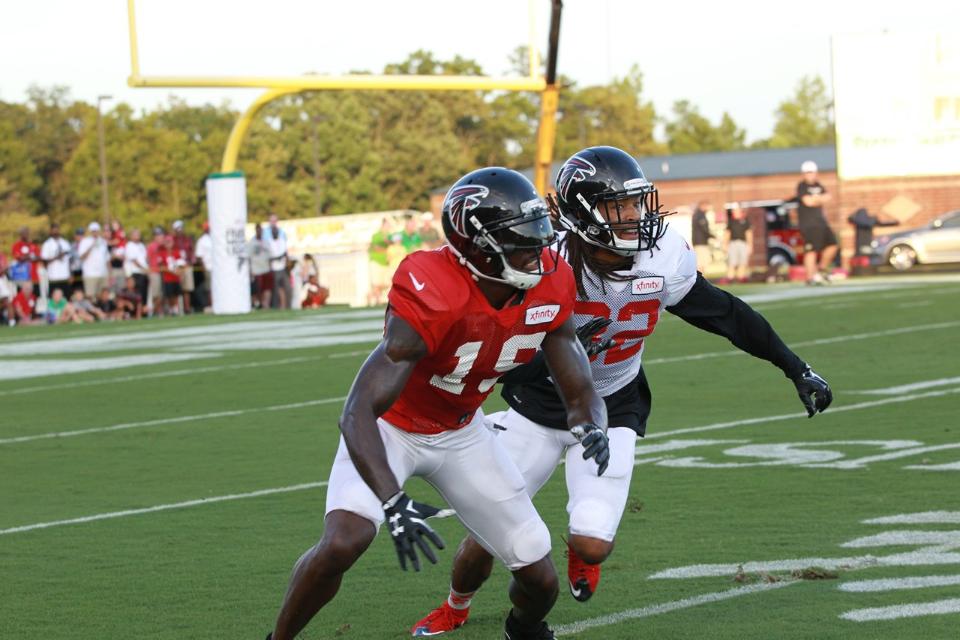 AtlantaFalcons.com
FLOWERY BRANCH, Ga.—The Falcons are just a few days away from their first preseason game of the year, with the Tennessee Titans coming into the Georgia Dome. It's also going to be the first chance for players like second round pick and cornerback Jalen Collins to get their first game day in the NFL.
Collins saw 39 games with 10 starts during his career at LSU. He was even supposed to be a late first round pick in this year's draft. However, an April report that he failed multiple drug tests during his career in Baton Rouge is what likely led to him falling into the next round and there for the Falcons to take.
Collins production was not to the level that you would look for in a highly selected cornerback in his first two years playing for LSU. He only started three games and racked up two interceptions with eight pass breakups. His final year was a different story with seven starts, 17 pass breakups and one interception.
Although Collins didn't get into any off-field trouble during his time at LSU, the failed drug test reports came from four NFL teams according to NFL Network's Albert Breer. He says that one coach in particular at LSU helped straighten him out to become the player he was coming into the league. That is Tigers defensive backs coach Corey Raymond.
"He just got me to change my mindset," Collins said. "He helped me focus on the smaller aspects of the game, the little details that would help me out on and off the field."
Collins comes from a program that has a rich history of defensive backs performing well and getting a chance to play on the next level. Players like Arizona's Patrick Peterson and Tyrann Mathieu. You also have Eric Reid with the San Francisco 49ers and the Dallas Cowboys Morris Claiborne to name a few more players on the next level.
The Falcons rookie corner says that his time with the Tigers has no doubt prepared him to be a pro.
"It does give me confidence," Collins said. "It's just the culture we come from at LSU. We work non-stop all year. I don't feel like there's a group that works as hard as we do at LSU, as far as DB's go. I'm just trying to continue that into the league, with all the older guys that you've mentioned having success early on. I'm trying to keep that going."
The Falcons could be counting on Collins to make an immediate impact in some capacity this season, with them selecting him as high as they did. If that is the case, he's prepared.
When Patrick Peterson was at LSU, he spoke a famous quote.  It is "young guys be prepared to play early and play big roles," is what it says on a sign in the LSU team room.
Collins expects that to be the case for him in Atlanta.
"They've kind of (said) that the young guys will play early," Collins said. "Whether that be on defense, offense or special teams. We'll all have our opportunities, so just be ready."
When it comes to the young guys getting a lot of playing time, new head coach Dan Quinn says that's not a "kind of" scenario. It is a "they will" in terms of getting a lot of early playing time.
"We're trying to find out so much we can about so much we can about all the guys so that's why we're going to play them," Quinn said. "That was the message from the first night of camp, we're playing you. We'll see who can handle it and who can't. He's certainly one that can. I love that he's battling. I love all the length and the speed. He's really had a good couple of days here the last two days."
When the Falcons do take on the Titans this Friday night, look for number 32 to be on the field a lot in this first preseason game. He is right now listed as a second team cornerback, behind third year man Robert Alford.