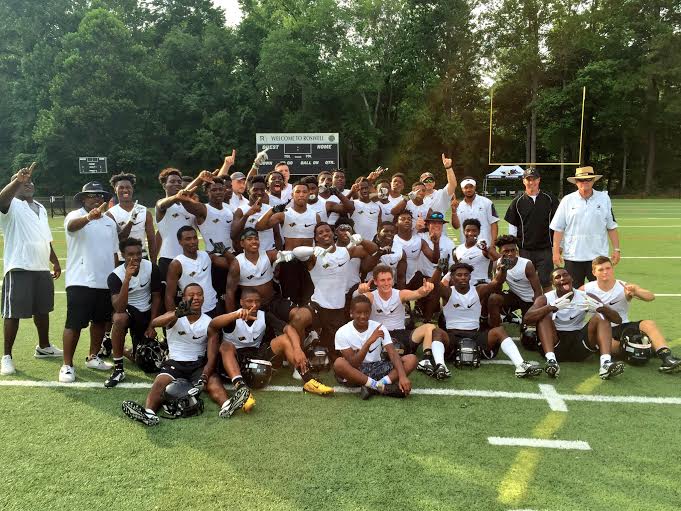 There were 30 of Georgia's top programs represented in the 2016 Corky Kell Classic 7-on-7 Invitational on Friday, but in the end it was middle Georgia's Houston County and south Georgia's Colquitt County as the last two teams standing. For Colquitt County, the Packers won the tournament a year ago and were able to cruise past Walton, McEachern, Grayson and Centennial after earning the No. 6 seed to return to the finals. Houston County, which makes its Metro PCS Corky Kell Classic debut this August, reached the finals after topping Kell, Alpharetta, Collins Hill and Roswell as the 26 seed.
Quarterback Jay Saunders led the Packers, while UGA-commit Jake Fromm commanded the Bears' offense. While Fromm never stopped proving his status as one of the top passers in the entire nation, it was the determination, defense, depth and the dependability of Saunders that lifted Colquitt to a 20-15 victory in the finals.
"I'm sitting here looking at Jake Fromm and to me, he is the best quarterback here today," admitted Colquitt County head coach Rush Propst. "Now the second best quarterback here today was Jay Saunders from the Colquitt County Packers. … Jay Saunders is a winner."
The tournament filled the day with highlight reel plays and incredible head-to-head matchups after the teams settled the seeding with five rounds of pool play. Gainesville earned the No. 1 seed, but after a bye in the first round, dropped a 28-13 game to Roswell and was sent home as a one-and-done in the single-elimination format. Centennial's impressive run to the semifinals where Colquitt County dominated 35-0 was kept alive with a 25-17 overtime thriller against Jones County in the second round and a 28-16 win over Peachtree Ridge in the quarterfinals. Jones County is also representing middle Georgia as a first-time Corky Kell participant this year. Colquitt County's most impressive victory might have been its 24-6 blowout over Grayson in the quarterfinals after a 36-23 shootout versus McEachern in the quarterfinals.