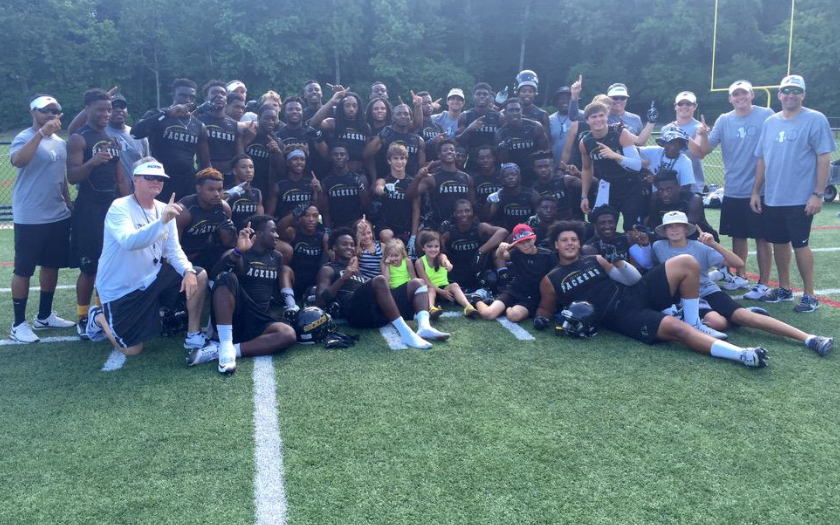 CorkyKell.com
Colquitt County and Peachtree Ridge each entered the finals of the 2nd Corky Kell 7-ON-7 tournament with 7-0 records, but the Packers' combination of defensive tenacity and quarterback play from Chase Parrish were enough to secure a 23-22 championship clinching victory.
"These guys are winners," said Packers head coach Rush Propst following his team's final defensive stand. "They push themselves every day and just refuse to be outworked."
The defending Class 6A state champions used a game-winning touchdown drive in the semifinals against Byrnes (SC) as Parrish found a wide-open Ty Lee after his ankle-breaking goal-line slant route but the championship game was won after Colquitt denied the Lions a game-tying PAT throw in the final seconds.
Colquitt County took the top seed into the 25-team bracket and received a bye before facing Centennial (27-24) and then Collins Hill (23-15) in the quarterfinals.
Byrnes swept Pod D's Glynn Academy, North Gwinnett, Mays and Creekview and eliminated last year's 7-on-7 champion Archer in the quarterfinals with a lopsided 26-11 victory. Peachtree Ridge used it's star-studded secondary to make a run to the finals and defeated Houston County (34-14), Sandy Creek (19-12) and Mill Creek (30-19) in the tournament after sweeping Roswell, Brookwood, North Paulding and Gainesville in pool play.