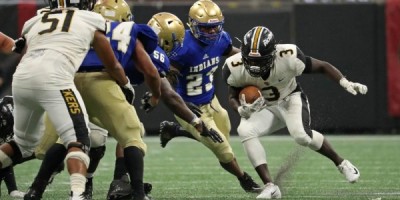 Jason Getz/For the AJC Colquitt County running back Daijun Edwards (3) gains yardage in the second half against McEachern during the Corky Kell Classic game Saturday, Aug. 18, 2018 at Mercedes-Benz Stadium in Atlanta.)
Colquitt County 41, McEachern 7
Class AAAAAAA state runner-up Colquitt County overpowered McEachern in all three facets of the game as it rolled to victory in the third game of the day at the Corky Kell Classic at Mercedes-Benz Stadium in Atlanta.
"Like I told the kids, if we could rush for 300 yards, I felt that we had a great chance to win," said Colquitt head coach Rush Propst. "I don't know what the final stats were and we lost Leggett before the half and that hurt a bit in the second half without our two-headed monster (of Leggett and Edwards)."
Leggett, a 5-foot-10, 172-pound running back, scored Colquitt's first touchdown of the game on a 4-yard run with 5:56 left in the first quarter before he went down with an chest injury. He said after the game that it is not serious
"I was trying to go back out," Leggett said. "But my boys were telling me to stay out and that they had it. Everybody brought it together. But I am feeling alright. I'm going to be back next week, next game.  Just a little pain, I'll be alright."
The Packers weathered the injury and finished with 211 yards rushing on 46 attempts with rushing touchdowns from Daijun Edwards (56 yards) and Montavious Ponder (2 yards). Kicker Ryan Fitzgerald showed out with field goals of 53 and 51 yards. Coach Propst expressed his confidence in his special teams and backfield after the game.
"I felt like coming in, we would only throw about 10 or 12 times," Propst said of his run-heavy approach. "We have the best kicker in the state, bar-none. We have the best backs in the state, bar-none, but that doesn't make you a team. We are a work in progress."
Colquitt netted just 99 passing yards to go with the 211 rushing yards for a total of 310-yards of offense while holding McEachern to just 192 yards of total offense – 164 passing, 28 rushing. The Packers' lone touchdown pass was a 31-yarder from Marvion McDonald to Traveon Huff.
McEachern's only score came on a short touchdown run by Jordan Simmons.