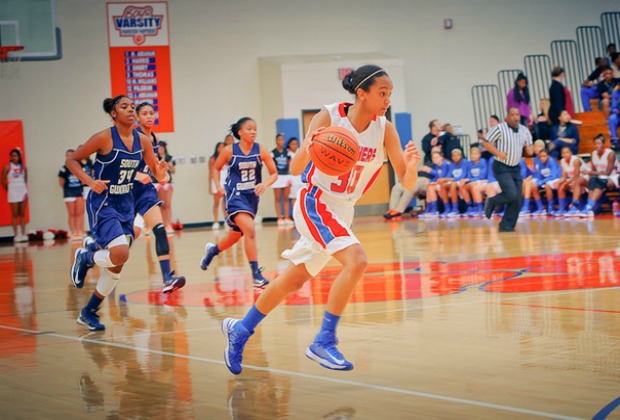 Ty Freeman
After quite a bit of upheaval over the past two weeks since our last poll, Class 5A saw the most movement as every team in the top five lost except Kell. Southwest DeKalb pulled off a few upsets on its way to the region tournament title by beating Tucker and Miller Grove. Despite losing to SWD, Tucker remained No.1 while Kell rocketed up to No. 2. Flowery Branch dropped out after collapsing down the stretch with four losses in six games. Forest Park entered the poll after a win over McIntosh.
Norcross fell after losing in the region tournament to North Gwinnett, which leaped to No. 2 in the state's largest classification. North Forsyth exited the poll after losses to Alpharetta and Centennial while Woodstock climbed in having lost to just Cherokee since early January. Undefeated Parkview remained No. 1, as the Panthers have won every game but one by more than 28 points since December.
In Class 4A, Columbia returned to No. 1 after winning the Region 6 tournament with a win over Redan. The Raiders dropped to No. 2 after the loss, bumping undefeated Cross Creek back to No. 3. It is a good bet Redan and Columbia are the two best teams in 4A at this time, although Cross Creek's unblemished mark is impressive. Meanwhile, Jonesboro joined the top five after a region championship win over Woodland-Bartow. Chestatee fell out after a blowout loss to Madison County, which captured the Region 8 title and entered the poll at No. 10.
AA and 3A remained exactly the same as the last poll, as no teams lost games except to higher ranked opponents. We are pleased to inform you that these two polls were 100 percent accurate.
6A
1. Parkview
2. North Gwinnett
3. Norcross
4. Cherokee
5. Alpharetta
6. Alcovy
7. North Cobb
8. Langston Hughes
9. Hillgrove
10. Woodstock
5A
1. Tucker
2. Kell
3. Miller Grove
4. Stephenson
5. Southwest DeKalb
6. Osborne
7. Cedar Shoals
8. Forest Park
9. McIntosh
10. Effingham County
4A
1. Columbia
2. Redan
3. Cross Creek
4. Mary Persons
5. Jonesboro
6. South Effingham
7. Marist
8. Woodland-Henry
9. Sandy Creek
10. Madison County
3A
1. Washington County
2. St. Pius X
3. Buford
4. Sonoraville
5. Chapel Hill
6. Beach
7. North Oconee
8. Central-Carroll
9. Decatur
10. Dodge County
2A
1. Wesleyan
2. Laney
3. Kendrick
4. Calhoun
5. Dublin
6. Thomasville
7. Pelham
8. Westside-Augusta
9. McIntosh County Aca.
10. GAC
A- Private
1. Southwest Atlanta Chr.
2. Holy Innocents'
3. Darlington
4. Calvary Day
5. St. Francis
6. George Walton Aca.
7. Paideia
8. Mt. Paran
9. Atlanta International
10. Providence Chr.
A-Public
1. Randolph Clay
2. Gordon Lee
3. Towns County
4. Claxton
5. Turner County
6. Irwin County
7. Treutlen
8. Wilkinson County
9. Mitchell County
10. Marion County