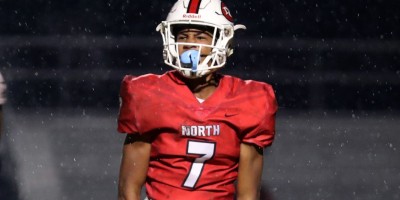 Credit: Jason Getz
By Craig Sager Jr.
This week, the state of Georgia will begin its varsity softball and volleyball seasons, but when it comes to football—the state's biggest revenue generator in the fall sports season—there is growing concern from the Georgia Department of Public Health, members of the GHSA's Board of Trustees, as well as the state's network of County Superintendents that the recent move to delay the start of the football season by two weeks may not be nearly enough to safely hold a season this fall as programs across the state continue to experience positive COVID-19 cases.
North Gwinnett four-star defensive back Jordan Hancock has already made the decision to sit out the football season regardless of what happens. On Monday, the Ohio State-commit announced that he would be opting out of his senior season. Hancock is the No. 4 rated cornerback in the nation for the Class of 2021 and his decision was made to protect his parents—which both have underlying health conditions—from potential exposure to the virus. 247Sports first reported the news on Hancock.
The Atlanta Journal-Constitution reported Monday that on a Zoom call Friday, Dr. Kathleen Toomey, the commissioner of the Georgia Department of Health, told superintendents across the state she was concerned about the COVID-19 risks involved in football, competition cheerleading, band and chorus. GHSA Executive Director Dr. Robin Hines was also on the call and does not oversee band or chorus.
Since this past spring when high school athletics were first put on hiatus, the GHSA and Hines, have worked closely with the Georgia Department of Public Health to adopt strategies and guidelines to lead the safest possible return to competition. These guidelines have governed football's offseason activities over the past two months and teams are currently entering the final phase of the acclimation period with this week marking the first opportunity for teams to hold fully-padded practices. However, recent outbreaks in programs such as Liberty County, Morgan County, Newton and North Paulding in addition to the hundreds of cases that have been reported to the GHSA since workouts resumed in June—have intensified the concerns with the season scheduled to start in less than a month.
"I want you to know that while preparing for the upcoming season, our football team has learned of both new positive tests and potential symptoms within the program," wrote North Paulding High School Principal Carmona in a letter to parents this Sunday.
Carmona did not give specifics on how many people were infected and the school has suspended football practice for a week in the meantime. The North Paulding news broke on the heels of a tragic event that impacted the Johns Creek community. Justin Hunter, a rising junior on the Johns Creek football team, and his parents were all three infected with the virus this past month. The 17-year-old Hunter was able to fight off the virus, but his father Eugene succumbed to COVID-19 on July 26 and his mother Angie died just four days later. No members of the Hunter family were reported to have any underlying heath issues prior to getting the virus according to reports.
It is stories like this that have elevated the severity of the situation and the GHSA is expected to hold a meeting later this week to review the latest numbers and possibly make a decision about the fate of football this fall. Earlier today, the state of Maryland called off all of its fall sports and opposition to holding sports this fall continues to rage on. One of the most prominent voices in Georgia in opposition to playing football has been Baldwin head football coach Jesse Hicks. He expressed his concerns on Monday and raised serious questions about the path forward.
"Let me honestly say this to you," said Hicks. "In no way, shape, form or fashion should we play this fall. We are stewards over young people who God has given us duty over to cover and we should never put our young people, our trainers, our coaches, our families, our communities in harm's way. Right now, we're dealing with a pandemic and nobody knows where it's coming from and where it's going next. And to say that we're about to try to play football and put our kids in an adverse situation. I think it's ridiculous. I think it's unethical. And I think it's sickening to even think that we will even fathom and try to go and play football. Now let me say this too. I'm a competitor. I want to compete. I want to play and I want to watch football. My son is a college football player. But it is the best thing to do."
These are valid concerns that Hicks is raising and it is made more sobering by the recent passing of legendary Statesboro basketball coach Lee Hill on Saturday following his own battle with COVID.
"This is life or death. Why are we having a discussion?" said Hicks. "Yeah, that is the question I have. What is the discussion? If you want to play football, go ahead and move it back. I want to play football and I love Friday Nights. I have been doing it for 25 years, but let's try to do it once we get the numbers down. … "I'm not trying to be disobedient in any way. But at the end of the day, is there something out there that can hurt our young people? Yes. Hurt our coaches, hurt our families… what coach wants to take this back into his own home and possibly hurt his family. Some of our young people in this community live with older grandparents with underlying conditions. I can't speak for every system. But when you don't have an answer, I don't think we're getting any guidance from the GHSA. When it comes to answers about how are we going to move forward?"
Georgia Governor Brian Kemp appointed Dr. Toomey to be commissioner of the Georgia Department of Public Heath in March. Her duties include overseeing 159 county health departments in 18 different state health districts. Dr. Toomey and the GHSA's Sports Medicine Council will continue discussions in the upcoming days and a board decision on playing football this fall may lead the agenda when the next meeting is held.