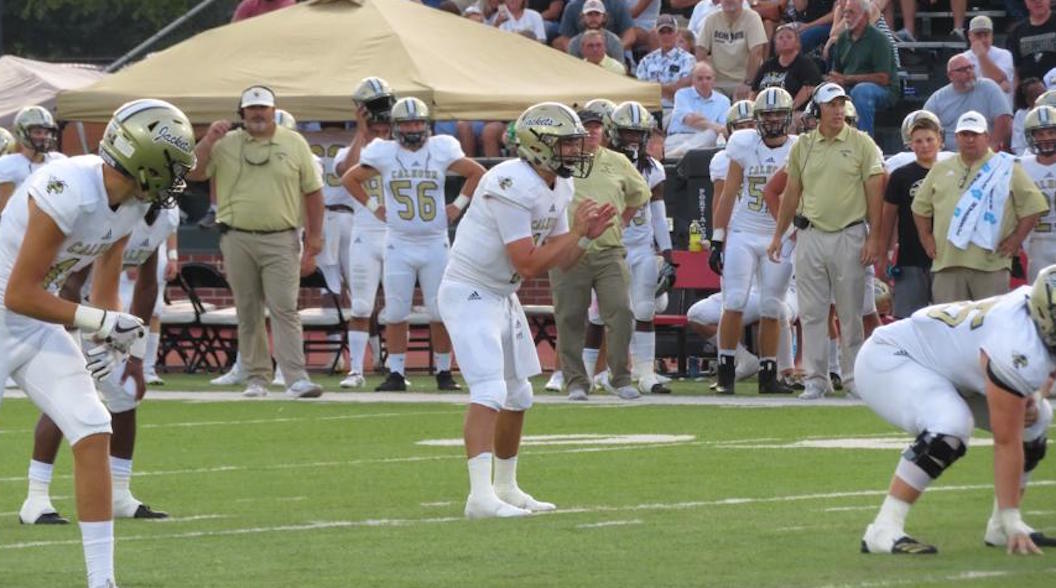 Calhoun and Ridgeland are squaring off in a rematch of last year's Corky Kell Classic that they Calhoun Yellow took 45-21. This lopsided score line came as a shock to many, given at one point in the second quarter Ridgeland was winning 14-7. The teams were tied 14-14 at the half before the momentum swing. The Jackets dominated out of the break and put together a devastating 31-0 run to go up 45-14. Ridgeland in the lasting minutes scored a consolation 60-yard passing touchdown, slightly narrowing the score line to 45-21. This was the most points scored against the Yellow Jackets, until Peach County shockingly ended their season, scoring 22 points and holding Calhoun to only one touchdown in the state semifinals. Despite their tough loss in that game, Calhoun outscored opponents last season 588 to 120 and posted four regular-season shutouts.
In the game, Calhoun dominated through the air, throwing for just under 400 yards (399) and holding Ridgeland to just 173. Passing attempts contributed to just over two-thirds of Calhoun's play call (48 out of 71 offensive plays). On the season, the play call distribution as a whole it was relatively split at 400 pass attempts & 375 run attempts. All-State honorable mention Gavin Gray threw the ball 45 times and the other three came from now starter senior Jake Morrow. Although few, these big game snaps will go a long way when Morrow is set to fill such a big void that Gray left with graduation. With Morrow's track record and game experience, he is set to have a breakout year and bolster an already high-powered offense.
The Yellow Jackets defense looked extremely stout last year, which comes to no surprise with Clemson commit and first selection All-State linebacker Davis Allen commanding the front-seven. In the rematch, Allen contributed a team high in tackles with 5.5, including two tackles for a loss, a sack, and an interception. Allen's interception in that game contribute to a total five team takeaways (four Int, FR). Calhoun won the turnover battle +2; Ridgeland (two INT, FR).
Maybe the biggest storyline of this upcoming season revolves around the retirement of one of the most successful head coaching performances in all high school sports, Hal Lamb. In Lamb's 21 seasons as Calhoun's head coach, he created a dynasty to say the least. Calhoun has a current streak of 18 consecutive region titles along with three state championships in 2011, 2014, and 2017. His overall record with the team was a whopping 233-37. Lamb's departure with Calhoun football will cause a ripple within the school and the community.
As we near the new season, we look towards promoted receivers' coach, Clay Stephenson, to carry on the winning tradition and legacy. Stephenson has been an assistant in the program for 12 years. In response to what will be different next year, Stephenson stated, "we want to change the program without changing the program." The X's and O's should remain consistent with their previous seasons. The school's priorities will remain academics and football, with an intensive focus on progressing their kids. Stephenson would also like to further their staff reach outside of the fieldhouse, by getting the community involved relative to the fans, sponsors, parents, and youth players.
At Calhoun, four All-State players in LB Davis Allen, QB Gavin Gray, OL Ben King, and WR/CB Brandon Spector from last season's roster have since graduated, leaving a need for young faces to take on bigger roles. The program is only returning five starters; two on offense, three on defense. This leaves opportunity for inexperienced players to make a heavy impact.
At the helm, Jake Morrow gives a promising glimpse for the Yellow Jackets' offense this upcoming season. He is said to have a skillset that Gavin didn't and vice-versa, with aspects of his game that could gradually be improved upon. Unfortunately for Morrow, the program lost their top five receivers from last season, including their athletic two-way All-state player, who was their leading yardage receiver and the best defensive back, Brandon Spector. Because of this, expect to see Grant Gilmer, Carson Speer, Brady Drummond, Jaden Brock, Cedric Lacey, and David Braden to get more involved in the passing game. Unfortunate for some talented players, they were sitting behind 3-year starters. Although for many of these players it will be their first time seeing significant snap counts, the coaching staff feels as if they have been ready to go since last season. Many of the listed wide receivers will get some action on both sides of the ball in the secondary, such as Grant Gilmer and Carson Speer.
In addition to Calhoun losing these all-state players, the program needs to replace Eric McKnight and Collin Baggett, some other hard-hitting motors that last season controlled the middle of the defense. A company of linebackers between Brett Garland, Julian Ipac, David Braden, and Zeke Brown will fill the space in the middle and provide hard-hitting coverage. In the backfield, look for junior Jerrian Hames to fill Zack Fuller's big shoes and take over as the teams' new RB1. Brett Bradley will line-up behind Hames in the depth chart to provide some workload relief.
For the third time in three years, the Ridgeland Panthers, will be exercising yet another coaching change. Kip Klein will take over the reins of the program after a one-year tenure from Courtney Braswell.
Returning to Ridgeland are region 6-AAAA players of the year, senior Jordan Blackwell and junior Terrance Roberts. At running back, Blackwell was the OPOY, racking up 1122 yards with 15 touchdowns on 143 carries. Additionally, he was an all-region baseball player. At linebacker, Roberts was the DPOY, also providing some workload at the RB position. He totaled 87 tackles with seven sacks on defense and 21 carries for an impressive 326 yards (15.5 ypc) and six TD's. Ball security was a staple for this offense, between this running back tandem there were zero fumbles lost.
Terrance's younger brother, Torrence Roberts lines up as a slot receiver, and in just eight games played had 11 receptions for 332 and four TD's. This 30.18 average yards per catch is largely due to the fact he is a track star with blazing fast speed. The Roberts brothers both have D1/NFL caliber speed and can run sub 4.50 40's. Although they have never been a throwing team, QB Nathan Carver is coming into his own. "He is learning how to deliver the ball where he needs to go and able to better read the numbers and coverages," says coach Klein. On special teams, kicker and punter Connor Middleton is a talented player with the accuracy to pin the ball deep and going 49/54 on extra point attempts. Middleton is averaging 28 yards per punt.
Captaining the offensive line is senior and three-year starter Logan Godfrey. Godfrey received the honor as second team all-region RG. In addition, he has done work for Ridgeland on the defensive line, alongside Junior Tommy Lamb, who changed positions from LT to LG, and junior Jeremiah Turner, a versatile play who received all-region DE. As a two-way player, Turner is a menace to hold at bay wherever they put him on the field. These powerful players will anchor the front lines and offensively will provide run and pass support.
Both Ridgeland's interceptions in the 2018 Corky Kell came from ball-hawk rising junior King Mason Jr. These two important high IQ plays by Mason Jr. were made in his first-ever high school game appearance, attesting he was eager to hit the field having plenty to offer. Rising senior Julian Brooks led the game with seven tackles and a forced fumble. "Brooks is not the biggest player out there but easily one of the smartest," boasted coach Klein. "We look for big things from him this year." Both players will look to make a vast impact in the approaching rematch.
This highly anticipated season opener between two first year coaches brings a very interesting dynamic and happens to be the first game of the GHSA season. "A little bit of unknown keeps it going this summer, not knowing what to expect," says coach Stephenson. We will see how these coaching changes will affect the programs results and see how they play their cards as the season kicks-off at Barron Stadium in Rome on Thursday, Aug. 22 @ 5:30 P.M.