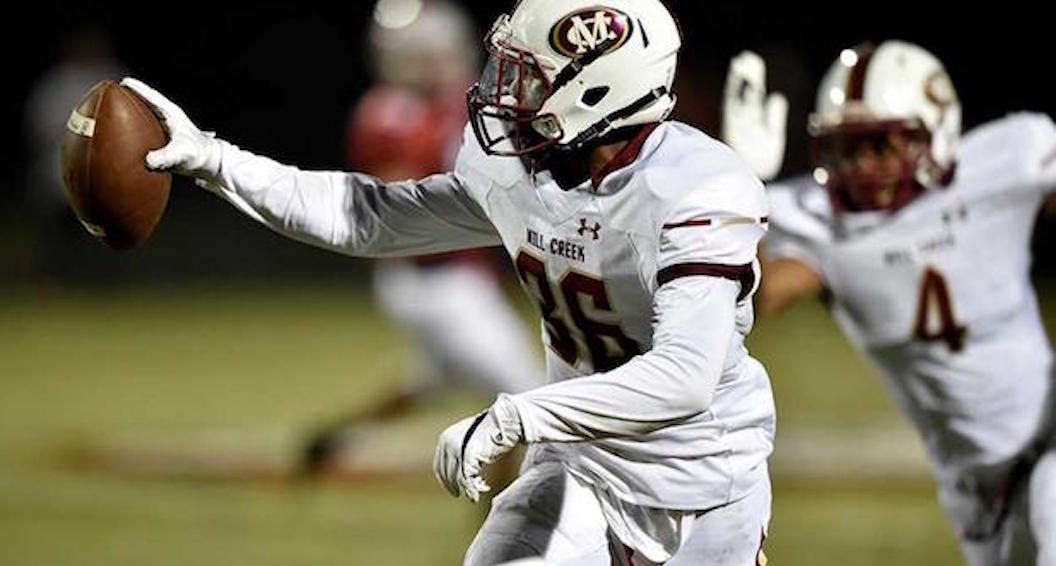 The Mill Creek Hawks, led by first year head coach Josh Lovelady, and the East Coweta Indians, led by third-year head coach John Small, will square off in this year's finale.
East Coweta's offensive line will be a strength of this year's team. As for the passing game, the Indians receivers include seniors Christian Hatzo, Javontae Rosser, Rakiyan Moss and Rakiyan's sophomore brother, Amaryion. Amaryion, like his brother, plays slot receiver and is described as "lightning in a bottle." Rakiyan is a three-year starter and their top returning receiver.
A big question that has arisen in the offseason is how the Indians backfield will look after the graduation of All-State running back Gerald Green, who posted an impressive 20 touchdowns and contributed more than 1,500 yards of total offense in the 2018 season.
"[Green] is a special, irreplaceable player," said Small. "It is going to take a committee [of running backs] to replace him."
The Indians will rely on senior Jayland Rivers, who missed extensive time to injury last season, junior Jayden Bolton, a transfer from Langston Hughes, and senior Corey Bridges. On the flip side of the ball, linebacker Devin Holmes accounts for the most tackles and tackles for loss out of the returning players. After losing their top two tacklers, they will look for Dylan Spelios and Chase Lewis to step up and support Holmes at the linebacker position. Up front, junior Aughnae Waggoner and senior Ryan Barber will help lead the defensive line. At the hybrid LB/DB position, junior Pierre Robinson and senior Trey Gray will be rotating play. On the other side junior Jamari Alford will line up. The Indians secondary is composed of talented junior Willie Rice, senior Chris Pitt and senior Antino Hogan, who are all returning starters.
In 2018, Mill Creek was a run-dominant team, both offensively and defensively, averaging 226.7 yards per game and holding their opponents to only 77.8 rushing ypg. This run dominance comes at a cost. They only averaged a measly 92.4 passing ypg and allowed their opponents 166.7 passing ypg. Mill Creek prides itself on its rushing offense due to a strong running back tandem tag-teamed with a stout offensive line. Their rushing defense is extremely sound. Going forward, they strive to improve their passing game and special teams. Overall, they averaged a positive point margin scoring 28.7 points per game while holding their opponents to 22.2 ppg.
Since Mill Creek football creation in 2004, ex-head coach Shannon Jarvis built the program from the ground up with a solid foundation. After the departure of Jarvis, his trusted right-hand man, Lovelady, was promoted after serving as an assistant coach with the Hawks for 15 seasons. When asked if anything would be changed with the program as a whole Lovelady responded with, "Nothing broke, so no reason to change … maybe will replace a couple bricks in the wall." The goal is to start the kids young and coach them up. "Players know the expectation. The team hopes to be in the playoffs every year. [The team] needs to create more turnovers and focus on ball security. We've been running drills this offseason to improve upon this. Whether it's communication, how we hold the ball, et cetera, we are trying to fix everything."
The run game is a key focus of the Mill Creek Hawks, and in some games seems to be their only offensive production. Spearheaded by a trio of rushers, the carries are shared by senior Chancellor Lee-Parker, junior Josh Battle and senior Parker Wroble.
Defensively, UCLA commit Myles Jackson will anchor the trenches. In 2018, Jackson had 64 tackles with two fumble recoveries. Quick off the snap and hard to hold at bay, it is easy to see why he is such a key factor to Mill Creek's success. Also on the line is junior Braydon Dudley. All three starting LB's will be back this season including senior RJ Smith and junior Noah Faircloth.