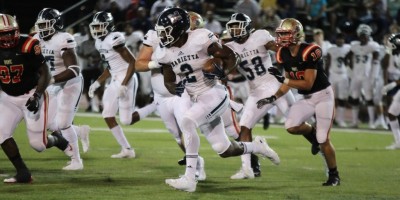 Jeremy Stewart/Rome News-Tribune
Marietta avenged its 51-41 loss to Rome in last year's Corky Kell Classic, downing the Wolves in their home stadium 48-14. It was Rome's first regular-season loss since September 2016.
As in last year's Corky Kell matchup, Marietta quarterback Harrison Bailey, a 4-star Tennessee commit, and Arik Gilbert, the Blue Devils' 6-foot-5, 253-pound tight end and athlete, put up gaudy numbers. Bailey finished 19-of-30 for 367 yards passing and five touchdowns, with nine completions, 205 yards and two touchdowns going to Gilbert. Marietta running back Kimani Vidal led the Blue Devils with 115 yards rushing on 23 carries and two touchdowns.
Marietta, No. 2 in the Week 1 Score Atlanta rankings for Class AAAAAAA, went up 13-0 before Rome took its first offensive snap, and the Blue Devils led 27-0 at halftime after gaining 306 yards on 33 plays in the first half to Rome's 133 yards on 27 plays.
Marietta's opening touchdown drive was a 10-play, 80-yard possession that was kept alive by two key third-down conversions. Bailey scrambled for 8 yards on a third-and-3 that brought the Blue Devils to the Rome 35. three plays later, Bailey hit Gilbert for a short pass that turned into a 21-yard gain on third-and-1, taking Marietta down to the 5. Vidal capped the drive with a 5-yard touchdown run.
On the ensuing kickoff, a big hit on the return caused a Rome fumble that was recovered by Marietta at the Wolves 18. Just two plays later, the Bailey-to-Gilbert connection struck again, as Gilbert hauled in a one-handed catch near the back of the end zone to put the Blue Devils up 13-0 after a blocked PAT.
Rome (Score Atlanta Class AAAAA No. 3) mounted a tough drive on its next possession, but it stalled at the Marietta 25 and ended on a missed 42-yard field-goal attempt.
Marietta capitalized again. The Blue Devils struck quickly thanks to a 49-yard pass from Bailey to Gilbert on a third-and-11 that moved the team to the Rome 32. Vidal took a short pass from Bailey, followed blockers to the left side and stayed up for a 31-yard touchdown to make it 20-0 Marietta with 2:43 remaining in the first quarter.
Marietta's third-down mastery continued in the second quarter. Bailey found Vidal on a screen pass that went for 25 yards on third-and-10, setting the Blue Devils up at Rome's 17. Then Ricky White, an offseason transfer from Wheeler and a Michigan State commit, took a short pass on third-and-9 from the Rome 16 and tiptoed down the sideline for a touchdown at the 8:51 mark, bowling over a Rome defender at the goal line and drawing an unsportsmanlike penalty for taunting after the play.
The Rome defense got its first stop of the night on Marietta's second possession of the second quarter, forcing a punt after the drive stalled at the Wolves 41.
On the first possession of the second half, Rome scored its first points at 8:32 on a 19-yard pass from Caleb Ellard to Jaquavious Wise, as Wise fought off defensive pass interference to pull down the catch. The Wolves then forced Marietta into a three-and-out after the kickoff, as the Blue Devils lost 6 yards on the possession, and struck quickly after the Marietta punt to make it a two-score game. On the second play of the Rome possession, Ellard hit Wise in stride over the middle, and Wise sprinted untouched for the 53-yard to make it a 27-14 score.
But Marietta regained control of the game on the next possession. The Blue Devils gutted out a tough drive against a revitalized Rome defense, with the key play coming on yet another third down. On third-and-22 from the Rome 33, Bailey whipped a pass over the middle to Gilbert, who bounced off several tackles and surged past the first-down marker. Two plays later, Bailey again found Gilbert over the middle for a 9-yard score to again put Marietta up by 20 points, 34-14, with 1:44 left in the third quarter.
Rome moved the ball into Marietta territory on the next drive, but failed to convert a fourth-and-2 from the Blue Devils 45 and Marietta took over with 10:55 left to play. Another long pass play from Bailey to Gilbert—this time a 39-yard gain to the Rome 15—moved the Blue Devils into the red zone, but the Rome defense forced a fourth down from the 20. Bailey dropped back and fired a pass to White in the end zone to make it a 41-14 score with 8:07 left.
Marietta tacked on a final touchdown on a Vidal 2-yard run with 5:05 to cap the scoring.
White caught six passes for 92 yards and two touchdowns for Marietta, and safety Rashad Torrence led the Blue Devils defense with 8.5 total tackles and one tackle for loss.
For Rome, Ellard finished 11-of-22 for 132 yards passing and two touchdowns, with Wise catching four balls for 95 yards and two scores. Wolves running back Ahijah Blackwell rushed for a game-high 132 yards on 21 carries.