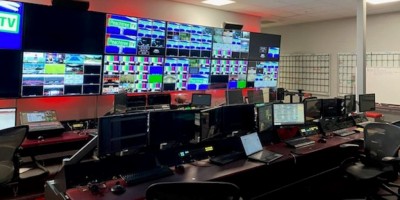 The 30th Annual Corky Kell Classic wraps up on Saturday with an incredible five-game marathon at Mercedes-Benz Stadium and the action will be broadcast in a way that no other high school football game has ever been covered.
All five games will be shown on PeachtreeTV without using a television truck. Instead, the entire day will be produced inside the stadium massive control room.
"This is a unique opportunity for us at Mercedes-Benz Stadium and we are grateful to be working with the Corky Kell and individuals like Roddy White and I.J. Rosenberg to utilize our state-of-the-art control room in a way that it has never been utilized before," said Mercedes-Benz Stadium Chief Broadcast and A/V Engineer Ben Dolinky. "Typically, when we have an event here like the 2019 Corky Kell, that group would come in with their own truck and their own separate camera feeds and everything they would be doing would go directly to air on TV. Simultaneously, we would have our own production going inside the stadium. That relates to the number of cameras, replay sources and what would be going to our Halo board."
Also, the Halo board is the 360-degree, 62,000 square foot screen that circles above the field and provides every seat in the house with an unparalleled view of the action.
"It's interesting because we were involved in several areas when MBS was built and I talked to Tim Zulawski (Mercedes-Benz Stadium Chief Revenue Officer) and told him I really thought their control room could be used for events like ours," said Score Atlanta President I.J. Rosenberg. "It means we don't have the expenses of bringing in a truck and it would be a profit center for MBS. We would have done this last year if not for Covid."
Now, all the in-stadium camera feeds will be available for the broadcast and visa-versa and this will dramatically increase the possibilities and angles that can be used.  Also, under the direction of Dolinky and MBS producer Steve Smith, MBS is providing some of their top production talent, joining a team put together by White.
"IJ wanted to be able to do both productions simultaneously and we have the technology and space to have those two productions going at the same time out of the control room," said Dolinky. "We have two Ross Acuity six ME switchers in the control room. We have one that will be doing the broadcast for PeachtreeTV and then we have a separate one that will be doing all the stuff that will be going on the Halo board. The way this one is different is we are kind of blending the two separate productions into one. So instead of having two camera guys in the same camera well where one is shooting for the broadcast and one is shooting for the Halo, we are taking one guy and we are going to take that feed into the control room and duplicate what is on the TV with what is on the Halo board. It will reduce the number of people it will take to do these two productions and it is also something we have never done before and we are going to be able to use all our resources and graphics like a first-down line, a red zone line a goal-line and all that stuff in the form of production for TV. Usually, we just use that for the board, but now it will be used for just for broadcast on PeachtreeTV. We will also have our own audio guy for the broadcast in addition to a DJ specifically for the Halo Board and stadium experience."
Mercedes-Benz Stadium granting the Corky Kell full control of their state-of-the art studios is a groundbreaking collaboration for the event, the venue and high school football."We'll be here probably at 5 or 6 a.m. until the end and that is what it is all about and it comes with the territory," said MBS producer Steve Smith "An event like the Corky Kell and what we are going to be doing on Saturday in the control room falls into our wheelhouse of what Arthur Blank and his family of businesses are all about. One of our core values is innovate continuously and this event provides us with the opportunity to do something that not a lot of venues can do. They really keep that broadcast and in-house broadcast separate, but we saw it as an opportunity to really take advantage of our technology in this building and allow both crews to work together. Another core value is giving back to others, and this is a special event. The kids are playing on the same field that Matt Ryan is playing on and Grady Jarrett is playing on, and this is a great opportunity to springboard this event to the next level."
In command of the broadcast will be producer Roddy White, who has led the previous three days of Corky Kell action. White worked for more than a decade for the Falcons and is also excited for the quality of broadcast prepared for Saturday's games.
"The biggest thing is it gives us the opportunity to maximize the conceivably endless technology they've already got inside the stadium and to be able to apply that to the broadcast," said White. "So, it is a chance to make our on-screen product that much better for the viewers. Because we are utilizing their gear and because we are utilizing their people as well, we are getting a much better value because we can use the same people for the in-game operations for the broadcast and the technology they have is second to none.
"As a producer, I am going to tell you that it is a lot more comfortable for the entire crew. We have a lot more space to spread out compared to operating out of the truck. I think the on-screen product will be far superior for what we have been able to do in the past because of all the technology we will have We typically use four cameras for a typical Friday night broadcast. This time, we will be able to use six total cameras and we will also have an additional replay operator that gives us more flexibility in our replay packages and things of that nature to give a better experience to the viewers and we can do the first down marker as well. "We are thrilled to be the first event they have allowed to utilize their control room for a linear broadcast, and I think that speaks to the ongoing existing relationship with Score Atlanta, the Atlanta Falcons and Mercedes-Benz Stadium."
Added Rosenberg, "This is the future of sports TV. It might not happen quickly but some day you are going to see networks like ESPN forgo the use of these huge trucks which cost a fortune and do NFL  games out of these well-equipped stadium control rooms.''
Saturday, Aug. 21 at Mercedes-Benz Stadium
9:00 a.m.: McEachern vs. Kell
11:45 a.m.: Parkview vs. Mill Creek
2:45 p.m.: Lowndes vs. Walton
5:45 p.m.: North Gwinnett vs. Hoover (AL.)
8:45 p.m.: Brookwood vs. Collins Hill
* Home Teams are on the left-hand side