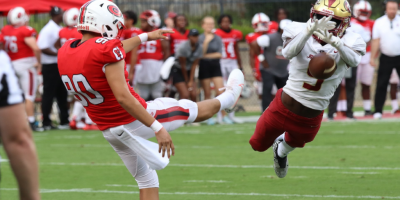 The Corky Kell Classic has kicked off the Georgia high school football season every year since 1992, and is gearing up to stage a captivating four-day, 11-game lineup to celebrate its 31st anniversary this year. The ever-growing spotlight surrounding Georgia's proud gridiron tradition has flourished alongside the Corky Kell Classic, which has routinely raised the bar to ensure that each new season kicks off with with the biggest and most competitive lineup of matchups. This year, eight of the 22 teams participating in the classic will be making their Corky debuts and the lineup will also introduce the first-ever private school matchup in the event's history with Fellowship Christian and Mt. Pisgah squaring off. Tune into PeachtreeTV to watch live and access the full Corky Kell schedule below.
CHEROKEE BLUFF vs. KELL [5:30 p.m.]
Cherokee Bluff will make its Corky Kell Classic debut and celebrate its fourth season in history after its inaugural 2019 campaign first introduced the program to the Georgia landscape. The Bears have established themselves and risen in the ranks over the past three seasons and are coming off a brilliant 11-1 finish that included the first undefeated season in the young program's history. Now, head coach Tommy Jones will look to make the next ascent on the proverbial ladder and lead his team into a new Class 4A field after competing in Class 3A previously.
"We have been extremely fortunate to have had a number of outstanding players to help build our program here on the Bluff," Jones told the Cherokee Tribune. "But more important than anything they did on the field is the fact that they bought in (to what we were doing) from the very beginning and established a strong, healthy culture. Obviously, it's impossible to replace these leaders or re-create what they did last year. Every team takes its own journey. However, the hope is that through the effort, attitude, and intangibles they modeled will impact our football program for years to come. And we are tremendously excited and encourage about how our returning players are handling their business right now. They have been working really hard and maintained a solid focus through our offseason and summer phases. One of the most gratifying parts of coaching is to be a part of the process of these young men stepping up, maturing and becoming leaders."
Jones is pleased with what his previous teams have built and eager to find a replacement for Jayquan Smith in the backfield, after he racked up more than 1,600 yards and earned All-State praise.
"Jayquan was unquestionably a special talent and huge foundational piece to our football program," said Jones. "Not sure you ever just "plug and play" and replace someone like him. In saying that, we feel really good about a number of our guys stepping in and sharing the load in our run game. Connor Griffin, Conner Hulsey, Jaylen Carroll, Xavier Griffin, and Perry Haynes have all been impressive through spring and summer workouts. And our offensive line has been encouraging as well. Max Eubanks is an exceptional athletie that can make a bid difference offensively in a lot of different areas. The challenge to putting an offense together every year is best utilizing the pieces that are on the roster. We have a handful of quality receivers with starting experience (Jhace Justice, Eubanks) and a quarterback that we are very excited about in Asher Wilson. So it will be interesting to see how things develop and progressive offensively for us this season."
On the defensive side, Cherokee Bluff was exceptional last season—tallying three shutouts and giving up just 11.67 points per game—they best mark in the program's existence. Connor Griffin tallied 52 tackles in just eight games as a Justice is back with his younger brother Jordan in the secondary after hauling in a team-high three interceptions last season.
Kell will battle Cherokee Bluff in the first game of the Georgia High School football season and celebrate the debut of its new head coach Bobby May, who came to the Longhorns after a successful three-year stint at Westlake. The Lions captured two region titles under May and reached the Class 6A quarterfinals last year, following a semifinal run in 2020. May's Lions never faced Kell during his three years at the school, but his team battled plenty of other powerhouses over that span, including Archer, Carrollton, Colquitt County, Allatoona, East Coweta, Creekside, Johns Creek, Lovejoy and Tucker—all of which Westlake emerged victorious.
May became Kell's ideal candidate for the position as a result of his outstanding run at Westlake. Longhorns athletic director Richard Norman explained what he saw in May by crediting his ability to raise interest in his program and recruit within the school and community. One of the glaring examples Norman told the MDJ was how May was able to double the program's size in just two years and how a whopping 44 of his former players are currently on college football rosters—including 24 at the Division I level.
As for the personnel, Kell's Davion Hampton quarterbacked the team last year and showed his ability to make plays with his legs. Kell, however, welcomed in Dutchtown transfer Bryce Clavon to compete for the starting role and Clavon is also a big threat with his running ability.
Ayden Jackson also returns for his senior campaign after leading the Longhorns in rushing touchdowns last season.
PARKVIEW vs. JOHNS CREEK [8:30 p.m.]
Parkview and Johns Creek are getting set for their Corky Kell Classic matchup as the second of two games on Aug. 17. Parkview is coming off a letdown 4-7 2021 campaign that saw the Panthers lose in the first round of the state playoffs. But after graduating only four starters and with a much more experienced group, they're looking to return to their winning ways that yielded back-to-back region titles in 2018 and 2019.
"We're really excited about the experience we have coming back," Parkview head coach Eric Godree said. "We have a lot of talent back so we're excited about that."
Parkview is led by senior quarterback Colin Houck, who is a dynamic athlete in baseball as well. He has received offers from some notable schools, including Arkansas, Georgia Tech, Pittsburgh, Miami and others, and for good reason. He threw for 2,142 passing yards and 20 touchdowns last season and is ready to pick up where he left off as a junior.
"We're expecting a lot of great things out of [Houck]. He has a chance to basically break every Parkview quarterback record that we have," Godfree said. "He's obviously a big part of what we have coming back that's going to help us tremendously."
Also returning is Houck's partner in crime, wide receiver and safety Mike Matthews. He had 764 receiving yards and seven touchdowns as a sophomore last season. He, Houck and running back Khyair Spain form a lethal trio for opposing defenses to game-plan against.
"I really do think we can be special on offense. Usually it takes until midseason to get to form offensively but we're hoping we can start well and be good on offense from the get go," Godfree said.
While experience is the story for Parkview, it is quite the opposite for Johns Creek. The Gladiators have undergone a complete overhaul, graduating 29 seniors and only retaining one coach from their staff a year ago. The biggest part of their overhaul is at head coach, as Johns Creek hired Drew Connell in March. He certainly has the credentials to be a head coach, with his most recent role being the defensive coordinator for Milton from 2017 to 2021. There, he won region titles from 2018 to 2021, was a 7A state runner up in 2021 and won the 7A state championship in 2018.
To help with that goal, Connell said he has intentionally put his team up against tough competition over the summer. This includes OTAs with Milton, Grayson and participating in the Corky Kell 7-on-7 in June. The objective is to expose his team to challenges early on so it knows how to deal with adversity in the later part of the season.
"All of that is to get you ready come October for region play," Connell said. "Sometimes when you go against the best of the best, you're going to get knocked down. My biggest thing with this team and our lack of experience is, I want to see them face adversity in the summer and see how they respond."
There is no doubt that Parkview poses the kind of challenge that Connell is seeking early on. But he is looking forward to the test, especially with it coming in the Corky Kell Classic.The two schools' contrasting styles of offense should make a compelling Corky Kell matchup. Connell has familiarity going up against Parkview in 2018 and 2019 with Milton, so he has seen their ground and pound, wear you down system firsthand. On the flip side, the Gladiators will likely rely on their speed and lateral quickness to beat opposing defenses.
Their offense is headlined by quarterback Michael McClellan, athlete Luke Richards, running back Tony Gilliam and wide receiver Kyle Vaka. After being productive in limited opportunities last season, those three step into starting roles in 2022.
"Our quarterback and our wide receivers are going to be really good this year," Connell said. "The strength of the team to me is definitely the skill positions."
Senior linebacker Sam Oppenheimer anchors the defense after recording 154 total tackles, 15 tackles for loss, two sacks and an interception in 2021.
With the days and weeks winding down toward the start of the season, all the focus is shifting to the 31st annual Corky Kell Classic. For many, this is what high school football is all about.
"To make my debut personally against Parkview in a Corky Kell means a great deal because it's a great stage, it's the showcase that we all grew up watching," Connell said. "I couldn't be more excited about it, it's going to be awesome."
2022 Corky Kell Classic Schedule
August 17 at Johns Creek
5:30 p.m. Kell vs. Cherokee Bluff
8:30 p.m. Johns Creek vs. Parkview
August 18 at West Forsyth
5:30 p.m. North Atlanta vs. North Forsyth
8:30 p.m. West Forsyth vs. Archer
August 19 at Rome
2:30 p.m. Fellowship Christian vs. Mt. Pisgah
5:30 p.m. Cass vs. Kennesaw Mountain
8:30 p.m. Rome vs. Creekside
August 20 at Mercedes-Benz Stadium
10 a.m. McEachern vs. North Gwinnett
1 p.m. Brookwood vs. Norcross
4 p.m. Walton vs. Mill Creek
7 p.m. Marietta vs. Grayson