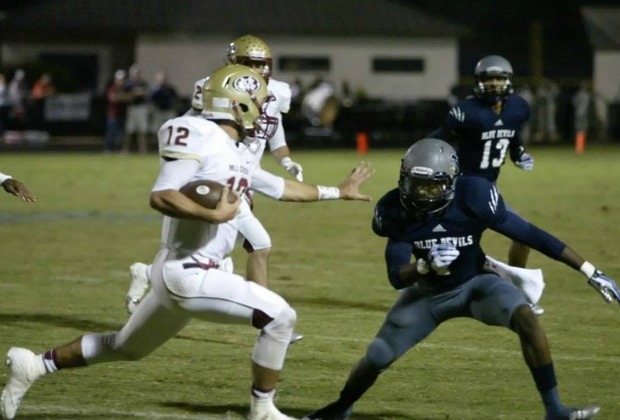 Photo by Mill Creek HS
Mill Creek is the biggest school in the state with over 3,700 students and they possess one of the biggest offensive lines that will hit the Georgia gridiron this year. It starts with Auburn commit Kaleb Kim at 6-4, 285-pounds and includes Josh Fannin (6-3, 300), Chad Walker (6-3, 285) and Bobby Klemm (6-5, 310). The Hawks have averaged over 40 points per game the last two seasons and dual threat passer Daniel David returns under center. Jonathan Hawks returns to the backfield after 369 rushing yards and seven scores last season.
The receivers are deep with talent this year and it includes David Curry, a senior that converted from quarterback this spring. Micah Pulley, Miles Riley, Joseph Hull and Braden Canamare are all in the receiver rotation and will see action this fall.
The Hawks made back-to-back trips to the semifinals in 2011 and 2012, but missed out on the playoffs last year with a 6-4 record after coming up short in close games and surrendering big leads. The weakness was the defensive side of the football and new coordinator Bill Stewart was brought in this offseason to fix it. Stewart previously served as a head coach and athletic director in Alabama and will have a strong cast of returning players to work with this year.
Chris Dickhute and Kijhani Sebastian lead the secondary, while Tyler Voyles (Furman commitment), Samaj Starling, Jake Lund and Tylon Craighead return in the front seven.
"We're very excited about the defensive side of ball," Jarvis told the Gwinnett Daily Post. "The mentality that Coach Stewart brought is huge, not just in the mentality with the way they play but the way they work out. It's been a very positive change. Our kids have been very receptive to him, as I knew they would be. With our results in summer in 7-on-7 and our team camp, our defense has performed very well, from players stepping up, playing faster and building more confidence."