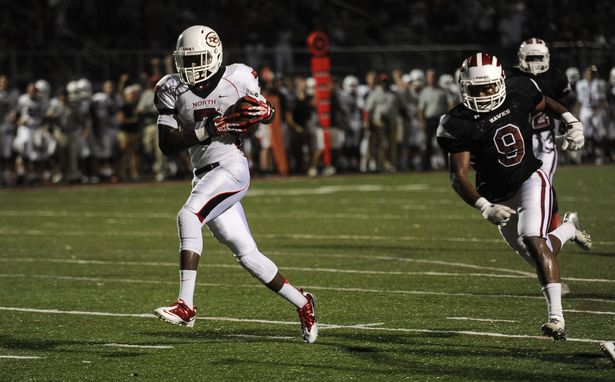 AJC.com
A string of eight-straight 10-plus win seasons under North Gwinnett head coach Bob Sphire came to an end in 2014 with the Bulldogs finishing the season at 8-3 with a surprising first-round exit in the state playoffs after falling to Central Gwinnett, 12-9. Sphire now enters his 10th season at the helm of North Gwinnett and has turned the program in to a perennial power, going 99-18 over his time at the school. Before Sphire's arrival, the Bulldogs never won more than nine games in a season.
Known for their pass-heavy aerial assault, the Bulldogs will need to replace quarterback John Urzua (MTSU), who threw for 3,142 yards and 34 touchdowns last season.
Sophomore Cade Fortin is slated to take over under center for coach Sphire. He has battled with fellow sophomore Jimmy Urzua, junior Trevor Deyton and senior Roswell-transfer Davis Kelly, who is ranked as a three-star recruit.
Josh Imatorbhebhe, a Southern California-commit, is tabbed as a four-star recruit and one of the best receivers in the country. In last year's Corky Kell, Josh recorded 173 yards and three receiving touchdowns.
A pair of Miami (OH) commits will also flank Fortin in the offense. Running back Kam Pickett and wide receiver K.J. Hancock are both headed north to help the RedHawks offense next year. Pickett led the Bulldogs with 604 yards rushing and 10 scores as a junior. He also added 12 receptions for 149 yards and two touchdowns. Hancock recorded 11 receptions for 297 yards in 2014 but burst to the scene with MVP honors in December's Elite Junior Classic.
The offensive line was a strong point for the Bulldogs in 2014. Left tackle Mitch Hyatt was ranked as one of the best linemen in the entire nation and is slated to start for Clemson this year. This year's trenches will be led by Alex Mollette. The Marshall-commit, will start at center adjacent to three-star junior Chris Sibilia, who will anchor the tackle position at 6-foot-6, 285 pounds.
Defensively, junior edge rusher Drew Jordan currently holds offers from Boston College, Duke and Nebraska. The secondary will be anchored by seniors Torron Murray and Delon Smith.
For the first time in two decades, Colquitt County enters the season as defending state champions. Rush Propst finally got the Packers over the hump in 2014 and brought home the school's second state championship, the first since 1994. Propst now has six total state titles, five of which came at Hoover High School in Alabama.
Instead of the battle cry being "unfinished business" this season, the Packers will have back-to-back on their minds. This will be Propst's eighth season as head coach in Moultrie. Over that span his total record is 71-25. Before Propst arrived in Moultrie, the Packers completed a six-year span with a record of 31-33.
Last year, Colquitt Count had a dominating offense, which scored 40-plus points in 10 games. The Packers defeated Mill Creek 31-14 in last year's Corky Kell, highlighted by Chase Parrish's 256 yards passing and one touchdown.
One of the most notable losses will be Sihiem King. The Kentucky signee was named the Offensive Player of the Year by the GHSA and rushed for over 2,000 yards last season while scoring 37 rushing touchdowns.
Two other big loses will be on defense and were the team's leading tacklers last season, De'Themeyus "Bull" Barge and Quintin Hampton. Barge had 184 total tackles and was named Defensive Player of the Year by the GHSA, while Hampton had 147 tackles. Barge signed with South Alabama while Hampton landed with the University of Central Florida.
Last season Parrish threw for 2,835 yards and 26 scores with a completion percentage of 73 percent. Parrish's two favorite targets from last season will be back again this year. Kiel Pollard caught 66 passes for 830 yards last year, including 10 catches for 144 yards and a touchdown in last year's Corky Kell. His running mate Ty Lee caught 51 passes for 856 yards and 12 touchdowns in 2014.
Three-star linebackers Ja'Quain Blakely and Dee Walker will headline the heart of the defense. Walker finished with 89 tackles (14 tackles for loss) and Blakely racked up 48 total tackles to go along with two sacks.