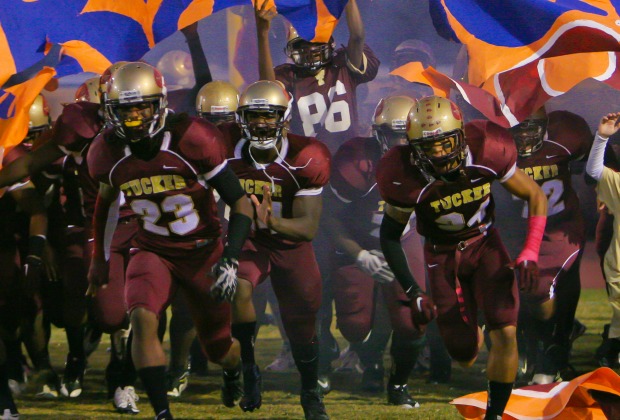 Photo by David Sibley
Two of metro Atlanta's top programs in recent years butt heads in Game 4 on Saturday. No strangers to success, the two powers have combined to win four state titles since 2008. Norcross has not had a losing season since 1998 and has made the playoffs in eight of the past nine years while Tucker has made the playoffs every year since 2006 and has not had a losing season since 1991.
Coach Keith Maloof's Blue Devils are the glamor team in the state heading into 2014 as the Gwinnett County program has won the last two state championships in Georgia's largest classification. The 2013 team dropped two of their first three games of the season, 55-0 to eventual-national champion Booker T. Washington (Fla.) and 36-17 to North Gwinnett, then ran the table and defended its 2012 title with a 31-14 win in a revenge game over the aforementioned Bulldogs.
However, last year's squad graduated some 62 seniors, including quarterback A.J. Bush (Nebraska), wide receiver/kick returner Myles Autry, defensive end Lorenzo Carter (Georgia) and linebacker Kevin Mouton (Cincinnati) among several other key contributors. Griffin Barker and Jacob Gassert battled in the offseason for the start at quarterback for the Blue Devils after backing up Bush in 2013. A decision had not yet been made as of press time. Gassert was the only quarterback aside from Bush to see playing time last season, and he had a mere five passing attempts for 16 yards.
D'Andre Plantin will anchor an offensive line that lost every other starter off last year's squad. Junior running back Jamir Billings will play a big part in the running game and senior Jared Pinkney (seven catches, 80 yards last year) will head a young corps of receivers. The defense will be guided by senior end Jean-Baptiste Kouassi, who made 106 tackles last year with nine sacks, and senior tackle Dorian Kithcart, who had 78 tackles and 38 tackles-for-loss.
Despite losing a bevy of seniors, the Blue Devils dressed out more than 200 players for summer workouts. In fact, Maloof will start nine seniors on defense and five on offense. The two state championships are the only ones in school history for a program that was up and down for decades prior to Maloof's arrival in1999. This will be Norcross' third appearance in the Classic after losing games in 2008 and 2009.
Tucker won state titles in 2008 and 2011 under coach Franklin Stephens, and made it back to the finals last season under coach Bryan Lamar. The Tigers have won 10 games or more 15 times since 1994 and 13 or more five times in the past seven years. Tucker's corner of DeKalb County has been a regular stop for college recruiters from all over the nation.
The Tigers' defense alone is chock full of Division 1 college prospects this season. Multiple seniors are being heavily recruited, including defensive end Jonathan Ledbetter, who was hotly pursued by Alabama and committed to the Tide before recently flipping to Georgia. Several top programs are recruiting defensive back Duke Shelley, including Clemson, Georgia Tech, Tennessee and Wisconsin. Linebacker Elijah Sullivan is committed to Auburn while linebacker Maurice Williams and defensive back Dre Jackson have received serious attention from colleges.
Offensively, Tucker lost three of its top four rushers, including quarterback Joseph Farrar (Furman), running back Dominick Sanders (Georgia) and Devin Towns (Wingate). However, Sullivan doubles as a fullback when he isn't playing linebacker. He rushed for 756 yards and 11 scores last season. Delvin Weems, who transferred in from Sandy Creek, will get the start at running back in Saturday's game.
Junior Garrett Rigby will start at quarterback for the Tigers in a backfield that features three senior backs (Sullivan, Weems and Raquan Rush). Ledbetter will get the nod at tight end. This will be the Tigers' first-ever appearance in the Classic.
There is a significant Alabama flavor on Tucker's coaching staff, as offensive coordinator Toderick Malone and nose guards coach Albert Means each played for the Tide. Norcross' staff is also dotted with former college players including Jeremy Muyres (Parkview, then Georgia Tech), Marcus Jackson (Norcross, then Georgia) and Reggie Stancil (Colquitt County, then Jacksonville State).