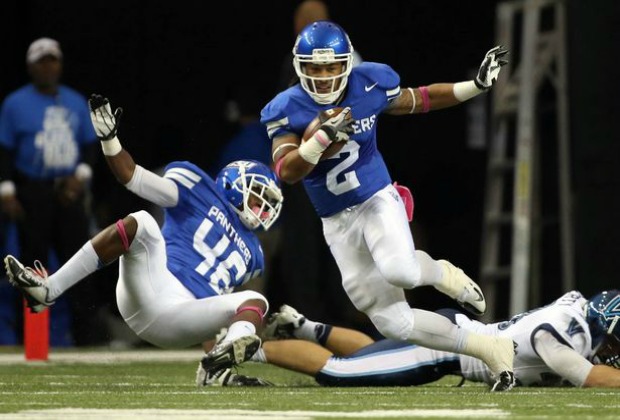 Jason Getz/AJC
The Panthers had their final home game of the season last Saturday and it wasn't the finale they wanted as they fell to Old Dominion 53-27. Old Dominion quarterback Taylor Heinicke, who played high school football at Collins Hill, passed for 351 yards and three touchdowns in the win. As for the Panthers, the biggest highlights came from Albert Wilson, who set two school records.
Wilson returned a kickoff for a 110-yard touchdown midway through the third quarter, the second of his career. He returned a kick for a score in 2010 against Alabama.
"He was not supposed to bring that ball out," Panthers coach Bill Curry said after the game. "It's the longest kickoff return I've ever been a part of. What he does is just (he) uses his supernatural ability and it is amazing to see what he does. Those are really fast people chasing him, and you just can't catch him."
Wilson also caught a 93-yard touchdown pass from Ben McLane early in the fourth quarter, the longest scoring reception in GSU history.
The Panthers will play their final game of the regular season against Maine this Saturday at 2 p.m.
CURRY HONORED
The game against ODU also marked the final home game for Curry. Before the game, Georgia State announced the locker room and the football team's practice facility will be named in Curry's honor.
"It absolutely stunned me," Curry told georgiastatesports.com about the honor. "It's the only time today. I had no intention in choking up. These amazing act of kindness towards me today, I don't even have words."
Curry has been the head coach of the Panthers since their inception in 2008. However, he started his head coaching career in 1980 when he took over Georgia Tech. Curry then went on to coach at Alabama and Kentucky before heading to ESPN in the late 90s.
WILSON'S FUTURE
Wilson looks like a player that could be taking that next step in the very near future. Whether he'll make that jump is another story because he's said that he'll wait at the end of the season to decide if he wants to come back for his senior year or enter the NFL draft.
Wilson, 5-foot-9, 190 pounds, leads the conference in all-purpose yards and is the Panthers top receiver, averaging 87 yards per game.