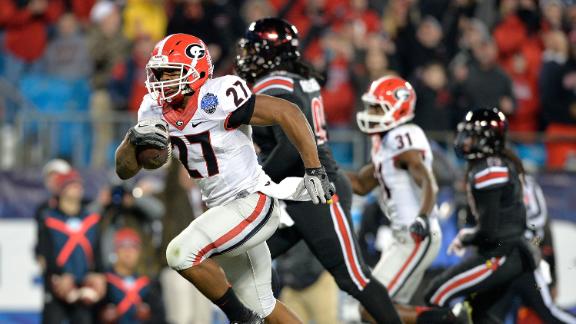 ESPN.com
Everything seemed to go according to plan Tuesday night in Charlotte, with Georgia beating the Louisville Cardinals 37-14 to win the Belk Bowl. Everything except for a couple minor details went Georgia's way to secure their 10th win of the season.
Senior quarterback Hutson Mason came out of the game in the second quarter, after taking a hit from pro prospect defensive lineman Lorenzo Mauldin on a first and goal pass at the nine yard line. After that, redshirt freshman quarterback Brice Ramsey entered the game for his one of his first extensive amounts of playing time in 2014.
The Bulldogs also lost their offensive coordinator Mike Bobo before the bowl game and still put up 37 points in the win. They were averaging about 42 points a game, so the numbers were just a little down.
If you're not catching the theme here, the sarcasm is being laid on pretty thick. These factoids are not to be taken lightly at all. Plus, the Bulldogs got a bowl game rushing record of 266 yards from the legs of freshman running back Nick Chubb.
Let's start first with Mason leaving the game…
He would go on to finish the drive and Georgia would settle for a 22 yard Marshall Morgan field goal. After the game, Mason took me through the play that ended his Georgia playing career.
"It was just how I fell and how my head whipped back to hit the ground," Mason said. "It wasn't really how the guy hit me. Right when I got up, I knew something was wrong. I've never been concussed, but I was super dizzy and really had some trouble even recalling the previous plays that we had run."
Mason says that some of his teammates on the sideline were telling him to "suck it up" in a joking manner. He added that he knew that it was the right thing for him to sit out the rest of the game.
Mason believes that he did not actually have a concussion, that he just had some of the symptoms associated with the injury.
Up until the pass that would knock him out of the game, Mason was extremely efficient by completing 10 of 14 passes for 149 yards. So losing him would be tough to overcome right? Brice Ramsey tried everything to make sure that wasn't the case.
Ramsey came in during the very next series and on his first pass threw an interception. In the postgame, head coach Mark Richt took the blame for the play.
"We decided to take a shot," Richt said. "If you score, it's a real smart play. If you throw an interception, it's not exactly what you're hoping for. He didn't have one shot to even warm-up. We were scrambling to get him in the game and probably shouldn't have put him in that position right at that moment."
The Bulldogs redshirt freshman quarterback had the entire halftime to try and get his mind right to take over the offense for the last 30 minutes of this game. Plus, interim offensive coordinator John Lilly called two running plays before they faced third down and four yards to go on their own 36 yard line. It was time for the kid to use his arm. He would find freshman tight end Jeb Blazevich for four yards and just enough to move the chains for another set of 10 yards to go.
"Getting the first completion is huge," Ramsey said. "It takes a load off your shoulders and that might have been the first time we've hit that guy on that play. It was definitely something that I wasn't expecting to hit that guy. I came out, saw him, and ended hitting that for a first down."
Georgia would run the ball two more times, before they'd turn Ramsey loose again to throw the ball. This time, he would find wide receiver Justin Scott-Wesley down the field for 19 yards.
Ramsey's night ended with four of nine completions for 51 yards and that one interception. With all this being the case, the Camden County product is still looking towards what he can do better.
"This is a stepping stone," Ramsey said. "I've got a lot to improve on. I'll watch this film and I know there's a lot that I messed up on. I could have done better. It's just exciting I can improve next year."
Ramsey did throw that interception and freshman running back Sony Michel did fumble to end one of the drives by the young quarterback. However, Georgia never let those turnovers conclude with points. The Bulldogs ended the game with those two turnovers, compared to Louisville's three. All of those were interceptions.
Two of the Louisville interceptions were pulled in by freshman defensive back Dominick Sanders and one by senior Damian Swann.
After the game, Sanders wasn't patting himself on the back for the performance. He says it's because it was expected of him and the rest of the secondary.
"It was our job to get turnovers," Sanders said. "That was the first thing we told ourselves. In this game, we're going to get turnovers. So when it came to a point where we knew what they were going to do, or a big play they had, or they were going to make a big play. We knew we had to get turnovers to impress coach (Pruitt). So that's what we did. We got turnovers."
Georgia gets their tenth win of the season for the third time in the last four seasons. This means that players like Damian Swann end their career's with 40 wins. Sanders has three more seasons until his senior campaign, but he's glad to send someone he cares deeply for out with a win.
"Damian's like a big brother to me," Sanders said. "When there were things I didn't know, he put me in a position to learn it and I learned very quickly. Having a chance to come out there and start with him was a big situation for me. I told myself that when he leaves, I'm going to have to study more and do what I have to do to be in his position."
Players like Swann, Mason, and wide receiver Chris Conley are part of one of the winningest groups of seniors in program history. Their time has passed. However, the time for players like Ramsey, Chubb, and Sanders had arrived previously in some cases. That said, Tuesday night provided quite the platform to show Georgia fans what could be on the horizon as soon as 2015.