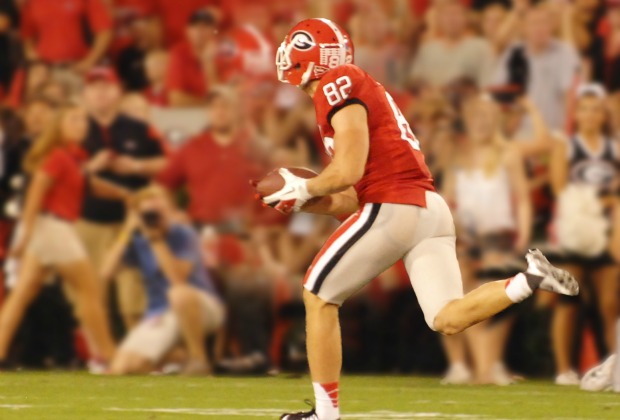 Sonny Kennedy
After a hard-fought 51-44 victory over Tennessee, the Georgia Bulldogs have turned their focus to sixth-ranked South Carolina. The Bulldogs will head to Columbia this Saturday to play the Gamecocks at 7 p.m. on ESPN.
Though the Bulldogs are 5-0 this season, some of their weaknesses were exposed in their game against Tennessee.
STOPPING LATTIMORE
Improving the run defense is the focus of the Bulldogs this week because they will face South Carolina star running back Marcus Lattimore. The junior has been a thorn in the side of the Bulldogs, rushing for 358 yards and three touchdowns in two games against Georgia. One hundred of those yards came in the fourth quarter of last year's game, added proof that Lattimore gets stronger as the game wears on.
For the past two years Georgia has not been able to counter the Gamecocks' use of Lattimore, but this year is a different story. Unlike previous editions, the 2012 Bulldogs possess a formidable running attack in the freshman duo of Todd Gurley and Keith Marshall. The duo generated nearly 300 yards of offense last week against Tennessee and will seek to do the same against South Carolina.
"They are doing a phenomenal job, especially being as young as they are and not knowing what they are getting into" said senior wide receiver Tavarres King of the freshmen. "They have handled it well, and they are very mature for their age. They are going to have extremely successful careers here."
GURSHALL
Georgia's running backs face a stiff challenge this week in the South Carolina defense. The Gamecocks have only allowed two rushing touchdowns while the Bulldogs have scored 19 on the ground. Something will have to give on Saturday.
While the Dawgs will have their hands full against South Carolina's run defense, quarterback Aaron Murray will look to continue what has been a career season. Murray, who worked on footwork during the summer, leads the conference in passing efficiency and is completing a career-high 68.5 percent of his passes. His accuracy is a large part of why Georgia is ranked as the top offense in the SEC.
Murray's task will be even greater this weekend as the team will be without leading receiver Michael Bennett. Georgia announced Wednesday morning that the receiver tore his ACL in practice and will miss the rest of the year.