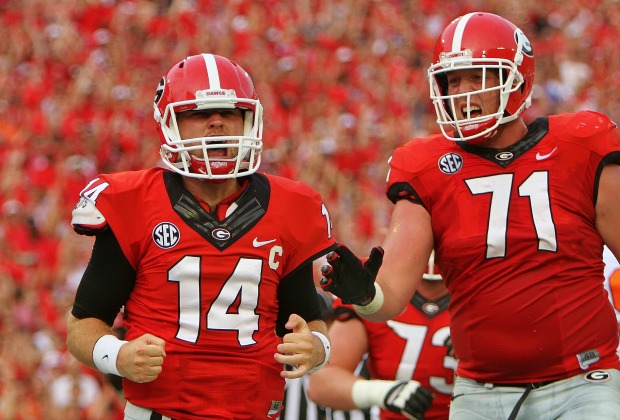 Rob Saye
After a deliberating defeat at the hands of South Carolina last week, Georgia (2-1, 0-1 SEC) needed to regroup and get back into the win column. Visiting Troy (0-4, 0-0 Sun Belt) would make this easy as the Bulldogs defeated the Trojans 66-0 in blowout fashion.
It was, in thanks to a nasty running core of Todd Gurley, Sony Michel and Brendan Douglas which accumulated 367 total rushing yards against a winless Troy defense.
"We wanted to come out here and start fast," said Sony Michel. "We needed to show out after last week's loss."
The scoring was early and steady from Michel, who had two of his three touchdowns early in the first quarter. He also had for a 75-yard run that would eventually set up an 8-yard touchdown run.
"I waited my turn and when Coach called my number, I wanted to be ready for anything," said Michel.
Georgia was clicking on all cylinders. Georgia's defense only allowed 47 rushing yards and 169 yards through the air. Georgia did not even have to punt the ball until the third quarter.
Isaiah McKenzie had a 53-yard punt return for a touchdown in the second quarter for special teams. Reggie Davis added another 51-yard punt return.
Jordan Jenkins led a defense that only allowed five of 16 third-down conversions. Troy only managed to get in the red zone twice and was intercepted in one of those attempts.
Georgia played several backups at key positions before halftime, leading 48-0, including backup quarterback Brice Ramsey (4-8, 66 yards, 1 TD). Hutson Mason (8-11, 97 yards, 2 TDs) had a good passing game, but was rarely needed as the running game stole the show. Faton Bauta added two rushing touchdowns late in the fourth quarter.
There was a scary moment in the third quarter when Keith Marshall took a tough hit that left him out for the remainder of the game. He was evaluated and remained on crutches. Marshall was one of three players to sub in at tailback.
Marshall's injury is not thought to be serious. Marshall is coming off surgery after tearing his ACL in his right knee last season.
Georgia will face more stiff competition in future weeks, but they were able to regain themselves against a Troy team that will need to make some serious adjustments. There was little to risk against a non-conference opponent, however, Georgia's running game is something to be noted. Georgia takes on SEC opponent Tennessee next Saturday at Sanford Stadium.