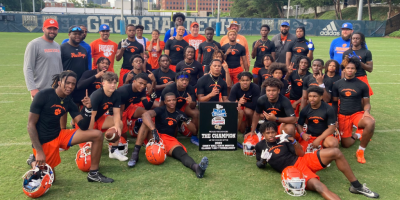 It was only fitting that Georgia Tech's three-star commit Trelain Maddox caught a touchdown pass to put Parkview up 15-0 against Mill Creek before the Panthers eventual 21-7 victory in the Corky Kell + Dave Hunter/Brent Key 7-on-7 Tournament at Georgia Tech in Atlanta.
"Trelain Maddox, made a great catch on the wheel," said Parkview head coach Joe Sturdivant, who was hired in March. "It looked like the ball was overthrown but he caught up to it."
But it was even more apt that the entire Georgia Tech coaching staff was on hand to watch their future player and his team win their first-ever title in the Corky Kell + Dave Hunter/Brent Key 7-on-7 Tournament.
"I just told them I was proud the way we reacted," said Sturdivant. "Early on we just let some bad things and some negative things affect us a little bit. I just pulled them to the side and said that we are here to play football and here to get reps and get better. Football is not a game that you can play up and down. You have to stay level."
The threat of weather and eventual deluge throughout the morning and into the afternoon delayed and altered the three-bracket event somewhat. The interruption caused some teams to batten hatches and set sail for home, but that was never an option for the Panthers.
"Someone, at the end of this thing, has to win it," Sturdivant said. "I feel like there's a championship, let's go win it. We are here and we are going to be here, and we just wanted to finish this thing off."
In the Bobby Dodd elimination bracket final, Mill Creek beat Collins Hill 17-10 to earn the championship berth. Grayson won the Rose Bowl bracket after beating Florida's Norland 17-13 in the final and Parkview finished atop the Brock Indoor bracket with a 15-14 victory over Walton. Then Parkview beat Grayson 16-0 to secure the championship berth against Mill Creek.
"It was really exciting to see how we matched up against other teams," Sturdivant said. "I know that its 7-on-7 but it's still a ball in the air and watching our guys react. It is a good momentum builder. Seeing the guys compete. We have a new defense, some new changes in offense and giving the coaches the confidence to know that I can leave them alone and they can call plays. We put in a new defense and to watch it, we play base defense and we played fantastic."