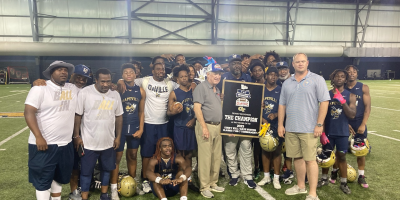 It's hard to beat a man twice. But Hapeville Charter head coach Winston Gordon knew that when he stepped up against Chapel Hill in the championship game of the Corky Kell + Dave Hunter/Brent Key 7-on-7 Tournament at Georgia Tech in Atlanta.
His team, however, might've been a bit more relaxed than Gordon would have liked.
"We had faced them earlier in pool play and beat them rather handedly," Gordon said of his championship opponent. "I think our kids might have gone into the championship game with somewhat of a big head and didn't take the game seriously and it was a bit of a tug-of-war at first."
But once the Hornets settled down, Chapel Hill stood little chance, accepting the same fate as every other Hapeville opponent on the day. The Hornets went undefeated while outlasting a field of some of the best competitors in the state on the way to a 20-4 victory over Chapel Hill to win the championship.
"Well, you know, we are still fairly young and just more of a install for us," Gordon said. "We take 7-on-7's as a chance to work on the passing game and to do a lot of teaching in the midst of that. Those are the opportunities that we like to take on when we play 7-on-7's."
Head coach Brent Key and a large group of the Georgia Tech football staff were on site for all three days of competition, evaluating and offering players suggestions, tips and a few spots on the team. The event was held at Georgia Tech's state-of-the-art Brock Indoor facility, the Rose Bowl practice area and historic Bobby Dodd stadium.
After a bye in the first round of the championship bracket, Hapeville Charter began the championship run with a 17-11 victory against Stockbridge to earn the championship berth.
"It was just good to get out there and get a rhythm," he said. "We played two young quarterbacks who'd never started before. We are just battling attrition like everyone else. With transferring and kids leaving one place to another, we've been fortunate to have two guys fighting for our leading spot."
The Hornets trudged through the pool play and elimination brackets with an impressive run of victories. Hapeville began the elimination bracket with a 25-0 victory over Moody (AL) and then beat Camden (SC) 15-6 to advance to the championship bracket alongside Dutchtown (the top two finishers of the brackets advanced to the championship).