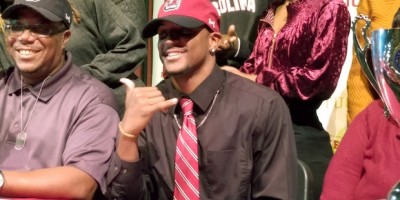 Tucker's Josh Vann signs with South Carolina in February. Credit: Tucker.ga.gov
Outgoing senior student-athletes from DeKalb County School District raked in $6.37 million worth of scholarships for their collegiate futures. These student-athletes received a total of 173 scholarships from 103 colleges in 27 states all across the country. The schools with the most scholarships given were Fort Scott Community College in Kansas, Miles College in Alabama and Hutchinson Community College in Kansas. Each of these schools gave scholarships to five DeKalb County students apiece.
Georgia was the leading state with 21 colleges signing 41 athletes, Alabama was second with 13 colleges signing 26 athletes. Rounding out the top four was Tennessee (10 colleges, 12 signees) and Florida (8 colleges, 13 signees).
Thirty-one of the 103 colleges giving scholarships to DeKalb graduates participate at the Division 1 level. Football accounted for the largest portion of the scholarships with 90 total, including 72 early signees. Of these 90 scholarships, 17 came from Tucker High School, 10 came from Stephenson and eight each came from Columbia, Lithonia, Miller Grove and Southwest DeKalb.
Basketball also accounted for a bulk of the scholarships, with 27 signees accounting for just under $1 million. Miller Grove and Cedar Grove each had five student-athletes sign basketball scholarships, and Columbia and Tucker each had three. Track amassed 20 scholarships for just over $525,000. Baseball had 16 signees for more than $450,000 including nine players from Redan. Soccer had seven total signees, and softball had six. Boys and girls lacrosse, wrestling, volleyball and girls tennis in DeKalb County also had athletes receive scholarships for 2018.