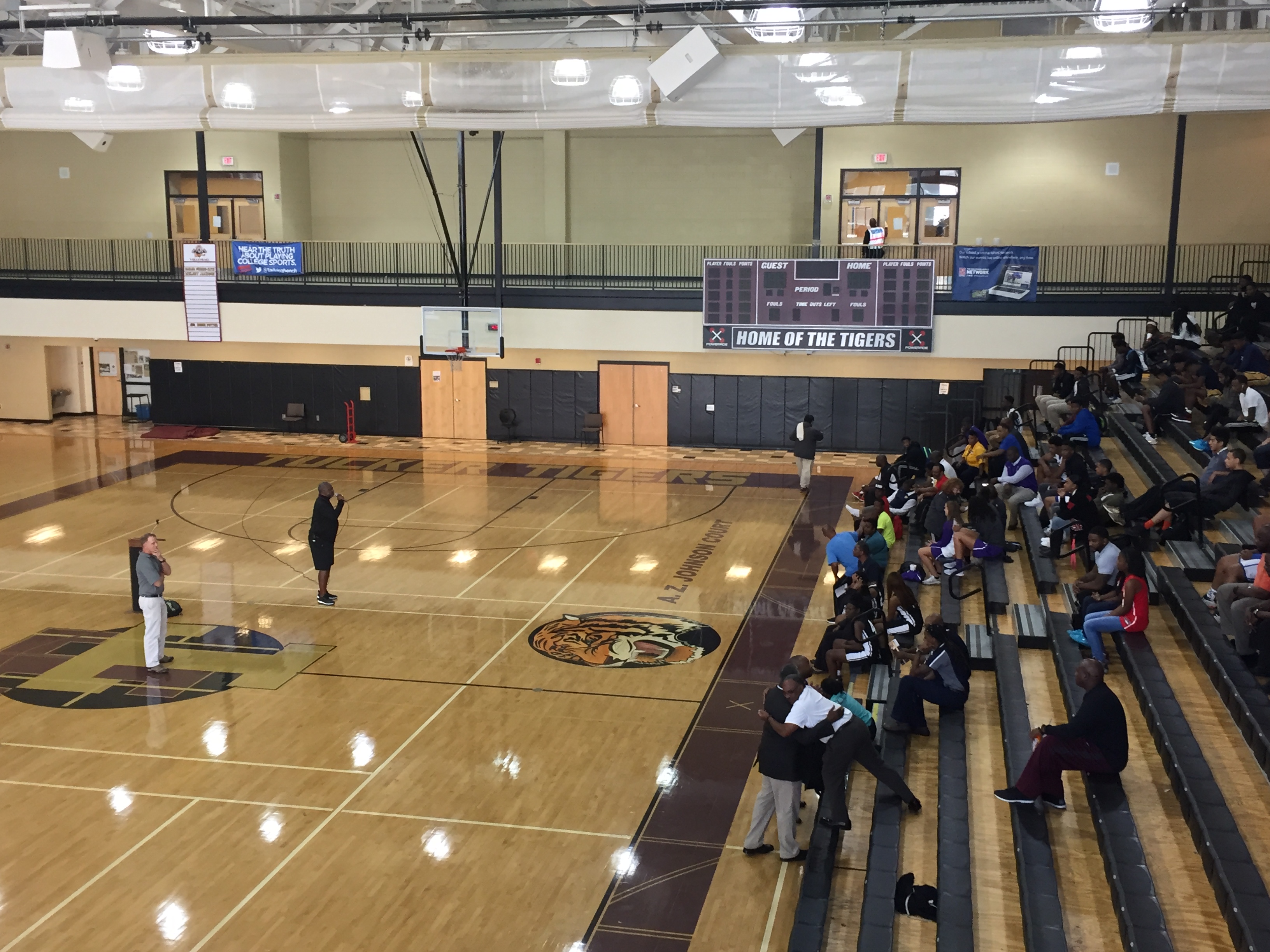 DeKalb County has been a stronghold for state champions in basketball. It is now 13 straight years the County has won a state title after the Miller Grove boys and Southwest DeKalb girls continued the winning tradition by claiming the Class AAAAA championships, the Wolverines' seventh and Panthers' fifth all-time. On October 25, Tucker High School held Media Day highlighting plenty of storylines to follow in 2016-17.
The Doctor is in
Dr. Phillip McCrary returns to the sidelines at Columbia after spending 25 seasons (1988-2012) on the bench, compiling a 546-185 (.746%) record and winning five state titles. He joins a difficult Region 5-AAAAA that holds defending state champion Miller Grove, Southwest DeKalb, Lithonia, Arabia Mountain, Chamblee, Clarkston and Cross Keys.
"I enjoy the game and sometimes you just got to go back to what you really love," explained McCrary on why he decided to return to coaching after serving an administrative role as Assistant Athletic Director for DeKalb County Schools. "I like administration but I love the game of basketball. Once I was able to see that side and weigh the option, basketball outweighed the administration end."
Being able to view coaching from the opposite end of the spectrum has given McCrary a better understanding and respect for both sides.
"It's totally different. I see the error on both parts. I can see the errors that the administration was actually trying to do for the game of basketball in DeKalb then when I was on the coaching end, I would see the things that we would complain about what they weren't doing and they really were doing, so I can see both ends of it."
Panthers looking to get over the hump
Southwest DeKalb has become one of the premier programs in DeKalb County, amassing an all-time 714-548 record including a 25-6 season last year with a trip to the Elite Eight, but the one accomplishment that has eluded the Panthers has been a state title. Southwest DeKalb has seen their rival Miller Grove repeatedly hoist the trophy as the Wolverines have been the ultimate thorn in the Panthers' side. Housed in the same region yet again, Coach Eugene Brown continues to push his group to finally slay the dragon and hang a banner of their own.
"You just keep grinding. We've been working since I got here three years ago, building the program. It takes time to build a program if you're going to do it the right way," explained Brown as he has seen growth each season since taking over in 2014, increasing the Panthers' win total each year from 7 to 18 to 25 last season. "We feel like these guys know our system now and know what's expected of them and their ready to take it out with them onto the court. We got a lot of leadership, a lot of youth and senior experience so we are ready to go."
Arabia tries to climb the Mountain
Now in Year 8, Arabia Mountain is still in search of its first winning record. The Rams finished 10-16 in Region 6-AAAA last year, the best region in the classification, and now will try their hand in Region 5-AAAAA.
Coach Dedrick Whiting looks for his Rams to get out and run in 2016-17.
"We are probably going to play a little more up-tempo this year. A different style of basketball, more exciting. We are going to shoot the three a little bit more than we did last year. We aren't going to be as big," explained Whiting. "We are going to let our guys get out and go. And we are going to step up the pressure a little bit on defense. Our guys are going to be a little bit more of a VCU Rams aggressive type of team."