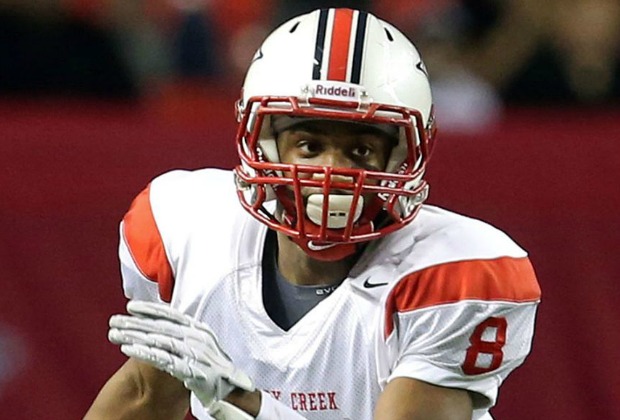 ajc.com
A lot of positive noise has blanketed Sandy Creek Patriot, Demarre Kitt's, offseason. Kitt was recently selected to the AJC's Super 11 final 44 players vying for the final 11. College Football titans took notice and Kitt was pursued by at least 31 schools. Kitt weighed his options and eventually gave his verbal commitment to Clemson. Nothing is in binding until national signing day, but Kitt is poised to continue to ascend as one of the top players in the country.
"It feels good because it's a big honor, it such a small group… it feels good to be known as a top eleven in Georgia," Kitt said.
Clemson pursued Kitt for impressive statistics like these. Besides help winning a state title in 2012, Kitt has compiled 68 career receptions for 1,151 receiving yards, 1,157 all purpose yards and 11 scores total. Kitt has had Clemson at the top of his list from the beginning and is excited about his recent commitment to the Tigers.
"The positives of the recruiting process were, you get to mature earlier than most teenagers because you get to experience making decisions and things like that," Kitt said. "The offense really stood out the most to me at Clemson, I got there and met all of the coaches, it felt right… the first day I visited they have always been my number one, they have been at the top most of the time."
Kitt de-committed from UGA because he thought he pledged too early, but the wideout's performance and enthusiastic personality has prepared  him as a prime blue-chip prospect for Clemson. Kitt believes that his intelligence at the receiver position could really play to his advantage when possibly playing in Death Valley for of 2014 season.
"I think I know the game real well as a receiver… I'm real elusive with the ball in my hands and run real good routes, all of this equates to being a good receiver," Kitt said.
As much as Kitt is excited about the prospect of playing under the bright lights for a big-time college football program, the idea of repeating as Class AAAA state champs still hangs in the balance. Kitt is a hungry and is willing to do anything to help his team arrive for a December date for the state championship cup.
"This year we are trying to come back and be even better than last year. I'm going to help carry my team, be the leading receiver on the team, block for the running backs, anything I can do to help us get back to state," Kitt said.
Kitt's superb talent and confidence will take him as far as he and his team wants to go. The first part of his senior journey begins Aug. 30 at home against Banneker. This season, Kitt and Sandy Creek look to clinch their third state title in the last six years