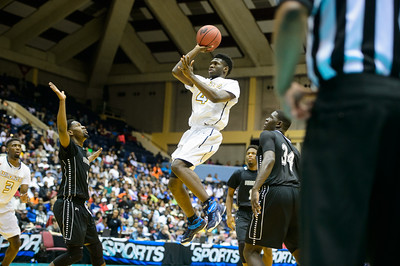 Photo by Ty Freeman
The Wheeler Wildcats used a petition to help change the GHSA's mind and allow the Class 6A champs enter the Dick's National Tournament. The Wildcats will now represent Georgia in the televised national tournament in New York to help determine which team is the best in the nation. Wheeler cemented its status as the cream of crop in Georgia after holding off Pebblebrook in the state finals, 59-58 thanks to Jaylen Brown, the No. 2 ranked player in the nation, who hit two free throws with .5 seconds left to ice Wheeler's sixth state championship.
Brown and Tennessee-signee Shembari Phillips will be the main focal points as Wheeler will match up with some of the best teams in the nation. April 2nd at 2 P.M., the fourth-seeded Wildcats will play fifth-seeded Huntington Prep (WV). Huntington Prep has become a national power and has developed NBA talent such as 2014 No. 1 pick Andrew Wiggins and Gorgui Dieng, both of the Minnesota Timberwolves. This year's team is stacked as well with Thomas Bryant, C – No. 22 on ESPN 100, Ted Kapita, PF – No. 40 on ESPN 100, Miles Bridges, SF – No. 7 on ESPN 60 (class of 2016) and Curtis Jones, SG – No. 53 on ESPN 60 to name a few. Huntington Prep scores 83 points per game and is led up front by Bryant and Bridges, both average double-doubles. Five players stand 6-foot-7 or taller and will provide a major challenge for the smaller Wildcats.
The Rest of the Field…
If Wheeler wins its first round game, it would face the winner of top-seeded Oak Hill Academy (VA) and eighth-seeded Wings Academy (NY). Oak Hill would provide an interesting scenario as big man Daniel Giddens who has signed with Ohio State, transferred over to the Virginia-based power house for his senior season after playing at Wheeler. Five-star forward Dwayne Bacon is heading to Florida State and will try to lift the Warriors to their first ever Dick's National Championship after placing second in 2009, 2011, and last year. Wings Academy will rely on center Jessie Govan who is heading to Georgetown and Hofstra-bound guard Desure Buie to upset Oak Hill.
Defending two-time national champion Montverde Academy (FL) will look to make it three straight. Its only loss this season came by seven to Wheeler. The top ranked prospect in the nation, Ben Simmons, averages 28 points and 11.9 rebounds per game and is headed to LSU. He is the only Eagle to average in double figures. Doral Moore (Wake Forest), Noah Dickerson (Florida), and 7-foot-4 center Jean Marc Koumadje (FSU) are just a few "role players" that will be moving onto the next level. Greensboro Day (NC) enters the tournament for the first time and will be the seventh-seed. The Bengals lineup is not loaded with high-major players, but Peter Agba is a strong forward heading to Akron.
Third-seed Blanche Ely (FL) has no players ranked in the ESPN Top 100, but that didn't stop them from posting the first ever undefeated season from a Broward County public school. The Tigers rely on balance and feature six players averaging over seven points per game led by Therrell Gosier, who signed to play at Kentucky-for football. In the Tigers' way will be the most decorated team in the tournament's history, Findlay Prep (NV). Findlay Prep has appeared all seven years and has won in 2009, 2010, and 2012. 6-foot-3 guard Allonzo Trier is a five-star Arizona-signee and averages 26.6 points per game. Forwards Justin Jackson and Horace Spencer are four-stars and are heading to UNLV and Auburn. Five-star junior Derryck Thornton is the 11th ranked player in the junior class and runs the show from the point. The high-powered offense averages over 91 points per game and is hard to slow down.