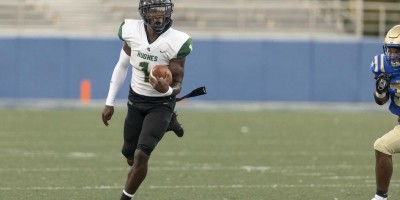 This week's Drive For The GHSA State Title matchup is between Douglas County and Langston Hughes, who will face off on Peachtree TV at 8 PM this Friday. Douglas County comes in at 3-1 with their only loss to McEachern 35-31 in Week 3. Hughes is undefeated at 4-0 and cruised through their non-region schedule beating all their opponents by double-digits.
Star quarterback Printess Air Noland is one of the reasons for Hughes' hot start. Noland has a 70% completion percentage, 17 touchdowns, and zero interceptions on the season and has several offers from Miami, Arkansas, Auburn, and Vanderbilt. Hughes Coach Daniel Williams talked about his quarterback.
"He brings so much leadership. He leads by example. He's the first one here and the last one to leave. He will stay after practice. It's just who he is. He is developing so well because he does not make the same mistake twice. Printess does a great job learning from his mistakes.
A matchup to keep an eye on in this one is between the two coaches. They have some familiarity with each other. How well they adapt to each other and the adjustments in this game will loom large. Coach Williams early coaching career was under the tutelage of Johnny White during their time at Creekside.
"I know coach White will have that team ready to play. I was actually coach White's defensive coordinator when I was 23," said Williams. "I coached with coach White multiple times. He was like a mentor to me. They will be aggressive and come out flying on all cylinders. He's going to have them prepared. We just got to do a good job."
I have seen very few coaches work the way coach Boone works. Everything he has gotten is what he deserves. He's put in the work. I was the defensive coordinator for Creekside under Coach Whit when Coach Whit left for Stockbridge. The first thing I did was keep him," said White. "I brought him in as DB coach to start. He ended up being my defensive coordinator by my second year. He has a real thirst for learning and is passionate about what he does. He also pours into those kids well."
Sire Hardaway is a quarterback that is flying under the radar but could be crucial in leading his team to victory. Hardaway balled out earlier this year on Peachtree TV in a matchup against Mays. He was 20-23, with 410 yards and four touchdowns. Hardaway has 1,328 yards passing (3rd in the state) and 14 total touchdowns this year. Coach Johnny White talked about this play so far this season.
"He started as a sophomore. Now, the game has really slowed down on him. He is a very smart young man. He does his film work," said White. "He knows what the teams do based on different formations, motions, and everything. He doesn't make bad throws. He is having a breakout year, and I hope schools will come out and take a look at this guy."
It will be crucial that Douglas County get out to a hot start, especially with how potent Hughes is offensively. Hughes is averaging 55.3 points a game. Coach Williams talked about what has made his offense hum.
"I have four returning starters from last year. You push in Andrew Dorsey (new starter). He came in strong right there at left guard. He's doing a lot, so it's gelling. That is one of my most cohesive units," said Williams. "Air is protecting the ball and being able to find the open guy while understanding concepts. Our guys on the outside, Jediyah Willoughby, C.J. Lockhart, Jovanni McGee, Big tank, and Dazjohn Gibson, have given Air a plethora of targets. They do a good job of finding the open space, and he does a great job of finding them. They know how to get the ball in the box. That's what we call it. Get it in the box."
It is critical for Douglas County to get the ball to their playmakers. James Johnson and Monte Gooden have combined for 828 yards and 7 TDs on the season. Their production will be massive if Douglas County pulls off the upset at home, which they are more than capable of doing. Coach White talked about his playmakers before the season kicked off.
"We got some weapons on the outside that are special. Hilton Alexander II is already committed to Wake Forest," said White. "Monte Gooden is a four-year starter with a couple of offers. A rising sophomore in James Johnson who is dynamic. He's already got scholarship offers from Florida State and Arkansas State. He's going to blow up."
Hughes is one of the teams in the state. They are in all the major national and state rankings across the state. It is a team on a mission after their state championship loss to Buford 21-20. Coach Williams revealed what has been the message since the season started.
"I had them say what are some things we need to do differently. Now we are honing in on the things I had them point out that we need to do differently. We do a good job holding each other accountable," said Williams. "They buy into the standard of the program. The standard is to go 1-0 each week. We use it on a day-to-day method—one class at a time. If we buy in, learn what we need to learn, and find a way to win the rep, that is some of the reason for our success. Everybody is buying in. We have another motto: Fully Invested. We have a certain way we carry ourselves in the building."
Coach White talked about the keys to the game and how his team would come out with a victory.
"We cannot give up the big play, and we have to gang tackle. Those are the two things we have to do defensively to be successful against them," said White. "It is about the preparation over the next 2 or 3 days to prepare for that. The game will take care of itself if we have a great week of practice."
Langston Hughes is 5-3 all-time against Douglas County. Douglas county won their last matchup 7-0 in 2018.