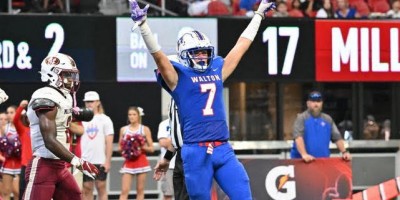 This week's Drive for the GHSA State Title matchup is between Walton and North Paulding, who will face off on Peachtree TV at 8 PM this Thursday due to Hurricane Ian. Walton comes off a bye week at 3-1 on the season. Their only loss was a late-game thriller against Mill Creek, 44-41. North Paulding is 4-1, also fresh from a bye week. North Paulding's last game was against Pope, a dominant 55-7 victory.
North Paulding has a high-flying offense that averages 45 points a game. North Paulding can beat you on the ground and through the air, which makes them hard to stop. QB Boone Anderson leads the way with 20 touchdowns to just three interceptions on the season, and in his last game threw seven touchdowns. They have an elite running back, Jaylen Poe, who is 269 yards shy of the 1,000-yard mark on the season. North Paulding Coach Don Starks and Walton Coach Daniel Brunner spoke highly of the junior running back.
"He is one of the best backs in the state. Jaylen had a phenomenal work ethic in the offseason and did a great job. He is one of our strongest players on the team and has always been fast," said Starks. "Last year, he was hampered by an ankle injury most of the season. We tried to do some things at practice that kind of reduced his workload during the week, so he is more prepared and ready to go on Friday Nights. Hopefully, we can keep him that way because he is the engine that drives the car."
"They are one of the best offenses in the state. They got one of the best running backs in the state. Their quarterback does a great job. He's a dual-threat kid that can hurt you with his arm or legs," said Brunner.
Walton also has a fantastic offensive team led by Jeremy Hecklinski, who is having a breakout year and continues to improve. He's improved his completion percentage each year. His leadership has led to his success on the field and distributing the ball to his playmakers, one being Ayden Jackson. Jackson has continued to impress this season. He leads his team in receiving yards and touchdowns, and in his last game against Marietta had two interceptions. Coach Starks talked about both players.
"The quarterback is a very dynamic player. He does a great job extending plays. He's got a quick release. Ayden is dynamic on both sides of the ball," said Starks. "He does a great job on double moves and things like that as a receiver. He has great ball skills and does a great job playing corner for them."
It will be vital for Walton to get the ball to their playmakers in Jackson and Cameran Lloyd to allow the offense to do its thing. It will be equally important to get junior running back Makari Bodiford going early in the game to help open up the passing attack and play action opportunities for Walton.
An exciting matchup in this game will be the Walton secondary vs. the offensive playmakers for North Paulding. Coach Brunner was asked if he would have Jackson shadow North Paulding's best receiver Owen Dupree and this was his response.
"You have to match athletes on athletes. We have one of the best corners in the state, so we are going to make sure we put him in a position to help us," said Brunner. "At times, you will see that. At times you will see us play traditional coverage."
This game will come down to the trenches and how effectively Walton will be slowing down Poe and creating pressure on the quarterback. North Paulding has four new starters on the offensive line that is continuing to gell and improve. Coach Starks talked about their play thus far and the cohesion as a unit.
"They are doing a good job. That is a work in progress. We've only returned one starter. Walker (Chewy) Carpenter moved to the center for us this year. The other four are new starters," said Starks. "Travis Patterson had some experience playing last year. Zaide Nooks and Cole Healey were two guys that were moved from the defensive side of the ball and are doing a great job for us. We have Ryan Bechtel starting at right guard, who is a first-year starter as a junior. Those guys are coming together and doing a great job putting in the work and trying to develop as a cohesive unit."
Coach Brunner talked about the focus of his defense headed into the matchup and how linebacker Ashton Woods allows them to be successful as a unit.
"We are going to try and control the box. We are a gap-control defense. We are going to try and make sure we fit hats in gaps. If we can get our fits right and tackle, we will be in good shape," said Brunner. "If we let them control the line of scrimmage, and we get out of our gaps, they will have a night. If we can play with good eye discipline and tackle well, I think we will give ourselves a chance to be in the game in the 4th quarter. I think that is one of the things Ash is so good about doing his homework, understanding exactly where he fits in, and where this whole defense fits in, and his preparation throughout the week is what allows us to be successful."
Thursday night should be an intriguing matchup as both teams have had great starts to the season and have very talented players on both sides of the ball. Walton is 2-0 all-time against North Paulding and won last year's matchup 45-14 on the road.