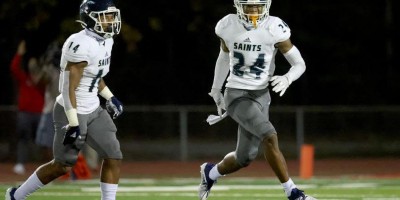 This week's Drive for the GHSA State Title matchup is between Calvary Day and Cedar Grove, who will face off on Peachtree TV at 8 PM this Friday in a quarterfinal matchup in Class 3A. Cedar Grove is 9-2 and played one of the most demanding non-region schedules in the State. Six of the teams they played in Georgia are still in the postseason, which includes Bainbridge, Mill Creek, Colquitt County, Westlake, Sandy Creek, and Carver Atlanta. Calvary Day is undefeated at 11-0, with statement wins against Savannah Christian and Dougherty this year. Cedar Grove coach John Adams talked about how that gauntlet schedule helped his team.
"They learned how to compete against good programs and teams. They have to play all four quarters. My coaching staff and I were talking about that schedule yesterday," Adams said. "We actually have seven teams we played during the season that are still playing now. It was really competitive. I think it helped us fix any problems we had and make adjustments. Become a better team."
The seventh team coach Adams is talking about is the St John Comets, who are based out in Washington, DC, and won a state title on November 20th.
A big thing for Calvary Day this year is to finish. Calvary Day went 12-1 last year and lost in the quarterfinals to Fellowship Christian 24-14. Coach Mark Stroud talked about the loss and how it motivated his team coming into this season.
"We definitely had a lot of guys that were able to get a lot of playing time last year, which is always a plus. We ended up 12-1, and our kids felt like it ended too early. It left a little bit of a bad taste in our mouth," said Stroud. "You want to make sure you finish the season better than you did the previous year. It was a phenomenal year. Our kids did really well, and we are proud of them. We felt like we came up a little bit short last year. I think that steamrolled into this year. We want to make sure we finish."
Cedar Grove brings back a ton of experience in this playoff run. Cedar Grove returned 16 starters from their state championship roster and has senior leadership at key positions and spots. Their players have played in big games against significant opponents and could be a key factor because experience is something you can't coach.
"I think anytime you have double-digit starters coming back; it will be a plus for your team. We have guys on offense and defense who started maybe two or three years ago and are really good ball players. They make plays. The biggest thing is the leadership part. I think all of our guys have experienced time in the playoffs and the state championship and just playing against really good teams," said Adams. "That is one thing you cannot teach. That is one thing I think we have an advantage of. We played some really good ball clubs this year. In the past, we have been in the playoffs and a state championship atmosphere. At this point in the third round and the quarterfinals, you are going against other really good ball clubs, and I think it gives us an advantage."
Calvary Day likes to take what opponents give them, and they can beat you running or throwing the football. In their playoff win last week, they only threw for 93 yards and rushed for 353 yards on the ground. Week in and week out, this can change for Calvary Day. It all depends on the looks and what the defense is willing to give up. Coach Stroud talked about their playmakers and the balanced attack on offense.
"We have some receivers that are really good in the passing game. Jake has had a great year throwing the football. He's done a good job of having a pocket presence and making some good throws. The offensive line has gotten better and better," said Stroud. "That has helped us to be able to protect better and allow him time to throw. We've been able to capitalize on what people have given us each Friday. Most of the time, we are in the right call. When you are in the right call, it comes down to being able to execute them. This past Friday, they were giving us the run game. I think we had 350 yards rushing. There have been games when we've had 300 yards passing. I think it is very much according to the way defenses are going to defend us and being able to take advantage of that."
Cedar Grove is also talented in the ground game and their aerial attack. Bowdon Walker has stepped in nicely for Rashod Dubinion, who is currently at Arkansas. Walker is approaching 1,000 yards rushing on the season. Barry Jackson (Nebraska commit) is an explosive playmaker on offense and is dangerous whenever his hands touch the ball. Ricky Lee (Uconn commit) plays both sides of the ball and is a mismatch for defenders in the slot. Coach Adams talked about what his playmakers have brought to the offense.
"Barry Jackson brings a lot of speed and explosiveness to the offense. He does punt returns and kickoff returns for us too. He's scored several touchdowns throughout the year. He is a real explosive player who has been playing for us for a long time," said Adams. It's his time now, and he is coming into his own this year. "Bowdon does a good job catching the ball out of the backfield. He does a great job of making that first guy miss, and then he has a low pad level. He is really good for us. Right now, he is at 999 yards on the season. Ricky is committed to UConn. He is going to play defensive back. I am trying to figure out how they will keep him out on offense because he is a mismatch in the slot. Ricky is just hard to tackle, and he's played so much football throughout his life. He's played in so many big games. He rises to the occasion every time. He will play some defense for us. He starts at the corner, and then he will shift to some safety too.
An intriguing matchup in this game will be Calvary Day's playmakers against the talented secondary of Cedar Grove. Cedar Grove is stout on the defensive line and front seven with Adonijah Green and Everett Rousaw, who can clog up running lanes, fill fits well, and get hats to the football. It will come down to the outside, and Jack Merklinger making the throws. Merklinger has thrown for 1,921 yards and 32 touchdowns, and Michael Smith, their tight end, leads the team in receiving yards (595) and receiving touchdowns (12).
If you are playing now, your quarterback is pretty good. Jake has improved so much this year in all kinds of areas. Coach Demasi is doing so much with him in the RPO game. He is seeing it much better," said Stroud. "He has way calmer feet. If you don't have a quarterback that can make plays, you are probably not playing. He is very much a catalyst to get us where we are. We are really thankful to have Jake. He is a great player, a tough kid, and sees things well. He is a great competitor and one of our best athletes in our school."
Keep an eye on star cornerback Kayin Lee (Ohio State commit), a fierce competitor and shutdown corner. Lee has great instincts and is excellent in coverage. His impact could be vital in this game, slowing down Michael Smith and other playmakers Calvary Day has.
"Kayin is one of those guys you put on the opposing team's best player and expect him to take them away from the game. He's been a great player for us since he's been here. I have enjoyed coaching him," said Adams. "He is a physical kid. He will hit you now. Kayin is also really good in coverage. I always tell people that this kid wants to be great. He wants to be the best, so the sky's the limit for him. I enjoy having him because he is one of those guys who can lock down a receiver, and you don't have to worry about."
This is the first-ever matchup between Cedar Grove and Calvary Day. It should be an entertaining matchup as both teams have talented rosters and kids that will play on the next level.