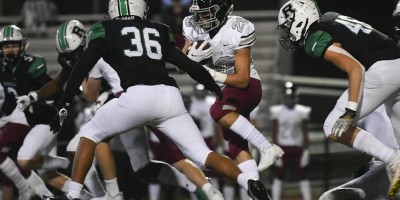 This week's Drive for the GHSA State Title matchup is between Gainesville and Roswell, who will face off on Peachtree TV at 8 PM this Friday with a chance to go to the state championship. Gainesville comes in at 13-0 and has had an impressive year under new head coach Josh Niblett. Roswell comes in at 12-1 and faced adversity in their last game against Thomas County Central. Roswell was down 24-6 at the half but stormed back and pulled out the victory. Roswell Coach Chris Prewitt talked about what led to the enormous deficit and how his team was able to come back in the game.
"That first half, we were trying to score touchdowns instead of move the chains. We are trying to make a big play defensively, and we miss a tackle because we are a little too aggressive or we are not under control. A lot of mistakes we had in the first half were self-inflicted," said Prewitt. "Starting fast has been a big priority of what we have talked about. I was proud to see our guys step up and compete and answer back. We haven't had a situation where we have been down that bad this year. We were able to have a response to that, which is good for the team and a growing thing for our program. Going on the road like that and coming back and getting a victory."
The Gainesville offense is dynamic. They have so many playmakers that can hurt you. It is not just their run game; they can throw the football too. Darius Cannon went off in the second half for two touchdowns in their region championship win against North Forsyth. Running back Naim Cheeks went off for 206 yards rushing and two touchdowns in their second-round win against South Paulding. Quarterback Baxter Wright threw for 283 yards and three touchdowns in their quarterfinal win against Houston County. Gainesville coach Josh Niblett talked about the balance his team has on offense.
"I think the biggest thing offensively is you want to be as balanced as possible. We want to win the run totals on the perimeter or in the box. The more you put stress on people by being able to run the football, the more opportunity you have for explosives, whether it be through play action or deceptive runs or special plays that you have off of runs," said Niblett. "For us, we have a lot of run solutions. We can run it or throw it on a particular play. It's up to Baxter to put us in the right situation and make the right decision. Some weeks we throw it more than we run it, and some weeks we run it more than we throw it. It is basically what they give us. I always say offense is energy, effort, and execution."
Defensively, Roswell has stepped up in critical moments throughout the year. Creating turnovers and helping get their offense going. Last week against Thomas County Central, they created back-to-back turnovers (fumble and interception) on consecutive possessions to get the ball back to their offense, and it helped spark a run that got Roswell back into the game. Coach Prewitt talked about how the defense has been playing this year.
"Playing one play at a time. It is a group that has evolved throughout the year. We had a run where we were giving up three touchdowns in the region at one point before we played Alpharetta," said Prewitt. "I was the defensive coordinator before I was the head coach. We put a lot of emphasis on playing good defensive football. The thing we've harped on is that if they can't score, then we can't lose the game. We take a lot of pride in trying to be one of the best defenses in the state and trying to keep people off the scoreboard so that we have a chance to win. Last week we got in a few bad situations defensively, where we were behind on the field position. I think it was like four possessions in the 1st half Thomas County Central started on their side of the field. With an offense like that, they will score at some point. We are trying to make fundamentally sound plays and ultimately hold the other teams to as few points as possible."
Offensively, Roswell is just as efficient running the football as they are throwing. KJ Smith and Nykahi Davenport have had great seasons this year. Smith has thrown for 2,489 yards and 31 touchdowns, and Davenport's 1,838 yards and 22 touchdowns. The key will be the success of their playmakers on the outside: three-star Ethan Nation and Chris Elko. Coach Prewitt talked about what each player has brought to the team.
"We try to get Ethan the ball any way we can, whether he gets a couple of touches on offense or in the return game. We trust him with what he is doing, and we think he will take care of the ball and make a great decision," said Prewitt. "He's been outstanding not just this year but the past two years, being able to handle both sides and understand the game and know what is going on offensively and defensively. Last Friday,  I think he had an interception and a touchdown catch in the game. I think the best thing about him is that he plays unselfishly. When he is on the field, he is going full speed. He's trying to continue getting better each week."
"I always tell the recruiters when they come in that this is a guy that I don't know whether position fits him better one way or the other. I think Chris is a straight-up old-school football player," said Prewitt. "It doesn't matter where we put him. He is going to have success. He has played linebacker for us, safety, he's our holder on field goals and extra points, and he plays outside receiver and inside the receiver. Chris is the quarterback when we go into our goal-line package. Chris does a little bit of everything. Like Ethan, he is a humble kid who is trying to do whatever he can and get his last plays on the field. I always tell people he has the best tape of our team as far as a highlight tape goes because there are many things he is doing. His versatility is all over the place."
Keep an eye on the Gainesville secondary in the one and how they perform against Roswell's playmakers. Gainesville sophomore linebacker Carmelo Byrd will be a vital piece in the middle of the field in slowing down Roswell's rushing attack and possibly creating turnovers. Byrd leads the team in interceptions (4) and is second in tackles (53). Coach Niblett talked about his play and what he does well on the defense.
"First of all, he plays so hard. He is a guy at the end of the game that is just exhausted. He's almost exhausted out there every series. The kid is a really good football player and happens to play linebacker," said Niblett. "I think the kid could play running back. Carmelo could play anywhere. He's got ball skills and athletic skills. If we need somebody to drop in coverage, he can do that. If we need somebody to blitz, he can do that. Carmelo is very multidimensional, which adds value to our team but adds a whole lot of volume to himself."
Coach Prewitt talked about the success of the Roswell program this year and emphasized what has allowed them to play so well together. They are playing for something bigger, and that is for Robbie Roper, who meant so much to their program and team
"The things we harped on is ensuring we put our best foot forward and capitalize on every opportunity we have. It is not a new message for our team. Take advantage of whatever chance you have and make the best of it. We talked before about how our program feels about Robbie and his life," said Prewitt. "The goal of the season was to honor him this year and how we performed and played. I mentioned that to our kids and made sure they never forgot that. It is a huge part of what we are doing. We are having so much success this year because we are playing as a team. We are playing as a unit. There is not a lot of dissension among our team or our staff. They are all playing for the same reason. They are enjoying being able to stay together for another week."
This is the second-ever meeting between Roswell and Gainesville. Gainesville leads the all-time series 1-0.