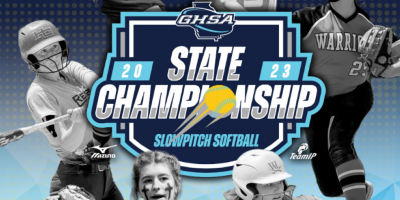 The GHSA Slow Pitch Softball season will end at Twin Creeks in Woodstock  on April 19-20 after two sectional qualifying rounds at Twin Creeks and Southern Pines in Dublin. The results of the sectional qualifying round left a stacked field of contenders trying for a title.
The championship bracket is double-elimination and provides teams a chance to overcome an early stumble with victories in the loser's bracket to still have a chance at the championship.
A LOOK BACK AT HISTORY
Slow pitch softball began as a GHSA-sanctioned sport in 1981 and involved Classes A-4A until 1998 when it transitioned to Classes A, 2A, 4A/3A and 5A. Then, in 2001, the GHSA awarded championships in Classes A, 3A/2A and 5A/4A. The format shifted again in 2002 when it condensed to Classes 3A/2A/A and 5A/4A. Then in 2004, it became a one-class open event until 2009 when it was disbanded.
A STORIED RESURGENCE
Since returning as a GHSA championship in 2017, defending-champion Haralson County has three state championships – 2017, 2018 and last season. Through the sectional qualifying rounds, Haralson beat Gainesville 28-2, Sequoyah 7-4 and Franklin County 11-0 to earn a trip to the championship where it will face Oconee County in the opening round.
Oconee County is on the hunt for the program's first title after beating Wilkinson County 7-0, Dodge County 3-1 and North Oconee 18-1 in the loser's bracket after losing to Jefferson 15-1 in the winner's bracket finals. Jefferson, the 2000 Class A champion, enjoyed a BYE in the first round of sectionals and then beat Commerce 24-2 and Oconee County 15-1 to advance to the championship. Jefferson will open the tournament against Franklin County.
Franklin County had a BYE in the first round of the sectionals and then beat Woodstock 13-2, lost to Haralson County 11-0 and beat Elbert County 8-7 in the loser's bracket to keep its chances for a first-ever championship alive.
West Laurens won its only state championship in the 2000 4A/3A bracket and is trying for the team's second title after beating North Oconee 20-0 and Thomas County Central 27-0. It will begin the championship trek against Sequoyah in the first round. Sequoyah earned its championship berth after beating Elbert County 13-2, but a 7-4 loss to Haralson County sent it to the loser's bracket where it outlasted Johnson-Gainesville 27-0, Woodstock 2-0 and Cherokee 17-16 to advance.
Dodge County's lone championship came in 1997 when it won the 2A title and after losing to Dodge County 3-1 following its first-round BYE, it beat Commerce 27-0 and Thomas County Central 21-0 to advance. Dodge will face 2019 champion Creekview to open the tournament. Creekview earned its championship berth after beating Johnson-Gainesville 21-1, Etowah 9-8 and Cherokee 12-7.
The games begin Wednesday at 11 a.m. on Fields 1, 2, 3, and 4 at Twin Creeks with Haralson facing Oconee County on Field 1, Jefferson playing Franklin County on Field 2, West Laurens playing Sequoyah on Field 3 and Dodge County meeting Creekview on Field 4. Following the opening games, the winners will play on Field 3 and 4, while the losers in the opening round will play on Field 1 and 2 at 1 p.m. The second round of the loser's bracket will play at 3 p.m. on Fields 1 and 2 and the third round of the loser's bracket will play at 5 p.m. on Field 4.
LET'S CROWN A CHAMPION
On championship Thursday, the semifinals of the winner's bracket will play at 10 a.m. on Field 3 to determine one finals contender and then the loser's bracket final will send the other team to the finals on Field 3 at noon. The championship series will begin at 2 p.m. on Field 3 and if needed, the second game will take place at 4 p.m.