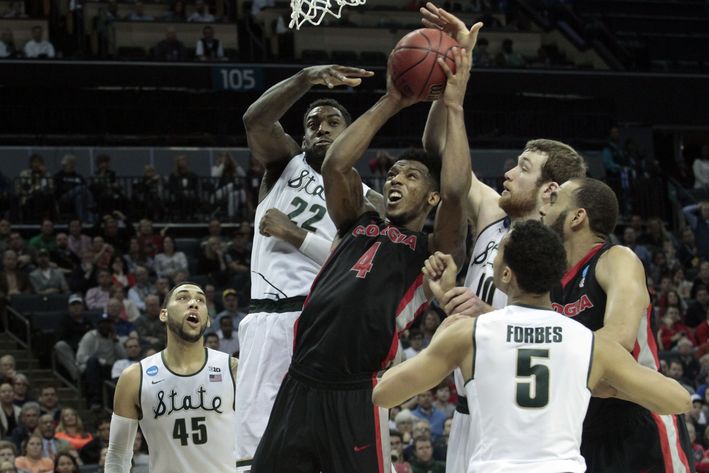 Jeremy Brevard/ USA Today Sports
Charlotte, N.C.– Georgia's basketball season is over with a 70-63 loss at the hands of the seventh seed Michigan State Spartans. The loss ends the Bulldogs season in the second round of the NCAA Tournament and with a 21-12 final record.
In both the first and second halves, the Spartans went on runs to close out this win. Michigan State outscored Georgia 35-22 in the first half and shot 44 percent in the second half to finish it off. The lack of scoring at times is eventually what sophomore guard JJ Frazier says did them in.
"We just couldn't get into a rhythm to go offensively," Frazier said. "We played good defensively. It's just the offensive end wasn't fluid like normal and it cost us."
That first half hole was created by Georgia only shooting 28 percent, as opposed to Michigan State almost shooting 50 percen. Head coach Mark Fox definitely thinks that's the case.
"We made too many errors in the second part of the first half to win." Fox said. "We've got to be able to play 40 minutes. We'll look back and say hey we made some errors. That's why the rearview mirror is smaller than the windshield. You know?"
The Spartans were helped by strong play by their senior leader Travis Trice. Anytime Georgia looked like they were going to go on a run, senior forward Charles Mann says he hit a much needed shot.
"Obviously Trice is huge, very experienced and a really good player," Thornton said. "They've been here before and they played like they've been here before. All praise to Michigan State and I wish the best for them."
Thornton is one of the three seniors on this team and still had his Georgia warmup shirt on when he met with the media. That said, he wasn't outwardly emotional after the loss. He flipped the time to reflect into a positive.
"I'm very thankful for the opportunities that I've had here," Thornton said. "I'm very grateful and humbled to have represented the University of Georgia in the way I have. So, that's all I can do it be thankful and continue to represent the University of Georgia in the same way."
Georgia does have most of their roster coming back and Fox doesn't anticipate any players will leave early for the NBA. This is their first trip to the tournament since 2011.
This time around, Fox feels like the program is in a much different place going forward, as opposed to a few years back.
"Last time we didn't have any depth (and) we weren't rebuilt, we just had a winning season at that point," Fox said. "I just think that this group and the entire program is just on more stable ground right now."
Along with the numbers mentioned earlier, Georgia was playing a little more shorthanded with junior guard Kenny Gaines dealing with a foot issue. It only allowed him to play 20 minutes in the game. He says Fox even noticed that he can't push him as far as he would like on the foot.
"It was enough for coach to realize that I needed to sit out for a little bit," Gaines said. "Let it kind of kind of calm down a little bit. But, the team held it down while I was on the sidelines."
This time of year, it is all about winning to advance in this single elimination format. It doesn't matter how you win, it's the only thing that matters. After their win, Michigan State head coach Tom Izzo paid Georgia quite the compliment.
"I would rather play a team that's got crazy athletes and not as solid than I would that's kind of like us, that's solid," Izzo said. "They can grind it, they can run it a little bit, and I will say that a healthy Gaines I think might have made that game a little different, too."
The Spartans advance on to another round of 32 in the NCAA Tournament. Georgia now gets to build off this trip and hope the 11 returning players can indeed bring them back to this point and hopefully beyond.