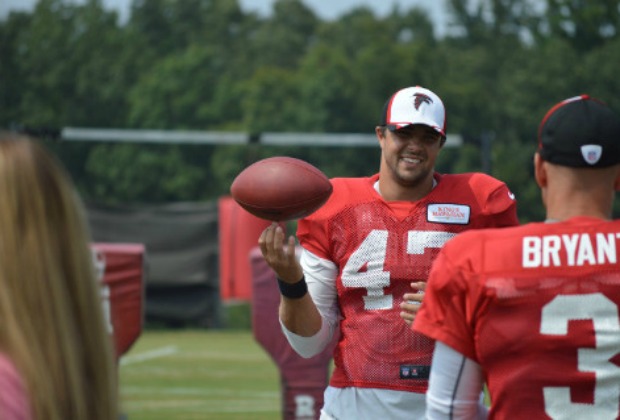 Atlanta Falcons long snapper Josh Harris was joined alongside by Atlanta Dream forward DeLisha Milton-Jones, Mike Lutzenkirchen, the father of late Auburn star tight-end Philip, and others as they spoke to students at Lassiter High School about the dangers of drunk driving and underage alcohol consumption along the impact that it had on their lives.
These testimonies were part of an effort by Mothers Against Drunk Driving (MADD), a nonprofit organization dedicated to protect families from drunk driving and underage driving. The group works with schools to encourage prevention of underage drinking around the country throughout the year.
With MADD joined alongside by the Atlanta Falcons, the Atlanta Dream and the Never to Yield Foundation, the group asked students to pledge to stay alcohol-free until the age of 21 and to not be in the car with a driver that had been drinking. Those in attendance were encouraged to take a 'selfie' with friends and post on their personal social media pages with the trend "#ProtectUrSelfie" to help spread the effort.
For Josh and Mike, the gathering at Lassiter was emotional, considering it is the school where Philip Lutzenkirchen once stood. The former Auburn football star died back on June 29 in a car accident where he and the driver were under the influence of alcohol.
Philip and Josh were teammates on the 2010 Auburn Tigers National Championship squad and the Falcons long-snapper felt gratitude being able to share his story as part of MADD's effort and hoped it reached the students in attendance.
"It was my first time to share my personal experience losing my best friend publicly," said Harris. "It was really hard but it was good to be able to speak about it and spread knowledge to somebody who may have needed some answers."
For Mike Lutzenkirchen, he hoped his words would spread to students on a campus where his son once stood.
"There's no other high school I can go to in the country and talk to kids that mean more to me because this is where my kids went," he said. "Hopefully this whole event, the kids are going to listen and take it to heart and that some (kids) that were making poor decisions will be making better decisions."
The movement continues tomorrow as the MADD group will visit Alpharetta High School. Falcons starting guard Justin Blalock and former Atlanta receiver Brian Finneran planning to be taking part in the event.