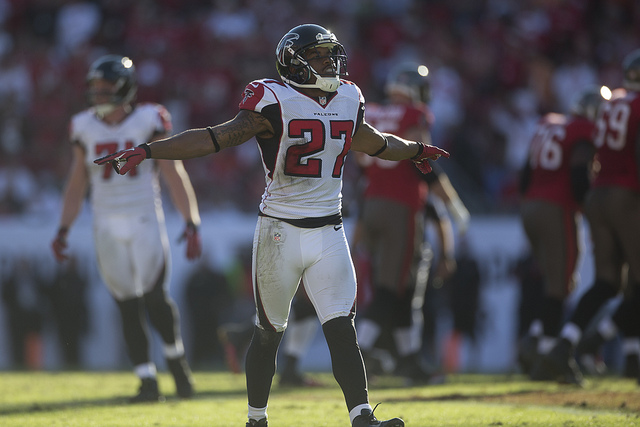 Jimmy Cribb/Atlantafalcons.com
The Falcons have started December on the right foot. They have yet to play a game in the month of December but the Falcons (11-1) clinched the NFC South title on Sunday after the Denver Broncos defeated the Tampa Bay Buccaneers (6-6) 31-23. The New Orleans Saints (5-7) are nearly out of the playoff picture and the Carolina Panthers (3-9) are gearing up for 2013.
The day got sweeter for the Falcons as they gained a game on the San Francisco 49ers (8-3-1) and the Chicago Bears (8-4) as they both lost in their respective games. The Falcons now have a 2.5 game lead for home field advantage throughout the playoffs.
There are four games left for the Falcons and the schedule goes like this. They will travel to Carolina on Sunday, host the New York Giants on Dec. 16, go to Detroit on Dec. 22 in the final road game of the year and the season finale will be against Tampa Bay on Dec. 30.
The Falcons have a legitimate shot of finishing the season 15-1 which would be the best regular season record in Falcons history. The 1998 Falcons finished with a 14-2 regular season mark.
Since 1978, the Falcons are the sixth team to have an 11-1 record. Of those five teams, two of them reached the Super Bowl and the 1991 Washington Redskins are the only team to win the Super Bowl after the starting the season winning 11 of its first 12 games.
This is the second division title for the Falcons in three seasons. In 2010, the Falcons won the NFC South with a 13-3 record as well as the No. 1 seed in the NFC.
There have been plenty of factors that came into play in terms of the Falcons winning the NFC South. The offense for the Falcons ranks in the top 10 in numerous categories. Thanks to new offensive coordinator Dirk Koetter, the Falcons are eighth in total offense, eighth in scoring offense and sixth in passing offense.  Quarterback Matt Ryan has a 94.9 QB rating which ranks seventh in the NFL and is second in the league with 3,590 passing yards.
On defense, new coordinator Mike Nolan has put together a defensive scheme that has the players in position to make plays. Despite giving up over 350 yards per game which ranks near the bottom of the league, the Falcons only surrendered 19 points per game which is the fourth best mark in the NFL.
They have also created quite a few turnovers this season, picking off 16 passes and recovering eight fumbles. Their +7 turnover ratio is the fifth best in the league. Safeties William Moore and Thomas DeCoud have nearly half of the Falcons turnovers, combining for 10 with nine interceptions and one fumble recovery. DeCoud has five picks while Moore has four.