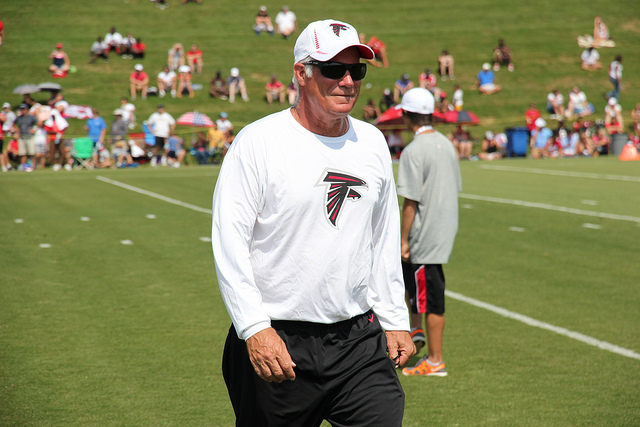 Jimmy Cribb/Atlantafalcons.com
The offseason program for the Falcons has come to an end as their three-day minicamp session concluded on Thursday. The Falcons took part in five practices in that three-day span, and it was a time for the coaching staff to evaluate talent as they get ready for training camp, which will begin on July 26.
Because the players are in jerseys and shorts for all five practice sessions, it's sometimes hard to evaluate how good the players look on a regular basis. There were a few players that stood out and there are some position battles to watch for when the players return to Flowery Branch next month.
Julio Jones picked up where he left off last season by catching everything in his path during minicamp. Because of his efforts, the team named him MVP of minicamp.
"It's great, not only spending time with [wide receivers coach Terry] Robiskie, but with Matt [Ryan]," Jones told the AJC. "Just connecting on balls and knowing where I supposed to be at, at the right time and right depth. That's very critical for me."
Another player that stood out was Asante Samuel, who brings a swagger to a defense that needs it. With the addition of Samuel, Dunta Robinson will move to nickel corner. The minicamp showed that those two plus  Brent Grimes have started gelling as a unit.
Kroy Biermann has been able to gel with the defensive line the past few years, but because of the new defensive scheme led by defensive coordinator Mile Nolan, Biermann could have a breakout year. Biermann has the right size and athleticism to be a hybrid player for Nolan. If that's the case, then Biermann could line up as a defensive end on one play and linebacker for another.
"There is a lot more flavor to it this year," Biermann said to the AJC after the Tuesday afternoon practice. "But, you just have to be in your playbook, learn it and know it, so that the coordinator will be comfortable enough to call it."
Two players that seem to be comfortable at their position are Akeem Dent and Lofa Tatupu, who are battling to see who will be the new middle linebacker. Dent and Tatupu rotated with the first-team defense during camp and both looked sharp when out on the field. Tatupu does hold the advantage of experience over Dent. Despite not playing last season, Tatupu has been to multiple Pro Bowls and helped the Seattle Seahawks reach the Super Bowl in 2006. Dent, however, is more familiar with the Falcons organization.
With Eric Weems gone, the Falcons have to find a dependable return specialist. It looks like a slew of players will be vying for kick and punt returning duties as Harry Douglas, Antone Smith, Dominique Franks and James Rodgers will see if they can handle the specialist duties.
It was good to see players step up in minicamp, but the most important thing for the players to take out of this camp is health. Not one player suffered a major injury which is the last thing that the Falcons need. With some time to relax, head coach Mike Smith had this message for the players.
"You want guys to be careful when they are out," Smith said. "They need to unplug a little bit, but at the same time it's not unplugging like at the end of the season."