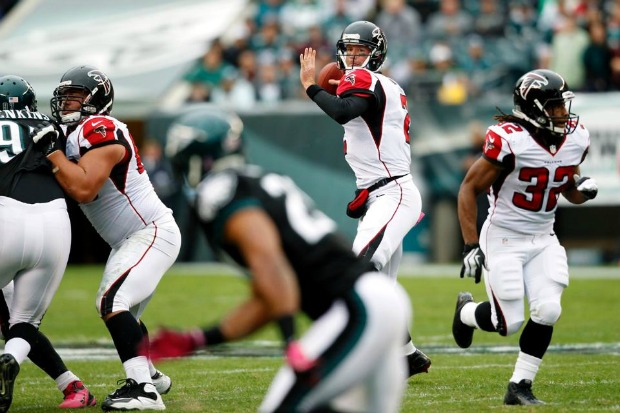 Jimmy Crib/Atlantafalcons.com
Many experts thought when the Falcons took on the Philadelphia Eagles on Sunday at Lincoln Financial field, it would not be a good day for Matt Ryan and company.
The Falcons proved them wrong as they dominated the Eagles 30-17 and still remain undefeated.
It was a game that the Falcons took over from the get-go, as they scored on the opening drive of the game and never looked back.
Matt Ryan was huge for the Falcons, completing 22 of his 29 passes for 262 yards and three touchdowns. He threw his first touchdown pass on the opening drive when he found Drew Davis for a 15-yard strike. Ryan's second TD came later in the quarter when he threw a 2-yard shovel pass to Jason Snelling to put the Falcons up 14-0.
The third touchdown pass for Ryan came midway through the second quarter after the Eagles scored to cut the lead 14-7. The Falcons made it 21-7 when Ryan threw a 63-yard touchdown to Julio Jones.
The Falcons increased their lead to 24-7 before halftime when Matt Bryant kicked a 43-yard field goal. Bryant would score the rest of the team's points in the second half, kicking a field goal in the third and one in the fourth quarter.
The Falcons defense also played well as they constantly pressured Vick and never let LeSean McCoy go wild, despite scoring the Eagles only two touchdowns. Vick was sacked three times and was constantly under pressure because Falcons defensive coordinator Mike Nolan had his unit be aggressive from start to finish. Thomas DeCoud, John Abraham and Kroy Bierrmann each had one sack and Abraham now has seven sacks on the year.
One of the things the Falcons wanted to do against the Eagles is establish the run game, and they were able to do that as they rushed for 146 yards. Though the first six games of the season, the Falcons averaged 86 yards per game, which ranks near the bottom of the league. Jaquizz Rodgers rushed for 60 yards on eight carries and Michael Turner rushed for 58 yards on 24 carries.
Another notable stat on this game is Falcons head coach Mike Smith won his 50th game with the team, which makes him the winningest Falcons coach in franchise history, passing Dan Reeves who has 49.
The Falcons improve their record to 7-0 and still have a four game lead in the NFC South with nine games left. They will look to go 8-0 when they face the Dallas Cowboys next Sunday night at the Georgia Dome.