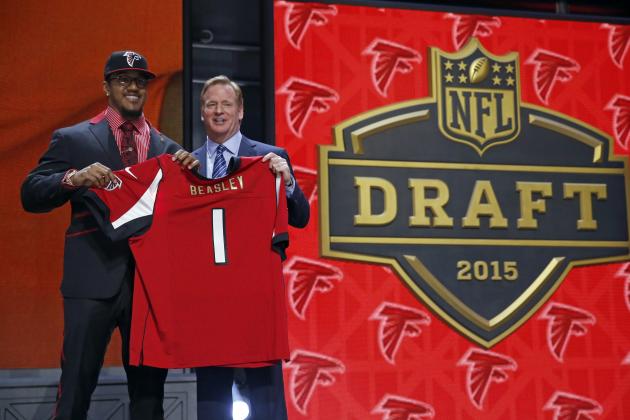 Charles Rex Arbogast/ Associated Press
FLOWERY BRANCH, Ga.– Clemson pass rusher Vic Beasley said from the beginning of the draft process that it would be a dream come true to play for the Atlanta Falcons. Thursday night the wish was granted with the Adairsville native going eighth overall to his home team.
Pass rush has been a huge need for the Falcons over the past couple of years and they feel they filled a huge void by taking Beasley in the first round.
This past season at Clemson he racked up 37 tackles, 21.5 for a loss, 12 sacks, with nine quarterback pressures. He led the team in both sacks and tackles for a loss.
This is added to the 52.5 TFL's and 33 sacks over his entire five year career with the Tigers.
Falcons General Manager Thomas Dimitroff is glad they were able to get a player of need in this draft.
"We're obviously very excited to have Vic join the Falcons," Dimitroff said. "What he adds to this team is athleticism and the ability to get up and around the corner. We were very fired up to have him up on the board where we were picking."
There's a thought that Beasley will play the "Leo" position in the Falcons defense that Quinn and defensive coordinator Richard Smith are bringing to Atlanta. This is the weak-side linebacker spot and it was manned by Bruce Irvin with the Seattle Seahawks over the past few seasons.
Irvin racked up eight and a half sacks over the past couple of seasons under Quinn. Now, Beasley is hoping that he can have that same production or even better.
"I think I'm a double-digit sack guy," Beasley said via video conference from Chicago. "I'm going to bring a great pass rush and just put a lot of pressure on the quarterback."
Quinn does view Beasley as a player that will play as a linebacker and was also asked about the questions of his ability to play against the run. The Falcons head coach isn't concerned about his ability to be effective in that part of the game.
When it comes to what makes Beasley effective as a pass rusher? Quinn says it's his quickness when the ball is snapped.
"I think it's his first step quickness and usually for a rusher when you can really get off the spot," Quinn said. "That's one of the things when you talk about a rusher. Is how quick can a guy get off the spot? When we evaluated all the guys that is the thing that reallyjumped out, is his initial quickness. When you can beat a guy to the punch, that's when you can have your most success as a rusher. He certainly has the ability to do that."
When I caught up with Falcons dominant pass rusher Chuck Smith last week, he mentioned that one of the largest adjustments that college pass rushers face coming into the NFL, is their ability to use their hands. Quinn says that's not an issue for Beasley.
"I definitely thought that was a part of his game, his ability to use the hands," Quinn said. "It's one of the hardest traits for a rusher who's coming into the league who's playing against some really skilled offensive linemen who have maybe been playing six, seven, eight, 10, (or) 12 years. That time, how fast you can learn it? He's already ahead of the curve. So we can't wait to get started with him."
As mentioned earlier, Beasley is from Adairsville and grew up a Falcons fan. Who knew that he was growing up almost an hour and a half from his future employer?
"It feels great," Beasley said. "I'm so excited and I'm just ready to play football again. No better place that I could choose, than the Atlanta Falcons."
The Falcons met one huge need and will have other's to fill in the next six rounds of the draft. There is still plenty of pass rushing help left in this draft class should they decide to go that route. Plus, there's still good running back's and other positions left.