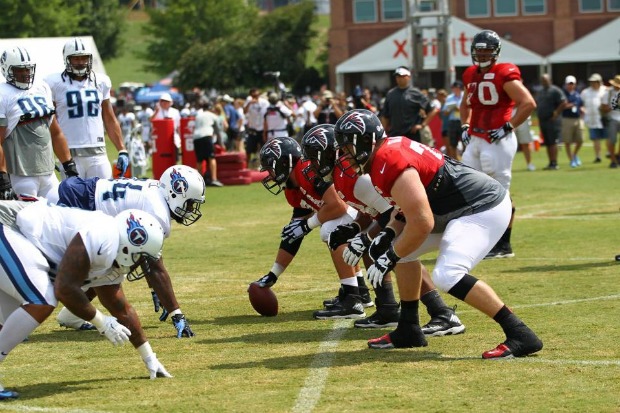 Atlantafalcons.com
It's game week for the Falcons as they prepare to face the Miami Dolphins in their first preseason game of the year.
But before that happens, the Falcons had more work to do at training camp and it started on Monday with a combined practice with the Tennessee Titans. This was the first time the Falcons were able to hit another opponent since the end of the season and head coach Mike Smith was thought his team was able to handle it as well as any team would in Week 2 of camp.
"I thought it was good work and when I watch the tape I'll have a better idea, Smith said. "I thought the energy was good. This was the first day we worked super hard in pads."
One of the reasons the Falcons worked as hard as they did is because they wanted the match the same intensity as the Titans who finished with a 7-9 record last year. Led by safety Bernard Pollard, Tennessee had an energy that will be expected from the Dolphins on Friday.
And when a team like the Titans comes in with a ton of energy, the Falcons matched it with their own, and that led to a couple of fights, which is something Smith really did not want to see.
"The guys knew the rules of engagement," Smith said talking about the rules when it comes to fighting. "When they were violated there was going to be a consequence."
Smith was talking about when Joe Hawley got into it with the Titans defense and that led to the officials throwing him out of practice.
"If that were to happen in a game, we are going to lose a player," Smith said. We need to learn we can't be fighting."
When Hawley was ejected, Peter Konz had to take over for the rest of practice. But the line and the rest of the offense did not miss a beat because they continue to improve.
"I think day in and day out we've been getting better," Matt Ryan said. "It's going to be a great opportunity to watch that film and continue to make improvements and make adjustments.
A couple of the Falcons that stood out during camp were Julio Jones and Robert McClain. Jones was back at practice after having yesterday off and was able to make some nice catches when going up against the Titans defensive backs and when during the scrimmages.
"When he was out there, he ran crisp and looked explosive," Ryan said. "He's coming along really nicely. He'll be ready to go when we get to the season opener."
McClain, who is fighting for the starting nickel cornerback spot, was shutting down the Titans receivers during individual drills. He is competing with Josh Wilson and Javier Arenas who also looked sharp on Monday.
But the Falcons goal out this combined practice with the Titans was to be physical and being able to match the same intensity and Smith believes his team did that.
"There's a fine line between overwork and underwork," Smith said. "You want them to be as healthy as possible. But at the same time, when your goal is to be a physical football team, you're on a fine line every day. You hold your breath as a coach."
Now that the Falcons were able to scrimmage with another team, the coaches can learn more about the each player that is on the Falcons roster.
"When you get an opportunity to work against other teams, you really get to see the true competiveness in a man," Smith said. "It's important for us to continue to not only evaluate when we work against ourselves, but more importantly the evaluation when we work against other players and other teams."
The Falcons will have Tuesday off and be back to work on Wednesday at 3:30 p.m. The preseason game against the Dolphins will be at the Georgia Dome on Friday at 7 p.m.