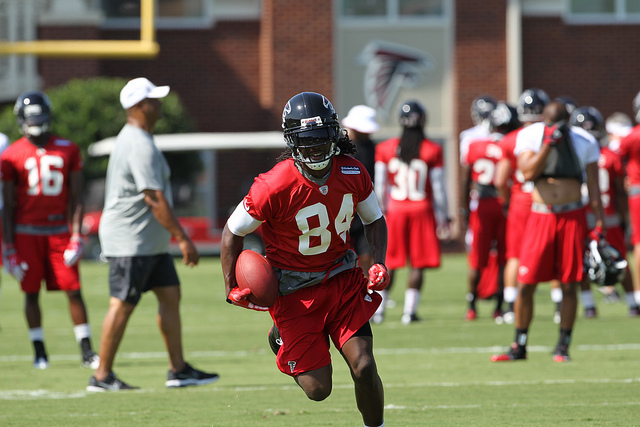 Jimmy Cribb/Atlantafalcons.com
At the end of July, one could argue that Flowery Branch is the hottest city in the state of Georgia.
It has nothing to do with the weather, but the Falcons have landed at their facility because the 2012 season is underway thanks to the start of training camp.
Just like any other start of training camp, the Falcons players and coaches were excited to be back on the field because they know that the season is getting closer. The players were especially excited because they have new offensive and defensive coordinators which means new philosophies on both sides of the ball.
But Thursday was only the first day of camp and head coach Mike Smith did not want his team to do too much on the first day, instead wanting them to pick up where they left off in OTAs.
"I think we laid a really good foundation in OTAs," Smith said after practice. "Our goal moving forward is to build on that foundation. Today was a really good start."
Matt Ryan, who worked hard getting bigger, stronger and faster during the offseason, also thought the first day of practice went well.
"I thought it was a good start for us," Ryan said. "I thought the defense was flying around and did some good things. Offensively, I thought we knocked some of the rust off after being off for a couple of weeks. Once we knocked the rust off, I thought we executed pretty well.  It was just the start. We need to build on that tomorrow. We need to have that approach day in and day out. We need to get better every day."
In order for the Falcons to get back in the playoffs and win a playoff game or two or three, they will have to be better every day, especially with Dirk Koetter running the new offense and Mike Nolan running the defense. Even though there will be a new way of thinking on both sides of the ball, Smith points out that the offensive and defensive schemes will stay the same.
"There are changes, it's going to look different, but it's going to be more things that are the same than are different," Smith said. "Mike (Nolan) and Dirk (Koetter) have done a very good job meshing their system that they have run in the past to what we've done here, especially with the verbiage. I think that's very important as a staff."
Nolan, who has spent seven years running the 3-4 and seven years running the 4-3, was looking forward to working with former Seattle standout Lofa Tatupu. But due to a pectoral injury, Tatupu will be out for the season. This means that Akeem Dent will quarterback the defense, and Smith is confident he can handle the duties.
"The biggest key is to give him as many snaps as we possibly can, and expose him to the different situations that are going to come up in a game," Smith added. "Today we were working on our base defense, and third down and medium yardage. For a young guy that's played a lot of football, but not in the NFL and scrimmage snaps, we feel like he's ready to go. That's why we drafted him. We drafted him to be our middle linebacker."
As for Koetter, he has the opportunity to do some big things with Ryan, which is something both parties are looking forward to.
"He has been really good," Ryan said. "He has been very upbeat and positive.  I think everybody is impressed with how smart he is and how receptive he is to our input, too. He understands we have done some things well around here."
If Nolan is able to take the defense to new heights and Koetter's passing game is effective as fans hope, it should be a great season for the boys in red and black. But no matter what coaching staff is out there, Ryan and Smith believe they always have a chance to do something special.
"I always think we can," Ryan said on taking the next step. "I think we have the right chemistry of guys. I think we have the right core group of guys that understand how to approach practice and meetings every day. I think if we can be better at that this year, that will prove dividends for us."