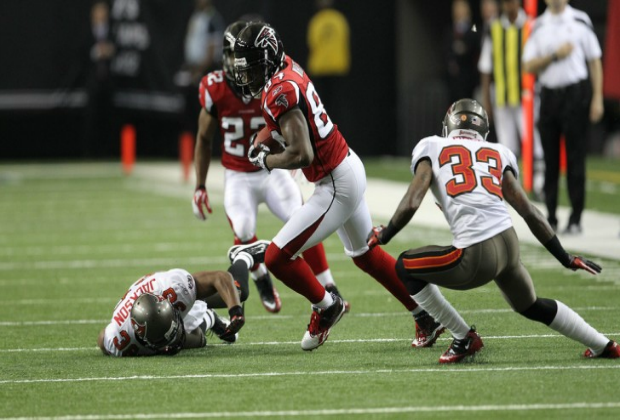 Jimmy Cribb/Atlantafalcons.com
Falcons defensive coordinator Mike Nolan is continuing to foster a defense built to stop the pass this offseason. It seems the league-wide defensive formula is adapting, and you can credit Eli Manning and the Giants for winning the Super Bowl last year while having the league's worst rushing attack.
The Falcons are in a conference that has never been more loaded with talented quarterbacks. Matt Ryan's NFC counterparts, Manning (twice), Aaron Rodgers and Drew Brees have taken four of the past five Super Bowl MVPs. Any defense not tailored to stop the air show seems to have no shot. Just getting to the playoffs may be difficult with the plethora of other NFC gunslingers in Matt Stafford, Michael Vick, Cam Newton, Tony Romo, Jay Cutler and a new potential young gun in Robert Griffin III that Nolan must now scheme against.
The new strategy motivated the Falcons to part ways with their premier run-stopper and leading tackler from the past two seasons, Curtis Lofton. Nolan and the Falcons staff ultimately decided that Lofton perhaps was not the every-down player necessary for the defense. Ultimately this landed the 26-year-old middle linebacker with the rival New Orleans Saints on May 24.
Lofton will likely take over for Jonathan Vilma during the veteran's season-long suspension. Lofton was surprise with his two-down label, and, according to New Orleans interim coach Joe Vitt, has lost significant weight and is continuing to improve his pass coverage.
OFFENSIVE REPORT
The Falcons new offensive coordinator Dirk Koetter continues to install his offense and Ryan has been busy all offseason working to master the new playbook. All the talk that is surrounding this year's playbook points to a deeper and more open use of personnel, a change from former coordinator Mike Mularkey's system. The new Jacksonville coach was often criticized during his time in Atlanta for only using the top workhorses, leading to breakdowns.
According to sources, Ryan started his offseason early and extended it in order to improve his strength and conditioning. He wanted to assure he would be at his best come the postseason.
Ryan must get the Falcons through an NFC full of hungry quarterbacks this season. The Falcons are continuing to work hard to grasp the two new playbooks as training camp opens this week.