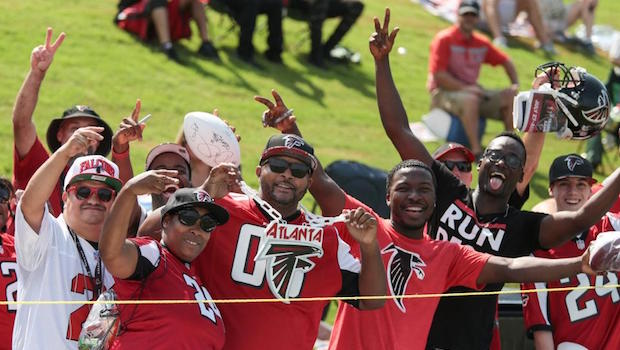 Atlanta Falcons
Spirits were high and crowds were thrilled to see the Atlanta Falcons back on the field at Flowery Branch for their 2017 AT&T Training Camp.
The AtlantaFalcons.com team had it covered on Thursday and Friday. Cornerback Desmond Trufant said the defensive unit could end up being one of the best in the NFL, per Kelsey Conway: "What Coach [Dan Quinn] has put together, what the whole front office has put together as far as the players that are here, this is definitely the fastest team I've played for, the deepest team I've played for and the closest team."
Matthew Tabeek caught up with center Alex Mack about the Falcons' standard operating procedure of changing up lineups on the O-line in training camp: "Really, the whole offensive line all camp long – we're going to be moving people around just so you want to be prepared in the case of an injury and you've worked with everybody."
Will McFadden had updates on the team's limited participants, including first-round draft pick Takk McKinley, who is easing back into the action after shoulder surgery: "I played with the shoulder for two years, but, like I said, you've got to take it slow. You don't want any setbacks. So, for me, it's just about going out there and going as hard as I can every day."
The AJC's D. Orlando Ledbetter had quotes from Quinn, who addressed the media after Thursday's practice: "We have a really clear vision of how we'd like our football to look come September. We have a hell of a long way to go to get to that spot. But, today was a good first day in that start."
D-Led also captured some video of safety Keanu Neal talking about how the game is coming easier to him in his second season and how he's helping the rookies to adapt: "It's slower, from a mental standpoint. I've got a better understanding of the defense so I can play a little faster."
ESPN's Vaughn McClure caught up with linebacker Deion Jones, who talked about the Super Bowl, his potential as a player and winning a starting spot last season as a rookie: "I don't regret anything from the Super Bowl, to tell you the truth. Like in my life, I always enjoy the highs and lows. There were some low moments, and there were some high moments — not just for me but for everybody."
If you're headed to Flowery Branch to take in training camp, be sure to pick up a copy of the 2017 AT&T Training Camp Guide, produced by Score Atlanta.