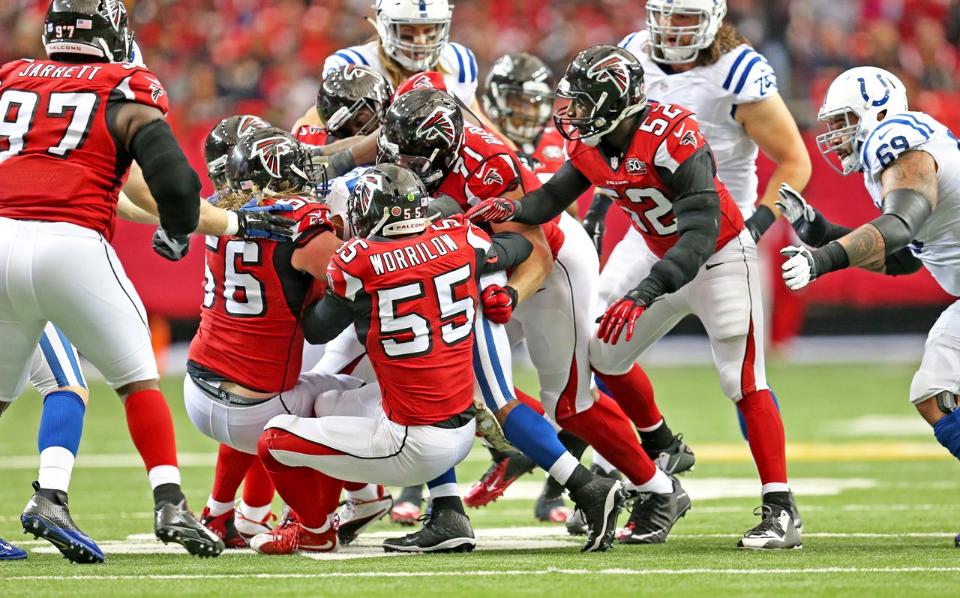 AtlantaFalcons.com
ATLANTA, Ga.— Four out of the last five weeks haven't gone the way that the Falcons hoped. Sunday wasn't any different, with the Indianapolis Colts outscoring Atlanta 17-7 in the final 30 minutes of the game to win it 24-21.
That makes it three straight losses for the Falcons and the questions how to fix things continue to flood in after the most recent defeat.
Previously, the Falcons were having trouble forcing turnovers, but they were able to get three yesterday. The problem with that, is that Indianapolis got it back four times.
After the game, the Falcons locker room was deathly silent. The feeling of frustration was definitely noticed.
That said, players like second year safety Ricardo Allen says they're still playing with their heads held high.
"We've got to keep going," Allen said. "We've got to keep building. We're a team. We fight, we finish and we're not going to tuck our tails under us at all. We're ready for every challenge. We don't really care what the outside (people) says, because we know who we are and what we can do. We've done it before and that's all we're going to do."
The Falcons lost this game primarily because of their turnovers and the inability to put points up in the fourth quarter. This has been a problem the last few weeks.
Veteran wide receiver Roddy White agrees that the final 15 minutes are not going their way. That is why they find themselves at 6-4 on the season.
"It's just the fourth quarter," White said. "We haven't made any plays in the fourth quarter and it keeps getting us beat. We're very optimistic that we can get these things to flip. You make a play here and a play there, then we win those fourth quarters."
White had one of his better games of the season with nine balls thrown his way, but he was able to bring in four of them for 24 yards.
The Falcons defense was able to sack the Colts Matt Hasselbeck twice and hit him eight times. Indianapolis only finished the day with 276 yards of total offense and one of their touchdowns came on a pick six by linebacker D'Qwell Jackson.
The defense has kept them in games. This is why defensive lineman Jonathan Babineaux isn't worried about this team spiraling out of control.
"We've just got to push each other every day at work," Babineaux said. "Make sure we're getting better every day. That is playing the way we want to play, the style we want to play and doing the things right."
The Falcons get the Minnesota Vikings in town this Sunday, before they head on the road for three straight weeks. If they are to get the season back on track, then that will prove to be tough.
Also, keep in mind they still have two games left this season with the undefeated Carolina Panthers.
Sunday was a game the Falcons should have and could have won. Maybe this week will be a better result against a very good Minnesota team.