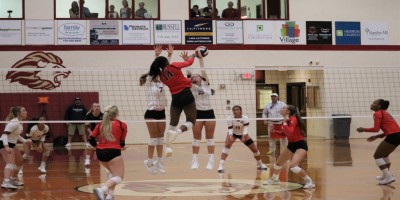 Randy Strickland
The top-ranked AAAAAAA Walton Raiders defeated AAA No. 2 Pace Academy 3-0 on the road on Thursday to move to 9-3 on the season. Walton won with the first set 25-23, the second set 25-17 and the third set 25-19.
"We played as a complete team," Walton coach Suzanne Fitzgerald said of the 3-0 victory against Pace. "I can say that our defense was incredible, and we served extremely well. Our freshman outside hitter, Mary Neal, and our senior outside hitter, Sydney Barrett, both stepped up at critical times as did our setter, Ashlyn Goolsby."
The Raiders are home after competing at the Circus City Invitational in Sarasota, FL last weekend. In Florida, Walton defeated Out-of-Door Academy (FL) 2-0 with set victories of 25-15 and 25-20. Against Plant (FL) Walton suffered its first loss of the season 1-2 (21-25, 26-24, 10-15). It rebounded with a victory over St. Thomas Aquinas 2-0 (25-19, 25-21). In the gold bracket against Cardinal Mooney (FL), Walton lost 0-2 (23-25, 18-25). In the 3rd/4th match, Walton fell 1-3 to Nation Ford (SC) (28-26, 22-25, 20-25, 20-25).
See the rest of the Thursday scores below.
Football
Troup 68, Columbus 13
Westside-Macon 33, Perry 13
Softball
Alexander 15, New Manchester 0
Apalachee 6, Winder-Barrow 3
Baconton Charter 15, Chattahoochee County 0
Bainbridge 5, Thomasville 3
Banks County 7, Monticello 1
Blessed Trinity 17, West Hall 2
Brookstone 8, Hawkinsville 0
Calhoun 4, Lakeview Academy 1
Central-Carroll 7, Cartersville 2
Charlton County 4, Irwin County 0
Chattahoochee 16, Centennial 1
Coahulla Creek 1, Murray County 0
Columbus 18, Americus-Sumter 2
Cook 14, Worth County 0
Dacula 15, Gainesville 1
Dade County 5, Pepperell 0
Dodge County 20, Southwest 1
Georgia Military 11, Lake Oconee Academy 0
Gordon Lee 5, Trion 1
Habersham Central 12, Lanier 4
Hampton 15, Salem 0
Harrison 10, Dalton 2
Heard County 4, Bremen 2
Jackson County 3, East Jackson 2
Kell 7, Rome 3
LaFayette 12, Southeast Whitfield 0
Lamar County 15, Temple 1
Lanier County 10, Telfair County 1
Locust Grove 15, Eagle's Landing 0
Madison County 3, St. Pius X 0
Marietta 14, McEachern 1
Mill Creek 6, Collins Hill 4
Miller County 17, Quitman County 0
Mountain View 5, Duluth 0
Mt. Zion-Jonesboro 14, Darlington 6
Newton 15, Rockdale County 0
Norcross 12, Mt. Pisgah Christian 0
North Cobb Christian 8, Fellowship Christian 0
North Forsyth 5, Lambert 2
Northside-Columbus 13, Dougherty 0
Northwest Whitfield 11, Ridgeland 1
Oglethorpe County 15, Rabun County 7
Pace Academy 4, Westminster 1
Perry 10, Howard 0
Pike County 8, Central-Macon 0
Pope 13, Dunwoody 0
South Cobb 10, Campbell 9
South Forsyth 11, West Forsyth 2
Swainsboro 9, Toombs County 4
Thomson 13, Lakeside-Evans 1
Towns County 5, Prince Avenue 3
Troup County 9, Sandy Creek 7
Union County 8, Social Circle 0
Washington-Wilkes 12, Lincoln County 7
West Laurens 5, Upson-Lee 2
Whitefield Academy 18, Providence Christian 1
Woodland-Cartersville 10, Paulding County 0
Volleyball
Allatoona 2, Alexander 0
Allatoona 2, North Gwinnett 0
Arabia Mountain 2, Cedar Grove 0
Arabia Mountain 2, Kendrick 0
Brooks County 3, Ware County 0
Brookwood 3, Providence Christian 0
Central-Talbotton 2, Chattahoochee County 0
Cherokee 2, Fannin County 1
Coosa 2, Sand Rock, Ala. 0
Dunwoody 2, Wesleyan 0
Eagle's Landing 2, Jackson 0
Eagle's Landing Christian 2, SW Atlanta Christian 0
East Coweta 3, Wheeler 0
Fannin County 2, Pickens 0
Grovetown 2, Alcovy 0
Grovetown 2, Heritage-Conyers 0
Hebron Christian 2, Dunwoody 0
Hebron Christian 2, Wesleyan 0
Jackson 2, Luella 0
Jackson County 2, Westminster Christian Academy 0
Jefferson 2, East Jackson 0
Jefferson 2, Monroe Area 0
Lakeside-DeKalb 3, Druid Hills 0
Loganville 2, Eastside 0
Loganville Christian 2, Newton 0
Mill Creek 3, South Forsyth 0
Mt. Bethel Christian Academy 2, Galloway School 0
Mt. Bethel Christian Academy 2, St. Francis 0
North Forsyth 2, Flowery Branch 0
North Forsyth 2, Johnson-Gainesville 0
Roswell 2, Lovett 1
Roswell 2, Riverwood 0
Shaw 2, Northside-Warner Robins 0
Veterans 2, Shaw 0
Walker 2, Harrison 0
Walton 3, Pace Academy 0
Woodland-Cartersville 2, Douglas County 0