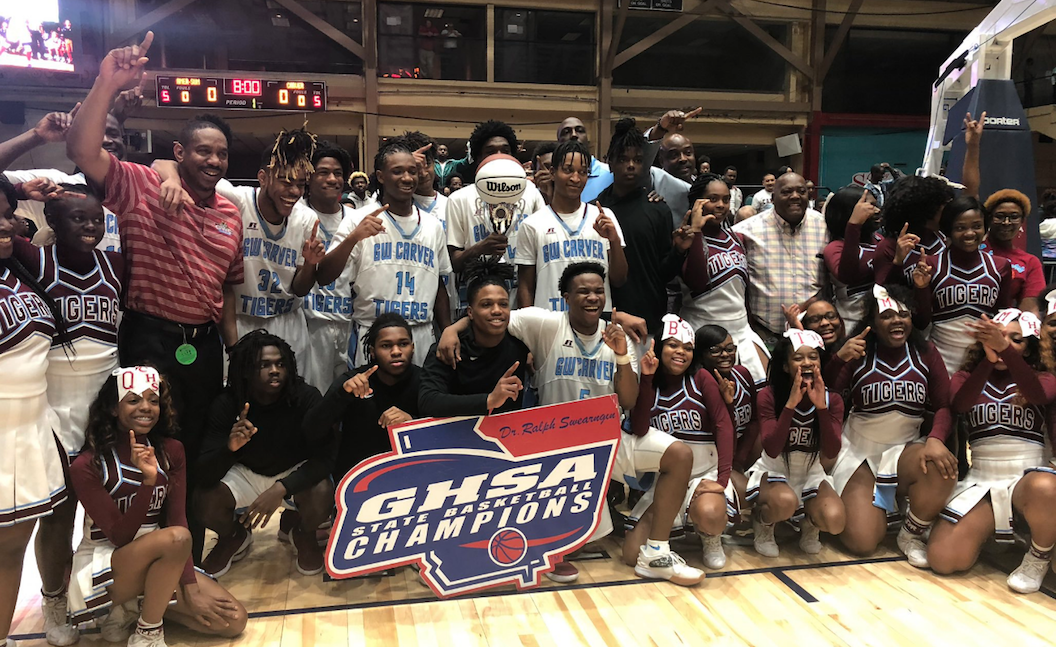 In Class AAAAAAAA, McEachern closed out a perfect 32-0 season with the program's first-ever state title and is No. 1. Tri-Cities' dramatic win over Tucker in the Class AAAAAA championship gives the Bulldogs the top spot.
In Class AAAAA, state champion Buford leads the poll, and Carver-Columbus holds the top spot in Class AAAA after securing its first state title since 1971.
Morgan County guards Stevin Green, Alec Woodard and Tyrin Lawrence combined for 46 points as the Bulldogs moved past Hart County 68-54 in the Class AAA boys title game and top-spot in the season's final rankings. Lawrence led the team with 19 points, Greene added 14 points and Woodard finished with 13.
In Class AA, Therrell weathered several storms on its way to its first-ever boys basketball title after moving past Vidalia 51-49 in the Class AA title game. The Panthers scored their final basket with 2:55 left in the game and held on for the win. Vidalia finished third behind Woodville-Tompkins.
In Class A-Public, top-ranked Calhoun County's Quanderious Powell might have finished with just six points but his final basket beat the clock and put the Cougars ahead as the time expired to win their fourth boys state basketball title. Calhoun County also won titles in 1972, 1997 and 2016.
In Class A-Private, Dwon Odom's veins were ice cold as he led St. Francis past Eagle's Landing Christian 73-69 in the Class A-Private title game. The victory marked the third title for the Knights after winning back-to-back A-Private crowns in 2014 and 2015.
BOYS
Class AAAAAAA
1. McEachern
2. Meadowcreek
3. Norcross
4. Tift County
5. Discovery
6. Grayson
7. Pebblebrook
8. Newton
9. Peachtree Ridge
10. East Coweta
Class AAAAAA
1. Tri-Cities
2. Tucker
3. Brunswick
4. Heritage-Conyers
5. Alexander
6. Gainesville
7. Mundy's Mill
8. Douglas County
9. Coffee
10. Chattahoochee
Class AAAAA
1. Buford
2. Fayette County
3. Southwest DeKalb
4. Lithonia
5. Woodland-Stockbridge
6. Kell
7. Eagle's Landing
8.  Warner Robins
9. Jonesboro
10. Carrollton
Class AAAA
1. Carver-Columbus
2. Americus-Sumter
3. Sandy Creek
4. Upson-Lee
5.  Woodward Academy
6. St. Pius X
7. Denmark
8. Thomson
9. Dougherty
10. Marist
Class AAA
1. Morgan County
2. Hart County
3. Greater Atlanta Christian
4. Dawson County
5. Windsor Forest
6. Johnson-Savannah
7. Cedar Grove
8. Tattnall County
9. Central-Macon
10. Pace Academy
Class AA
1. Therrell
2. Woodville-Tompkins
3. Vidalia
4. Elbert County
5. South Atlanta
6. Northeast
7. Laney
8. Early County
9. Washington County
10. Thomasville
Class A-Public
1. Calhoun County
2. Treutlen
3. Wilkinson County
4. Hancock Central
5. Irwin County
6. Terrell County
7. Greene County
8. Pelham
9. Marion County
10. Wilcox County
Class A-Private
1. St. Francis
2. Eagle's Landing Christian
3. Mount Bethel Christian
4. Greenforest Christian
5. Holy Innocents'
6. Walker
7. Riverside Military
8. Christian Heritage
9. Mount Pisgah
10. Wesleyan
GIRLS
K'lya Hankerson's three-pointer with 1:21 left in the game put Johnson-Savannah, the defending champions, ahead for good as the Atomsmashers moved past Hart County 54-50 in the Class AAA girls title game. The Atomsmashers finished at the top of the polls with Hart County in the No. 2 spot.
In Class AA, Douglass responded with six-straight points in the final 1:13 to seal the 57-51 victory in the Class AA title game after Early County tied the game at 51 on a Ta'Ziaya Jones layup with 1:44 left. Five of the six points came from senior captain Nekiyah Thompson. The effort put Douglass at the top of the polls ending the year.
Despite fighting through cramps in the second half which left them limping, the Whitley twins, Ansley and Ashley, combined for 32 points to lead Marion County to its first-ever girls basketball title in the Class A-Public championship over Calhoun County. Ansley led with 20 points, Ashley added 12 points. Calhoun County finished the year ranked No. 2.
In Class A-Private, Holy Innocents' girls captured its third girls basketball state championship with a 75-48 victory over Wesleyan in the fifth-consecutive finals meeting between the two programs. Wesleyan won three of the previous meetings – 2015 and 2017-2018. Holy Innocents' won titles in 2016 and 1999. Wesleyan finished the year ranked No. 2.
GIRLS
Class AAAAAAA
1. Westlake
2. Collins Hill
3. Cherokee
4. North Forsyth
5. Roswell
6. Norcross
7. Campbell
8. Grayson
9. Pebblebrook
10. McEachern
Class AAAAAA
1. Lanier
2. Lovejoy
3. Forest Park
4. Northview
5. Valdosta
6. Glynn Academy
7. Creekview
8. Harrison
9. Stephenson
10. Dacula
Class AAAAA
1. Buford
2. Villa Rica
3. Southwest DeKalb
4. Columbia
5. Wayne County
6. Veterans
7. Eagle's Landing
8. Griffin
9. Arabia Mountain
10. Harris County
Class AAAA
1. Carver-Columbus
2. Spalding
3. Flowery Branch
4. Henry County
5. Luella
6. Marist
7. Sandy Creek
8. Madison County
9. Heritage-Catoosa
10. Baldwin
Class AAA
1. Johnson-Savannah
2. Hart County
3. Beach
4. Jefferson
5. Tattnall County
6. Sonoraville
7. Greater Atlanta Christian
8. Dawson County
9. Peach County
10. North Hall
Class AA
1. Douglass
2. Early County
3. Fitzgerald
4. Laney
5. Rabun County
6. Model
7. Dodge County
8. Bryan County
9. Woodville-Tompkins
10. Swainsboro
Class A-Public
1. Marion County
2. Calhoun County
3. Telfair County
4. Clinch County
5. Greenville
6. Wheeler County
7. Bowdon
8. Central-Talbotton
9. Georgia Military
10. Mitchell County
Class A-Private
1. Holy Innocents'
2. Wesleyan
3. St. Francis
4. Calvary Day
5. Lakeview Academy
6. Mount Paran Christian
7. Stratford Academy
8. Paideia
9. Eagle's Landing Christian
10. Greenforest