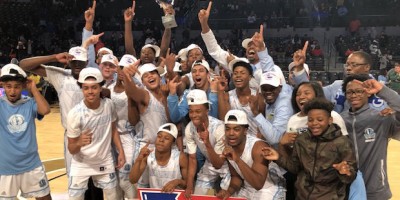 Meadowcreek's boys upset Norcross in 7A for their first title.
Meadowcreek wins its first-ever championship in surprising fashion over No. 2 Norcross in Class AAAAAAA boys, and two teams that lost to Norcross in the playoffs – McEachern and Newton – follow at No. 3 and No. 4. Grayson defeated Pebblebrook by seven points at Pebblebrook in the quarterfinals, and the teams end up at No. 5 (Grayson) and No. 6. Peachtree Ridge, Mountain View, Wheeler and Etowah round out the Top 10.
Langston Hughes pulled off its second-straight win over Gainesville in the playoffs, this time beating the Red Elephants in the final for its second-straight title. Jonesboro and Brunswick come it at No. 3 and No. 4, respectively. North Atlanta had a strong region tournament and won two games in the playoffs to zoom up to No. 6. Douglas County, Tri-Cities, Stephenson and Cambridge complete the Class AAAAAA rankings.
First-time state champion Warner Robins finishes No. 1 after defeating Miller Grove 67-64 in the Class AAAAA finals. Buford, which was ranked No. 1 in the Feb. 5 poll, comes in at No. 3 after getting edged by No. 2 Miller Grove 75-70 in the second round. Semifinalists Clarke Central and Hiram round out the top five.
Upson-Lee completed its second-straight season at No. 1 and its first wire-to-wire year as Class AAAA's top team. The Knights stamped their 63rd-straight victory on Saturday with an impressive 70-54 win over No. 2 St. Pius. Sandy Creek's run to the finals, and the Patriots' 52-51 near takedown of Upson-Lee in the semis, cements their place in the top three and Baldwin's own impressive tournament run (which ended in a 66-61 loss to St. Pius in the semis) puts the Braves at No. 4. Americus-Sumter edges Region 1 rival Carver-Columbus for No. 5 and Salem, which fell 52-44 to Upson-Lee in the second round, finishes No. 7.
Class AAA Greater Atlanta Christian outlasted No. 2 Jenkins to win its eighth boys state title in Macon after defeating Savannah's Jenkins 67-53. Jenkins is second with Morgan County, which had been to the final game four seasons in a row, finishing third.
Thomasville's Reggie Perry, a Mississippi State commit, forced the GHSA to realign the rims following the dunk-a-thon he put on a smaller Vidalia team to earn the Class AA state title in Macon. Vidalia finishes second with Glenn Hills, Laney and Dublin rounding out the top five.
After almost being knocked out of the semifinals, Wilkinson County claimed its third Class A-Public title in a row with a 71-68 victory over Montgomery County. Central-Talbotton jumped to the No. 3 spot after soundly defeating a strong Macon County in the quarterfinals but ended its season after a last-second loss to the eventual champs. Woodville-Tompkins ended the regular season ranked at the No. 3 spot but failed to advance past the quarterfinals after losing to Calhoun County, knocking them out of the top three.
Aquinas upset St. Francis 65-60 to claim the school's first-ever state title, placing them at the top of Class A-Private. Eagle's Landing Christian narrowly lost to the future champs and remains at the No. 3 spot. Stratford Academy dropped five spots from the Feb. 5 rankings after being eliminated by Greenforest 58-56 in the second round. Holy Innocents' jumped from No. 8 to No. 4 after an impressive postseason, including a strong victory over Christian Heritage.
Class AAAAAAA
1. Meadowcreek
2. Norcross
3. McEachern
4. Newton
5. Grayson
6. Pebblebrook
7. Peachtree Ridge
8. Mountain View
9. Wheeler
10. Etowah
Class AAAAAA
1. Langston Hughes
2. Gainesville
3. Jonesboro
4. Brunswick
5. Heritage-Conyers
6. North Atlanta
7. Douglas County
8. Tri-Cities
9. Stephenson
10. Cambridge
Class AAAAA
1. Warner Robins (28-3)
2. Miller Grove (23-8)
3. Buford (24-5)
4. Clarke Central (25-7)
5. Hiram (23-10)
6. Lithonia (23-7)
7. Eagle's Landing (22-7)
8. Stockbridge (24-7)
9. Jackson-Atlanta (25-3)
10. Starr's Mill (21-8)
Class AAAA
1. Upson-Lee (31-0)
2. St. Pius (28-4)
3. Sandy Creek (25-6)
4. Baldwin (24-7)
5. Americus-Sumter (25-4)
6. Carver-Columbus (22-9)
7. Salem (21-7)
8. Cartersville (21-7)
9. Burke County (15-9)
10. Westover (22-7)
Class AAA
1. Greater Atlanta Christian
2. Jenkins
3. Morgan County
4. Johnson-Savannah
5. Cedar Grove
6. Westside-Macon
7. Central-Macon
8. Pace Academy
9. Hart County
10. Towers
Class AA
1. Thomasville
2. Vidalia
3. Glenn Hills
4. Laney
5. Dublin
6. Therrell
7. Swainsboro
8. Banks County
9. South Atlanta
10. Washington County
Class A-Public
1. Wilkinson County
2. Montgomery County
3. Central-Talbotton
4. Calhoun County
5. Lanier County
6. Woodville-Tompkins
7. Manchester
8. Macon County
9. Pelham
10. Terrell County
Class A-Private
1. Aquinas
2. St. Francis
3. ELCA
4. Holy Innocents'
5. North Cobb Christian
6. Christian Heritage
7. Greenforest
8. Brookstone
9. Stratford Academy
10. Lakeview Academy